Celebrating Women in Sustainability: Taryn Barclay
A Q&A with Taryn Barclay, Senior Director, Strategic Partnerships and Stakeholder Engagement, Cargill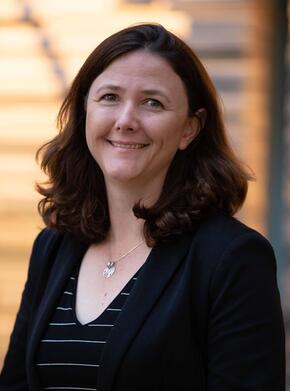 What does your role at Cargill entail, and what goals are you working to achieve?
Through our global corporate responsibility and sustainability work, Cargill advances its purpose of nourishing the world in a safe, responsible and sustainable way. We recognize that we cannot do this alone. We form partnerships with organizations to improve food security and nutrition, strengthen farmer livelihoods, advance human rights, equity and inclusion and drive progress on our water, land and climate commitments. I help manage, support, and build those partnerships across Cargill, developing relationships with key organizations and institutions and supporting Cargill's businesses to create their own transformational partnerships. This includes our partnership with WWF-US, I am fortunate to support coordination of our work and it's exciting to see the programs we are collaborating on together.
Why did you choose a career in sustainability?
My background is actually in Human Resources; I transitioned about midway in my career into sustainability and CR. I think Human Resources was a good foundation to make the transition, especially in developing skills around empathy and listening and managing change. I have also always worked in large private sector organizations and being interested in the roles and responsibilities that companies, especially global multinational corporations, should and could play in society. I wanted to be more externally focused, understand the outside environment, and what stakeholders influenced the business. I felt I would have more opportunities to explore this in a sustainability-focused career than HR.
What professional or educational experience led you to where you are now?
I completed a Masters (Msc) program at the University of Bath (England) in 2006; it was truly pioneering at a time when not many higher education institutions offered this kind of program. It was a foundational experience for me, and because I was fortunate to be able to transition from Human Resources to Corporate Responsibility about halfway through the Masters, it gave me the confidence to take on this new role. The program also helped strengthen my "systems thinking" muscles, giving me the tools to see the interconnectedness of issues and how to translate this into action. I also loved the global diversity of the group that I studied with; it really reinforced my interest in global institutions.
What are some of the biggest challenges of your work?
Challenges and opportunities! We work every day to balance the need to feed a growing population while protecting the planet. Whether due to conflicts, natural disasters, or policy failures these issues are front and center in many parts of the world. The UN Sustainable Development Goals' bold agenda was already under pressure before COVID-19, and progress has now been further hindered. While I remain optimistic that we can achieve the goals, we need to accelerate progress and ensure that our approach is inclusive, equitable and scalable. There is a tremendous amount of innovation taking place in the food and agriculture sector and farmers are at the center of that.
What accomplishment or project are you most proud of?
I am most proud of Hatching Hope, an initiative that I helped conceive and design which was launched two years ago. Agriculture is one of the highest potential sectors to deliver economic development and contribute to building resilient, food secure communities around the world. Hatching Hope aims to reach 100 million people through the power of poultry, supporting smallholder poultry producers and improving nutritional status for communities through the consumption of poultry products. Hatching Hope is also very focused on women, who are at the heart of many farming communities, and they are a vital link between farms and families. When women have an opportunity to earn an income, the whole community thrives.
It's just getting going but it's the type of business innovation model that is part of the reason I wanted to work in this area and I am proud to celebrate this initiative on International Women's Day.
I am also proud of the substantial and ambitious goals and commitments that Cargill has set across our CR & Sustainability priority areas and the role that I play to support collaboration with others to realize these goals.
We're seeing a surge of women leaders across the sustainability sector. Why is this a positive development and what do you think it signals for the future?
Those who work in sustainability are a richly diverse group, coming from a myriad of professional backgrounds and so as women are increasingly becoming leaders across a range of fields, it's a great development that we're seeing more women take up leadership positions in this area. I also think it opens more career paths for women coming into these roles; the breadth of skills one can learn in this role can really be applied across so many sectors. It's indicative of the more purposeful work that many are seeking in their careers.
How can we encourage more women to pursue a career in corporate sustainability?
I have had the fortunate opportunity to interact with many women just starting their careers and its super interesting to see how they really go into their careers wanting to make an immediate difference and impact. My advice is also that everyone across an organization has the ability and opportunity to contribute to the company's sustainability commitments, it's not just the "corporate sustainability team". We need engineers, lawyers, sales and commercial managers, IT professionals, technicians, to support the change, the innovation and the acceleration of activities to deliver a more sustainable future. I am excited for what this "all hands on deck" approach might open up for women keen to pursue more of this work. I think it's the most inclusive and open time to be investing in one's sustainability career.
How do you think corporate sustainability will change over the next decade and beyond?
As we move closer to the 2030 timeline, I foresee a greater integration of these types of roles within the organization, as well as a more dynamic set of opportunities. I think it's a growing, evolving field that will require an agile mindset and an ability to seek solutions that truly benefit everyone – employees, communities, suppliers, shareholders and larger society. I think this last year has shown we are an interconnected global world and it is my hope that our greatest learning from this time is that we need collaboration more than ever before.
…

The views expressed in this blog do not necessarily reflect those of WWF.