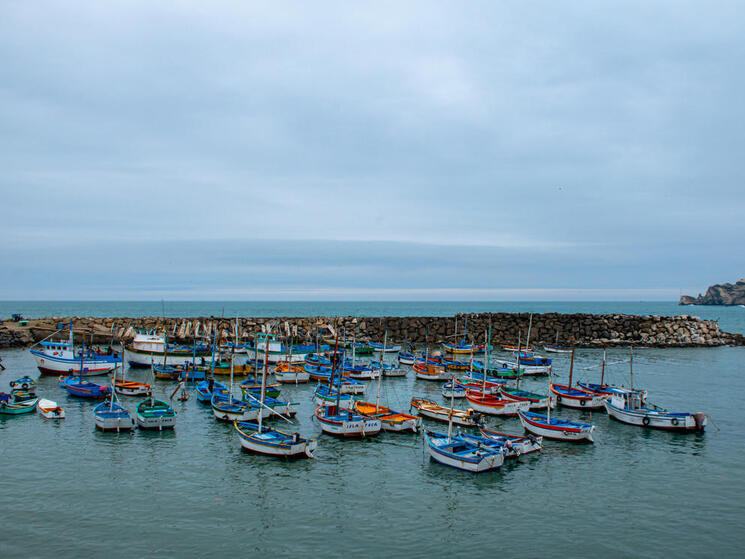 Our oceans provide a range of goods and services, many of which depend on healthy ecosystems.
Global seafood production supports the livelihoods of more than 600 million people, and serves as the primary source of animal protein for approximately 3 billion people. Yet with only about 30 percent of the seafood sold today certified or rated as sustainable, and with more than 30 percent of the world's fisheries currently over-exploited, unsustainable seafood production poses an immense threat – both to the ecological health of our oceans and to the socio-economic health of the people and companies that depend on them.
Issues like climate change and habitat destruction compound the impact of overfishing, exposing companies in the seafood sector to financially material risks like declining productivity and changes in the distribution and abundance of fish populations. At the same time, human rights, worker safety and labor violations in both aquaculture production and wild capture expose companies to significant reputational, market and regulatory risks.
The challenges the industry faces are significant, but a new coalition of conservation and biodiversity focused organizations aims to help tackle these by leveraging the power of investors to engage seafood companies on critical nature- and biodiversity-related impacts and risks.
WWF, the FAIRR Coller Initiative, UNEP FI's Sustainable Blue Economy Finance Initiative, the World Benchmarking Alliance (WBA), and Planet Tracker have come together to convene a group of like-minded investors to conduct targeted engagement with key seafood companies. With the goal to eliminate overfishing, illegality and habitat conversion from seafood value chains, the coalition will support investors to develop targeted asks and utilize their collective power to strengthen companies' commitments to and implementation of best practice in seafood sustainability.
Failing to adequately address the environmental and social risks and impacts in their seafood-related financing activities can expose investors to financially material risks which are often hidden through complex and opaque supply chains that span nations and continents.
And a new report from WWF shows despite most asset managers publicly recognizing biodiversity and natural capital impacts as risks, seafood-related risks and impacts are not, in the vast majority of cases, being addressed. Of the 42 asset managers whose public disclosures were assessed, only one has already developed and publicly disclosed seafood-specific environmental and social (E&S) expectations for its investee companies.
Banks are slightly more advanced in their thinking around seafood but have work to do as well. A recent assessment of banks' seafood-related policies and procedures found that most major seafood lenders are aware of the need to manage E&S issues in the sector, but current policies – where they exist – are insufficient to prevent and manage their exposure to those risks.
The seafood industry's strong dependence on nature and biodiversity makes it a strategic sector for financial institutions to begin to implement risk-hedging activities. In addition to supporting investors via the collective engagement initiative, WWF has also developed an e-learning course – Seafood Sustainability 101 for Finance Professionals – to help build financial institutions' capacity to understand the key issues, challenges, and opportunities related to financing sustainable seafood value chains and to act on the recommendations in the two recent reports.
The investor collective engagement sponsored by WWF and its partners will equip financial institutions with practical strategies to manage their exposure to risks and to identify and develop sustainable investment opportunities. That will go far in maintaining the seafood populations needed to allow the $406 billion seafood industry to continue to thrive.