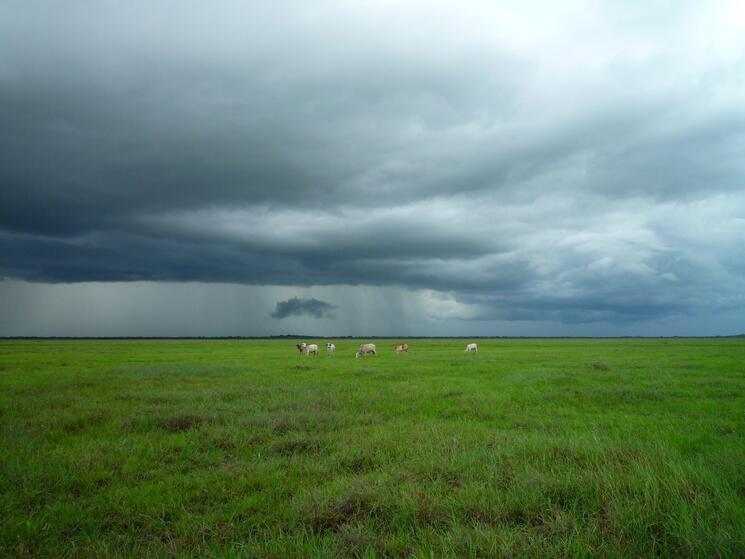 Date

: 09 January 2020

Author

: Jason Clay
The Markets Institute at WWF identifies global issues and emerging trends around the most pressing challenges of our time to help us all learn and shift faster. As always, we'll be tracking a wide variety of food and soft commodity issues, trends, and tools as we move into 2020, dubbed the super-year for the environment. We know we will see more political volatility and financial crises, and the impacts of climate change to not only be felt more deeply but also recognized for what they are—a ticking time bomb for the future so long as they are not addressed. Here are just a few of the other issues, trends and tools we will be tracking this year:
What's on the Horizon for 2020?

1. In 2019, awareness about the role of agriculture, forestry and land use in climate change began to pick up steam. How will conversations on food systems and land use as both contributors to and solutions for the climate crisis continue to evolve? How will the impacts of extreme weather and climate change on agriculture affect our ability to feed everyone in a world of increasing nationalism and protectionism?
2. The political landscape continues to surprise even the most cynical; protectionist trade policies in the world's biggest markets are a major cause of land speculation and deforestation in Brazil. Sending money to stop deforestation without fixing the system will not have the desired effect. And, upcoming elections around the world promise to bring us more of the same.
3. About a decade ago many companies set 2020 sustainability commitments to improve supply chains and reduce or even eliminate key impacts, e.g. deforestation or habitat conversion more generally. Those commitments will not be achieved. Commitments are easy, but if they are to pay out more than just lip service, producers need to see how to change and have an incentive to do so. One company or even a small group of companies with similar commitments are simply not significant enough to change the system. So, what will the next generation of commitments and timelines look like? Will companies begin to address sustainability through pre-competitive platforms where they can collaborate to learn more quickly about what works, what doesn't and what the costs of change, as well as inaction, are better understood?
4. As the Oromo in Ethiopia say, "You cannot wake a person who's pretending to sleep. "Will governments wake up to what is happening and what their role is in addressing it? Will they look beyond the next election for what is needed and begin to lay the groundwork for it? Or, will the rise of protectionism commit them to paths that not only don't address the most pressing problems but accentuate them instead?
5. Social media is now ubiquitous in marketing, policy, news, etc., but is it possible for public opinion and voice to be shaped more by the "wheat" and less by the "chaff"?
6. Will we see more implementation of and less talk about innovative market mechanisms—long-term contracts to serve as assets and help producers make the investments needed to be more sustainable, rehabilitate degraded land, and address the impacts of climate change; Scope 3 carbon reduction payments for onsets/insets that create new markets for producers, provide incentives to avoid or sequester more carbon, and help bring environmental externalities into markets; and the rise of green bonds, investments in 'greener' commodities, payment for ecosystem services, other financial mechanisms to make food and soft commodities more sustainable and more resilient.
7. Global conversations about food consumption have become galvanized around the idea of healthy parameters for both people and planet especially in countries where food security is not perceived to be an issue. There is an increasing chasm in the discussions of the "haves" vs. the "have nots" in the global food system. As the science evolves, we need to ensure that both issues are addressed—how those without access to food and nutrition can get it as well as what are the better and more affordable sources of nutrients for all. And, changes in food values will shift the food system's focus from production to consumption to address the issues that are at the core of the current debates.
8. We expect to see "net-zero" carbon emissions goals set by 2030 in most of the animal protein sectors, at least in the US and Europe. It will be interesting to see if alternative proteins are compelled to follow suit.
9. Machine learning and AI are taking global food systems by force—from producers to consumers. It's time to consider how tech can help us all learn more quickly about how to reduce the impacts of production and consumption and everything in between. Smartphones are used to train farmers, get them access to finance, collect and share data, reduce waste and share farm equipment. We need better tools for carbon management and measurement, risk management, traceability, and transparency along the entire value chain, not just where it is easiest.
There are these issues and many more. It will be a defining year for better, or for worse. We must all share more knowledge and shift faster.
Stay tuned for what we see this year, and help us keep an eye on the horizon.
PS. If you haven't already, sign up for our weekly update to see how these trends evolve.