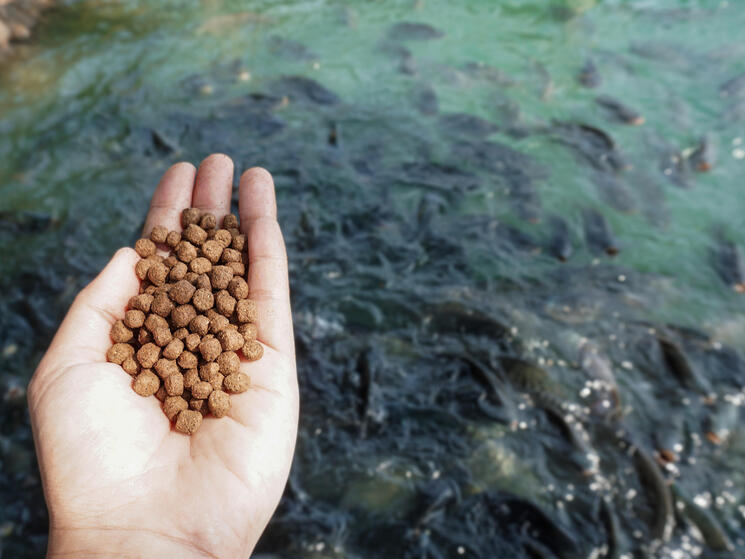 Date

: 03 May 2022

Author

: Katherine Devine, Director of Business Case Development, WWF
Animal nutrition is one of the leading contributors to greenhouse gas (GHG) emissions in the food sector, mainly due to deforestation and land conversion, whereby habitats are turned into farmland or rangeland. Nutreco, a leading manufacturer of both aquaculture and livestock feed, is taking innovative action to reduce its environmental impact by 2025. Its RoadMap 2025 outlines the company's ambitious set of goals that address health and welfare, climate and circularity, and good citizenship.
WWF recently developed a business brief to examine Nutreco's plan and see what lessons could be applicable to the entire feed industry. The goal-setting process for RoadMap 2025 involved engaging stakeholders, including the staff who carry out essential business functions and external partners like suppliers and customers. These stakeholders provided input that fed into the RoadMap's three pillars, each of which contains key priorities and an action plan for accomplishing them.
The health and welfare pillar aims to tackle antimicrobial resistance, which occurs when bacteria evolve in the presence of excessive antibiotic use and eventually develop a resistance to the medications. The overuse of antibiotics is commonplace in the livestock industry and poses a serious public health risk. Nutreco plans to use its technical knowledge and nutritional solutions to influence and elevate better practices in farming to reduce antibiotic use and ultimately, combat antimicrobial resistance.
The second pillar, climate and circularity, focuses on using Science-Based Targets to reduce GHG emissions. The Science-Based Targets initiative (SBTi) helps companies set appropriate goals to reduce emissions across their entire supply chain. For animal feed companies, Scope 3 emissions from embedded activities in their value chains are often the most challenging and critical to address. Among these, land-use change resulting from deforestation and conversion of habitats for feed ingredient production, particularly soy, has the most significant impact.
Conducting Life Cycle Assessments (LCAs) and developing novel ingredients are two additional strategies Nutreco employs to meet its climate & circularity goals. LCAs allow customers to understand how much carbon is embedded in a given product, and Nutreco plans to leverage this information to engage its customers. By making LCA tools and information available to its customers, Nutreco hopes to drive demand for products that are less carbon intensive. This will also help encourage greater transparency within the animal nutrition industry and also suggest the need for common and broadly accepted LCA methodologies so that comparisons are more credible.
Substituting conventional ingredients with novel ones can reduce dependence on certain commodities associated with deforestation, land conversion, and overfishing. This has the potential to enable more sustainable practices, with the goal of reducing the overall carbon intensity of food production. However, novel feed ingredients often come with their own problems: they may differ in nutritional content or price, they may have their own environmental impacts and issues, and they are not currently available in the quantity needed for large-scale replacement.
The final pillar of Nutreco's RoadMap 2025 is good citizenship, which encompasses diversity, inclusion, and supporting livelihoods. The company's goal is to improve the financial stability of small farmers in marginalized communities. Beyond the three pillars, the company also has ambitions for reducing waste and water usage, as well as making packaging more sustainable.
Central to Nutreco's goals is its commitment to maintaining transparency and accountability. Nutreco's plan provides an example of how food industry leaders can set ambitious and tangible yet realistic targets.
Read WWF's analysis of Nutreco's RoadMap 2025 in our business brief, How Nutreco's RoadMap 2025 Could Be a Game Changer for Animal Feed Sustainability.