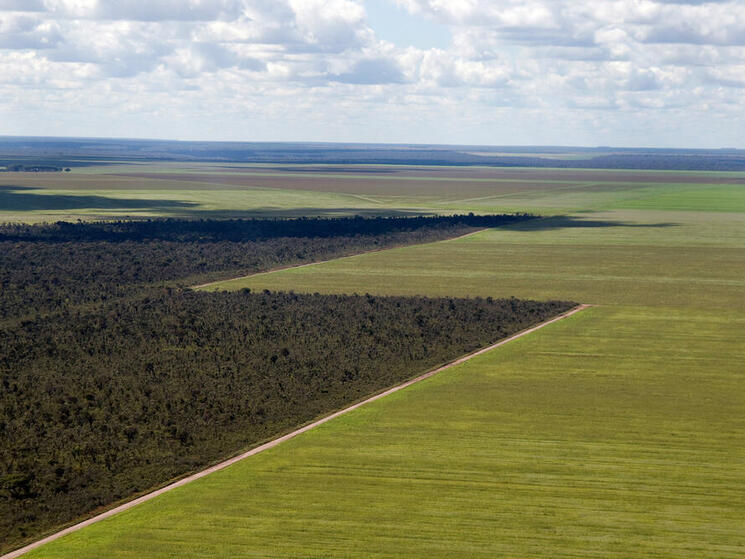 Date

: 11 October 2018

Author

: Sandra Vijn, Director Dairy, Markets & Food
Walmart's Project Gigaton is a supplier-focused initiative to prevent one gigaton of greenhouse gas emissions across their global supply chain over 15 years (2015-2030). Project Gigaton aims to inspire suppliers to reduce emissions across their own operations and supply chains.
There are six pillars of Project Gigaton through which suppliers can reduce emissions: energy, agriculture, forests, packaging, waste, and product use. World Wildlife Fund works with Walmart on several of these pillars to help suppliers reach their sustainability targets, and, in turn, further WWF's conservation mission. In this blog, Sandra Vijn, Director of Dairy at WWF, shares why the agriculture pillar is so important to Project Gigaton.
How does agriculture contribute to climate change and emissions outputs within a company's supply chain?
Most greenhouse gases from the production of meat, dairy or eggs are emitted before the products leave the farm gate. Emissions are released by beef and dairy cows when they digest feed. Growing feed crops for animals also contributes to the GHG footprint, of which the majority comes from the production and application of fertilizer as well as the plowing of land for crop production. Lastly, manure from these animals releases significant amounts of GHG emissions.
Cows, however, can also help increase soil's capacity to store carbon through managed grazing of perennial forage crops and native grasses. Feed crops, including corn, soy, and wheat, can also be managed in ways to improve soil health and store carbon through practices such as no-till, cover cropping and optimized fertilizer use. Opportunities and solutions exist today to reduce emissions from manure and enteric fermentation, which could be scaled up through knowledge sharing, financial support, and other incentives from processors, traders, and other supply chain stakeholders. Project Gigaton could be a platform where learnings about solutions can be shared.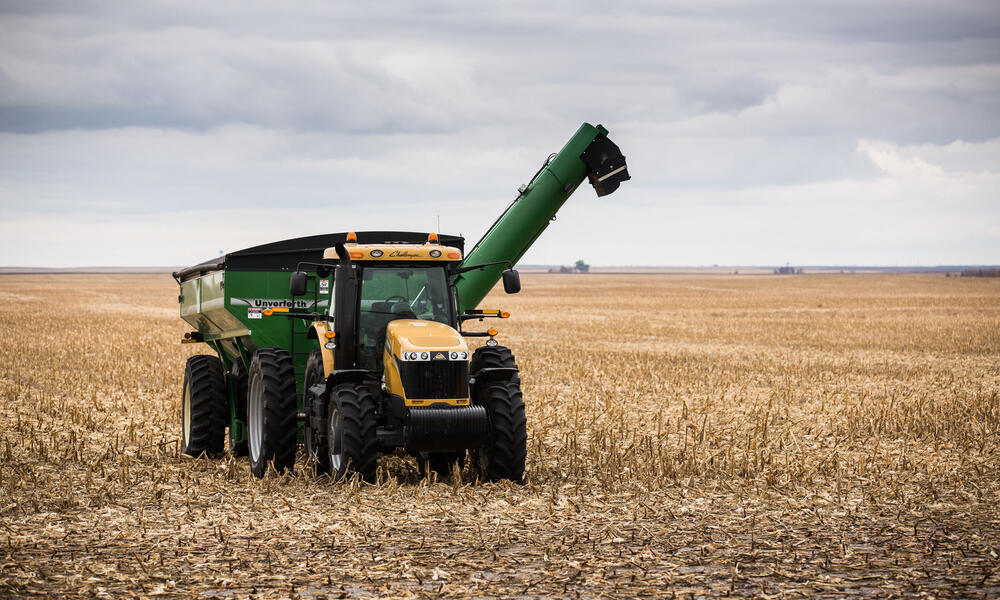 If a supplier has already set an emissions reduction goal, what is the value of joining Project Gigaton?
Project Gigaton is a way for Walmart's suppliers to get recognition for their GHG reduction efforts, allowing them to show how progress towards their own emissions reductions is contributing to the Project Gigaton target. At the same time, supplier participation provides the opportunity to leverage Walmart's communications platforms and extensive reach to be more widely recognized as a business leader fighting climate change. Additionally, by joining Project Gigaton, suppliers can cumulatively show progress over time for their category; lifting all boats in the grocery aisle sends a powerful message to consumers.
When companies join Project Gigaton, they are provided access to resources that can help suppliers advance their goals, including tools that can help them track and report progress over time. If companies are already responding to the GHG emission CDP survey, they could opt to submit that CDP information to Walmart, which then gets credited towards the supplier's participation in Project Gigaton.
If a supplier is just starting out on their sustainability journey, what needs to be done to get them ready to join Project Gigaton? Who can help?
Eligibility for joining Project Gigaton requires goal-setting, so this is where companies should start. To begin the goal-setting process, companies need to first understand the source of their carbon footprint by undertaking a materiality analysis or life cycle-based footprinting assessment to help show where their GHG emissions hotspots are across their supply chains. There are resources listed at the bottom of this blog that provide more insights into these hotspots for animal agriculture supply chains in the US. The tools included in Project Gigaton can help companies identify GHG emission baselines for their own supply chains and set targets accordingly.
Additionally, they can look to setting science-based targets, an initiative championed by NGOs and leading companies in which hundreds of firms are already participating.
Finally, companies must be SMART about the goals they set for Project Gigaton—that is, Specific, Measurable, Achievable, Relevant, Time-limited.
Suppliers can join Project Gigaton at any time through the Gigaton website. And if they are ready, they can report progress between October 1 and November 12, 2018.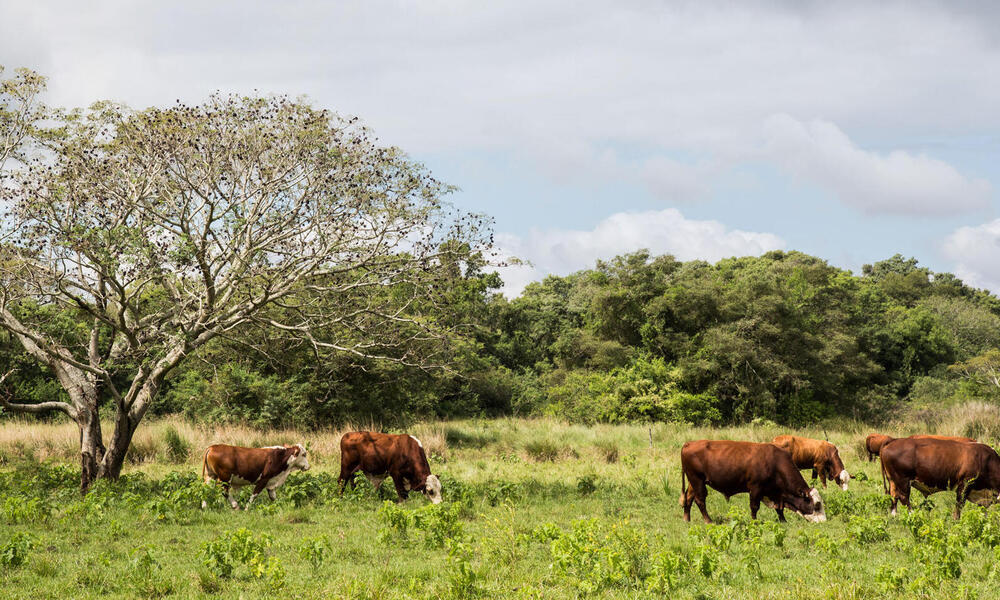 Can you give an example of a supplier who is really leading the way in agriculture?
Leading companies establish meaningful goals, publish strong sourcing policies, report transparently on their progress, engage collaboratively with suppliers, and seek practical, long-term opportunities to reduce GHG emissions across their supply chains.
For example, several dairy companies have set targets or are in the process of doing so while working with their supply chain partners to identify opportunities for GHG reduction. Schreiber Foods, a Wisconsin-based dairy company, is a supplier to Walmart with worldwide reach. Its participation in Project Gigaton sets an example of how a dairy company can set realistic and actionable targets. The company has had sustainability goals in place since 2008 and is currently going through the process of setting science-based targets in its operations and supply chain, while developing a strategy to work with its stakeholders to meet them. General Mills, which has set science-based goals for GHG reduction across their entire enterprise including in its supply chain – a 28 percent reduction by 2025 – has worked with one of its suppliers to develop baselines for its milk supply, calculate sustainability impact, and drive continuous improvement through the FARM Environmental Stewardship module. General Mills continues to coordinate regular stakeholder meetings with its suppliers and expert resources to identify ways to reduce emissions collaboratively.
What resources are available to help those already committed, those looking to commit, and those who feel there's a barrier of entry for a supplier of their size.
Reporting on commitments is the cornerstone of Project Gigaton. Companies that have a significant share of GHG emissions from agriculture in their supply chains can look at the Project Gigaton reporting options to understand which tools they need or questions they can ask their own suppliers to start developing baselines and assess progress over time.
Various organizations, including trade associations and NGOs, are instrumental in providing tools and resources to companies regarding GHG baselining and GHG reduction opportunity identification for animal and crop production, for example:
It's also important to note that Project Gigaton has a very user-friendly, intuitive website so companies can easily access the information they need once they're on board. Every target counts, and it's important that all suppliers, especially small and mid-sized ones, know that they are an indispensable part of the solution.
This blog is part of a series. Please see our Project Gigaton Q&A on forests here and on food waste here. You can join Project Gigaton by submitting your own emissions target, or by submitting goals that fall in one or more of the six pillars. Links to join can be found at: www.walmartsustainabilityhub.com/project-gigaton