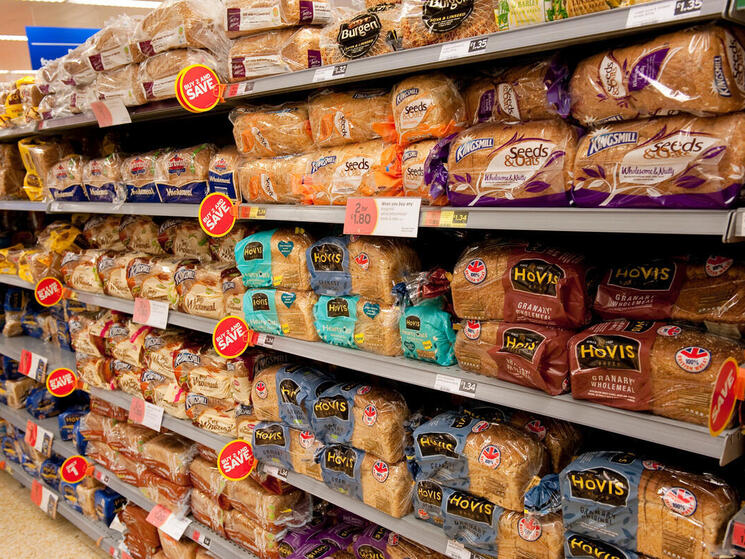 Date

: 08 November 2018

Author

: Monica McBride, Manager for Food Waste at WWF
Walmart's Project Gigaton is a supplier-focused initiative to prevent one gigaton of greenhouse gas emissions across their global supply chain over 15 years (2015-2030). Project Gigaton aims to inspire suppliers to reduce emissions across their own operations and supply chains.
There are six pillars of Project Gigaton through which suppliers can reduce emissions: energy, agriculture, forests, packaging, waste, and product use. World Wildlife Fund works with Walmart on several of these pillars to help suppliers reach their sustainability targets, and, in turn, further WWF's conservation mission. In this blog, Monica McBride, Manager of Food Waste at WWF, shares why the waste pillar is so important to Project Gigaton.
How does food waste contribute to climate change and emissions outputs within a company's supply chain?
The link between food waste and its impact on the environment is significant. Food production accounts for an estimated 70 percent of biodiversity loss, 70 percent of freshwater use and 50 percent of soil erosion. When we waste food, we also waste out all the intensive labor, land and resources that go into its production. Wasted food represents about eight percent of global greenhouse gas (GHG) emissions and is a main contributor to deforestation and the depletion of global water sources.
In fact, food waste actually helps contributes to climate change at two different phases in its life cycle.
First, the production of food requires land, fertilizer, water and other chemicals that collectively account for 25-35 percent of global GHGs – the single largest environmental impact of any human activity. And when you factor in the energy required to transport that food to market, the impact is even greater.
Second, the disposal of wasted food generates additional emissions. Organic waste that's disposed of in landfills produces methane, which contributes 25-85 times more to global warming than carbon dioxide. Composting food is a better disposal option. Even though it also produces carbon dioxide, its overall impact on our climate is less than that of methane.
WWF's No Food Left Behind report provides the latest data and context around North American post-harvest.
If a supplier has already set an emissions reduction goal, what is the value of joining Project Gigaton?
There is tremendous incentive for companies to join Project Gigaton, even if they've already charted their emissions reductions path. For one, it's good for business. Companies can receive recognition for the good work their doing and get increased visibility and recognition for it. They also gain access to key resources that can help them achieve their goals and commit to even more ambitious targets in the years to come.
Importantly, when companies join Project Gigaton, they send a signal to other suppliers, including many of the smaller companies that may have otherwise been wary about reporting their waste numbers. Together, these companies can help generate the critical mass needed to shift the entire industry – and ultimately the entire private sector – toward more climate-smart business practices.

If a supplier is just starting out on their sustainability journey, what needs to be done to get them ready to join Project Gigaton? Who can help?
The question for companies to answer is: where do you sit along the food waste chain, and what is your specific point of impact? From there, the sustainability journey begins.
The first step for any company is to establish its food waste baseline. This is the only way for a company to truly understand its current impact and identify opportunities for improvement. From there, WWF recommends turning to the industry standards regarding food waste. The UN Sustainable Development Goal 12.3 — a global, collective 50 percent reduction in food waste by 2030 — should be the North Star for companies looking to set realistic goals. The Science-Based Target Initiative also offers some guidance on food waste reporting, along with other useful measures of supply chain efficiency.
Project Gigaton and experts like us at WWF can offer advice on setting – and meeting – these goals.
The Project Gigaton website – and its section on waste in particular – makes it easy to start the process.

If a supplier is considering joining Project Gigaton and making a commitment for waste, should they also consider setting goals in other areas like energy and forests? What's the value in signing up across the platform?
The impact of food waste isn't just felt at the disposal end of the spectrum, so companies will be able to find areas of overlap.
For example, if you're a food supplier working on the production end and have a direct impact on land use, there's an inherent overlap with goals for agriculture. If you're a transport company, you can look at waste for understanding your resource efficiency, while simultaneously setting fuel emissions goals.
What resources are available to help those already committed, those looking to commit, and those who feel there's an entry barrier for a supplier of their size.
There are many valuable resources to help companies that have already committed to Project Gigaton as well as companies that are looking to join. When it comes to food loss impact, World Resource Institute's Food Loss and Waste Protocol is an excellent beginner's resource on what to measure and how to measure it.
To audit your waste footprint or track it over time, companies can turn to consulting firms that specialize in improved food management and are equipped to help address hot spots for food waste within manufacturing facilities.

Can you give one example of a participating Project Gigaton supplier who is really leading the way in food waste?
Taylor Farms is a strong example of a supplier that is making the most with the food they grow and harvest. Through innovative solutions they're taking fresh and wholesome product that was no longer needed for its primary purpose of processed fruit and vegetable products and repurposing them into new product offerings like bagged slaws and kits. Taylor Farms is actively looking for opportunities to improve crop utilization, be it through donations, compost, animal feed, or waste to energy rather than turning to the landfill.
This blog is part of a series. Please see our Project Gigaton Q&A on forests here and on agriculture here. You can join Project Gigaton by submitting your own emissions target, or by submitting goals that fall in one or more of the six pillars. Links to join can be found at: www.walmartsustainabilityhub.com/project-gigaton