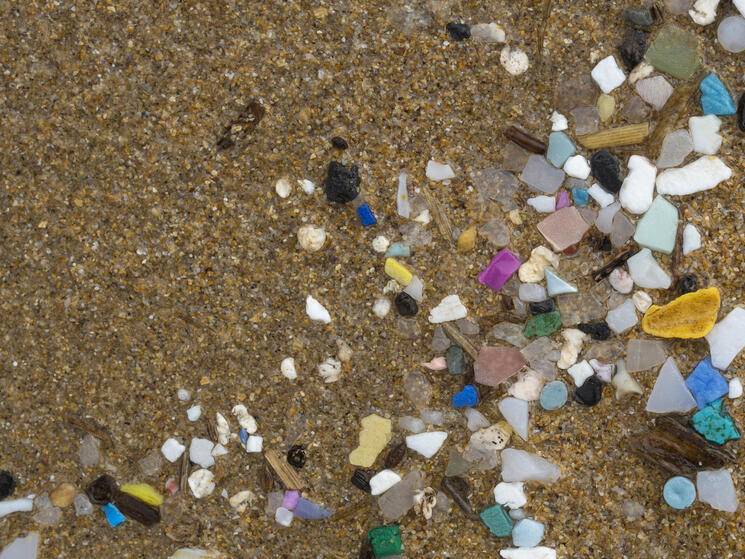 Date

: 08 June 2020

Author

: Erin Simon, Head of Plastic Waste and Business
WWF envisions a world with No Plastic in Nature by 2030—a world where our resources are never wasted. We cannot meet this goal without the power of business. ReSource: Plastic, launched in 2019, leverages that power so we can work together to stop the flow of plastic into nature. In the activation hub's first year we worked with five principal members—Keurig Dr Pepper, McDonald's Corporation, Procter & Gamble, Starbucks, and The Coca-Cola Company—as well as thought partners The Ellen MacArthur Foundation and Ocean Conservancy to establish a baseline of plastic use, outlined in the Transparent 2020 report. We set out to understand how much plastic companies are using; what portion of it is recycled, virgin, or plant-based; and where this plastic ends up once disposed of—if it's re-used, recycled, incinerated, landfilled, or ending up in nature.
These five companies have taken the unprecedented step of publicly releasing information about their plastic footprint in the name of collaboration, and I cannot overstate how important this is. It's not a comfortable position for any company to be in; the fact that these five companies have volunteered to be here shows a serious intent to tackle this problem. Transparency is critical to the ReSource platform. It's the old adage: you can't manage what you don't measure.
With data from these companies, we can start getting down to business. The ReSource Footprint Tracker is our number-crunching tool, providing a standard methodology to track companies' plastic footprints and publicly report on the progress of their plastic waste commitments. With this information we can then identify the points at which the plastic lifecycle needs intervention
In our baseline analysis, which reflect company data from 2018, we found four key areas for action:
1. Eliminating unnecessary plastics:
We must build on efforts to reduce and redesign small plastic, including familiar, difficult-to-recycle items like utensils, coffee stirrers, straws, and closures. These are a significant category for three of the five ReSource members. Because small plastics are largely excluded from recycling streams, eliminating, or finding substitute materials should remain a key priority for these companies.
All five companies are exploring reusable packaging systems and services as an alternative for other high-volume, low recyclability products like cups and utensils. To support the enabling conditions for this innovation, these companies should focus on setting and reporting reusability targets at the country level, collaborate with other companies on localized solutions and invest in consumer behavior change.
2. Investing in sustainable production:
Across the five companies, the average amount of recycled content used is only 8% – this highlights the challenges around existing infrastructure and an opportunity to invest in solutions that reduce virgin plastic use and increase recycled or sustainably sourced biobased content.
3. Doubling the global recycling rate:
ReSource members should develop action plans that focus on country-level opportunities for recycling. The United States represents the single biggest opportunity for recycling due to the high sales volumes of these companies coupled with limited recycling infrastructure and high landfill rate (72%).
In particular, polypropylene recycling in the US is highlighted as a strong opportunity for increased recycling. The US recycling rate for polypropylene—think bottle caps, yogurt caps, prescription bottles, or the other 'stronger' types of plastic—is close to zero (0.6% across all sectors and categories in 2017), and as the demand for quality recycled polypropylene far exceeds supply, collective action is needed to increase availability.
4. Working to fill critical data gaps:
Perhaps most importantly, to determine how well ReSource: Plastic interventions are working, we must improve the quality and precision of our understanding of our data on the plastic waste system. Specifically, we need better country-level waste management data and, through coordinated corporate data collection, a consensus on shared language and best practices.
The data gap is one of the limiting factors of our initial report. Because we just don't have enough detailed data in several key geographies, we can't meaningfully distinguish between the waste management footprints of individual companies and the national averages in some regions.
Another consideration is that all of this information was collected before the COVID-19 pandemic. The landscape is changing: the price of oil, for example, has fallen to a point where virgin, oil-based plastic may be a more tempting option. But the ultimate impacts of the pandemic on plastic usage and disposal are yet to be determined. All we can say is that we must stay the course. Any company that has set plastic targets, not limited to ReSource members, must continue to work toward their goals.
And finally, keep in mind that this report, while an important starting point, only represents a few companies and can't illustrate global trends across industries. This is exactly why we need ReSource: Plastic to grow. The more companies that use the ReSource Footprint Tracker, the better we can measure impact and steer the entire plastic system toward meaningful, quantifiable, and lasting change. Our goal is to enlist more than 100 companies by 2030, a group that could prevent more than 50 million metric tons of plastic waste from entering nature.
In the first year, leading companies have helped us create an essential starting point showing how ReSource: Plastic works. Now it's time for other companies to head down the same path and put their plastic commitments into action.
Interested? Reach out to [email protected].