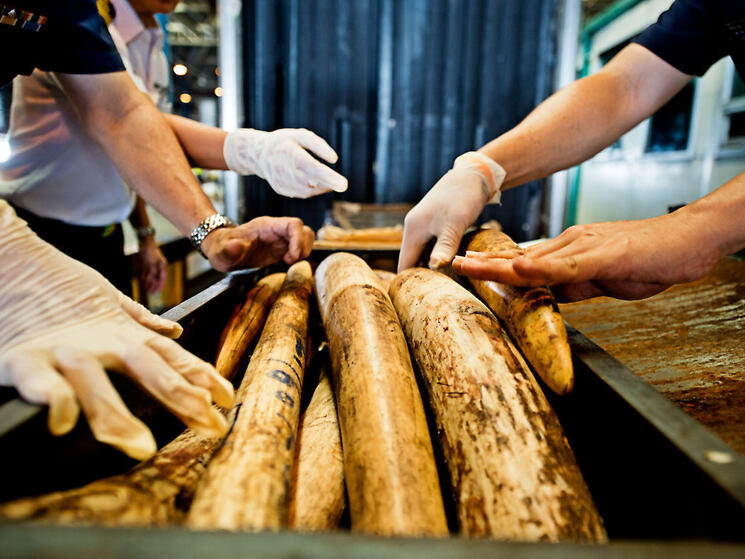 Date

: 22 October 2018

Author

: Jan Vertefeuille, Senior Director of Advocacy and Wildlife Conservation at WWF
When WWF and TRAFFIC conducted a survey of 2,000 Chinese consumers earlier this year in China, we were hoping to see a decline in ivory buying now that the country has a trade ban in place. We were pleased to find that was in fact the case. What was concerning, though, was the finding that one consumer group has actually increased its buying: people who regularly travel outside mainland China.
That means that the consumers with the means to travel – giving them access to ivory in places where it's still available on the market – also have the most desire to keep buying and ignore the law.
Chinese consumers are the driving demographic for ivory sales globally. Laudably, the Chinese government implemented a domestic ban on selling and buying ivory at the end of 2017 to address its role in the elephant poaching crisis. Now it's essential we curb consumers' desire to buy ivory outside of China to ensure the ban does what it was intended to do for elephants.
Unfortunately, some of the destinations most popular with Chinese travelers still have ivory on the shelves: Thailand, Laos, Hong Kong, Vietnam. Even though it is unlawful to bring ivory out of one country into another without special permits, travelers are still risking it.
With Chinese travelers predicted to make a staggering 200 million trips a year by 2020, we know that to reach them effectively, we need help.
This month, WWF and the World Travel & Tourism Council (WTTC) signed a memorandum of understanding to find new ways for the travel industry to halt illegal wildlife trade. More than 100 WTTC members have signed onto a declaration to tackle wildlife crime and educate customers and employees about the issue.
In Thailand during Golden Week – the first week of October and one of the most popular travel holidays in China – WWF partnered with the Tourism Authority of Thailand to reach tourists visiting there. Thailand, which has an open ivory market, is the most popular foreign destination for Chinese travelers, who comprise more than half of all tourists to Thailand. Chinese travelers' access to ivory in Thailand could seriously undermine the effectiveness of China's market closure unless addressed.
Since Chinese travelers are digitally connected when they travel, we enlisted online influencers to share our messages with them, messages we knew from our research are effective with this audience. We used blog posts, customizable social media visuals and short messages – which reached consumers with Chinese smart phones when they were in the Bangkok airport, at popular shopping districts and at markets where we know ivory is available.
NokScoot airlines, a budget carrier that flies between China and Thailand, passed out elephant souvenirs on certain Golden Week flights and invited passengers to join WWF and NokScoot at a pop-up art installation in Bangkok meant to raise awareness about the plight of elephants.
This kind of campaign -- combining the best available insights into ivory consumers, highly targeted digital outreach and collaboration between the conservation and corporate sectors -- is an essential tool to reduce consumer demand for ivory. WWF is excited to apply the strength of our influence and join forces with so many other powerful voices who support us in tackling the threats that undermine progress of our conservation work.
It is our hope that this campaign encourages people to change their view of ivory as an appropriate holiday purchase and, ultimately, make ivory socially unacceptable.