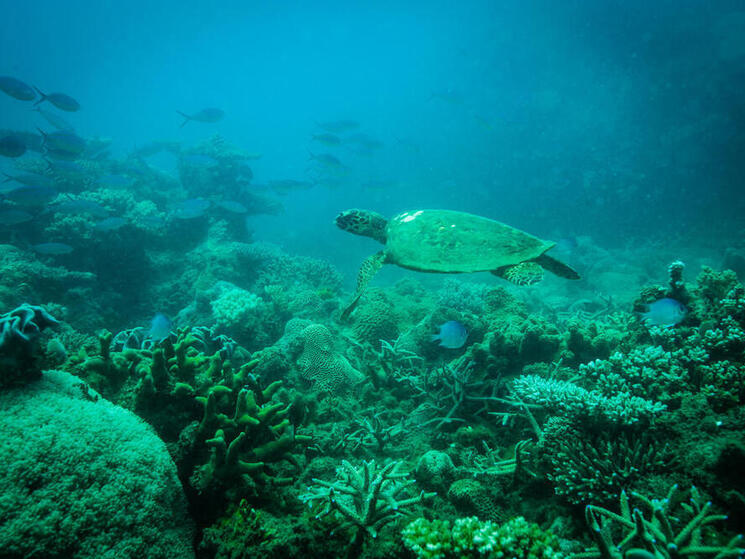 Date

: 31 July 2019

Author

: Michele Kuruc, Vice President, Ocean Policy
Turtles entangled in plastic bags; whales dead and filled with plastic; sea lions trapped in six-pack rings: when images like these go viral, we're motivated to do whatever we can to help ocean wildlife. Companies that produce and use plastic have opportunities to make and keep commitments to eliminate plastics in nature, but what if you're not in the plastics business?
Plastics makers and commercial plastics buyers aren't the only businesses that can save marine life. In fact, there is one sector that can have an even larger impact—seafood.
Plastics aren't killing as much wildlife as unsustainable fishing
What we eat from the ocean impacts the marine world more than the single-use plastics that accompany our food.
Unsustainable fishing remains the single largest driver of declines in ocean wildlife. Currently, one third of the world's assessed fish stocks have been pushed past their limits and are overfished or depleted. The rest most likely can't afford the added pressure that would come with increasing catches. Irresponsible fishing has also led to declines in vulnerable populations of shark, turtles, and whales.
Sadly, this isn't breaking news. But the problem is harder to visualize, so it doesn't make headlines and garner consumers' attention as often as plastics do. While there has been a coordinated effort to do something, the sustainable fishing movement needs more champions. Businesses that buy, sell, and trade in seafood can leverage their market power and step up and become leaders, achieving important conservation goals while simultaneously helping their businesses.
Sustainable fishing is a pathway to environmental and economic security
Fishing is a foundation of security for hundreds of millions of people in coastal communities. When effectively managed, fish stocks support livelihoods, provide food, and help maintain balance in critical coastal ecosystems. When ocean life flourishes, communities flourish.
Companies that buy and sell seafood can protect vulnerable marine populations while supporting local communities. They do this by prioritizing purchases from fisheries that are actively working to improve practices, which can be benchmarked against requirements of independent third-party assessment schemes like the Marine Stewardship Council.
Fishery improvement projects can address how fishing is managed, limit the bycatch of vulnerable marine species by modifying fishing gear and practices, and enhance the collection of data on fishing. These improvements can be made at the appropriate scale, whether that is local, regional, or international. Support from the marketplace can incentivize progress on an accelerated timeline.
Improving how the world fishes the ocean is critical but without a transparent supply chain there will never be the accountability necessary to stop unsustainable fishing practices altogether.
Commitments are only as useful as they are transparent
The fishing industry and governments are already using technology to track vessels and trade, ensure legality, and enforce compliance with rules. While there is a lot of information being collected, and some of it is being put to use, we're not maximizing the potential of this data to curb unsustainable fishing.
The latest frontier of ocean conservation is creating uniformity of data throughout the supply chain, including how it is collected and shared. Industry is leading the design of standards through the Global Dialogue on Seafood Traceability, which includes participation from seven of the world's 10 largest seafood production companies with combined seafood sales of well over $35 billion per year.
The dialogue is set to deliver its voluntary standards early next year to enable interoperability, lower costs, and improve the reliability of traceability systems, while substantially raising demand for transparent supply chains.
Plastics may pull at the heartstrings, but it's not the only problem leading to declines in marine populations. Businesses in the seafood sector have an opportunity to lead on ocean conservation simply by spending wisely—transforming your supply chain in a way that prioritizes sustainable fishing is a response to declining populations of marine life that is well within your control.
And do cut back on single-use plastics in your office and home, too. Every little bit helps.