Protected Areas: Key to Achieving Peace in Colombia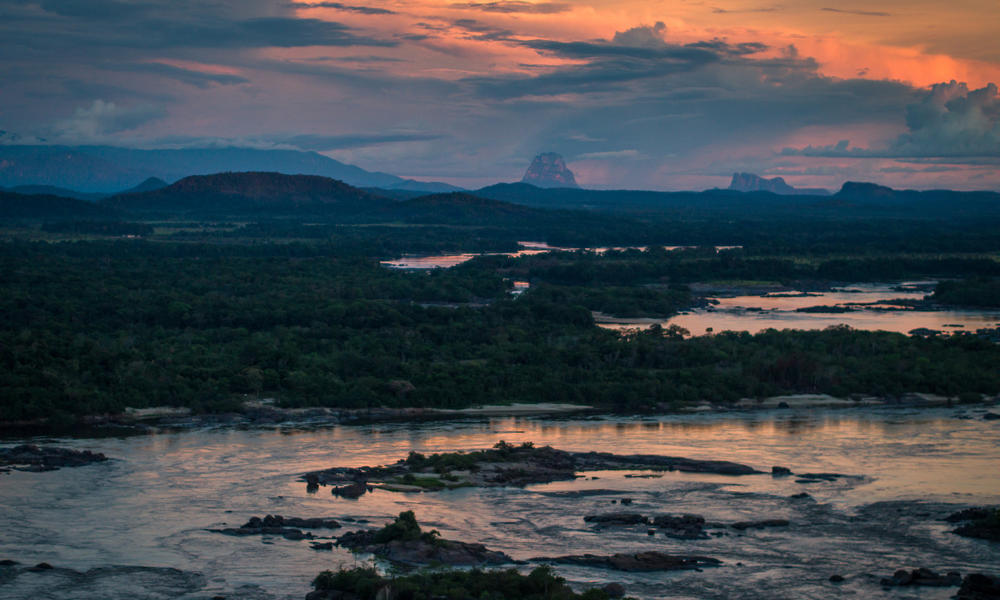 The 52-year armed conflict in Colombia is coming to an end. But it has left its mark on the country's land and seascapes.
Many of the country's forests, rivers and other natural resources were severely degraded or destroyed during the conflict, largely because of lack of clarity over who owned them and how they could be used. Natural resources were viewed more as sources of revenue than sources of life for people, plants, and animals. Revenue from the sale of coca and other illegal crops, unsustainably harvested timber, oil, gas, and more. Toxic spills, deforestation, and fires were just some of the impacts associated with these industries.
A recently signed peace agreement between the Government of Colombia and the leftwing guerrillas of the Revolutionary Armed Forces of Colombia (FARC) opens the door to restoring the health of the country's natural resources, as well as preventing further damage or loss to them—especially the kind that could coincide with the expected economic growth in areas once considered too unsafe to access.
The land and seascapes within Colombia's protected areas are diverse—mazes of mangroves, white-capped Andes mountains, multi-colored coral reefs in the Caribbean, dense tropical forests in the Amazon and relatively sparse savannahs in the Orinoco region.
Of particular concern are natural resources within and near the country's network of protected areas, as these are the country's most precious—and sought after—natural resources. Nearly two-thirds of the land in the 34 million-acre protected areas system was in conflict zones.
That is why a key component of the country's strategy for peace—as well as addressing climate change and other issues—is strengthening its system of protected areas. It is believed that these conflicts can be minimized or eliminated altogether if there are clear guidelines about the use of land and water within and buffering protected areas.
The main approach that will be used to do so is Project Finance for Permanence (PFP). Through the PFP initiative in Colombia, called Heritage Colombia, a fund will be created to increase the amount of land in the system and ensure the proper management and governance of land within the system. This initiative is being led by the Government of Colombia, with support from WWF, the Gordon and Betty Moore Foundation, the Fund for Biodiversity and Protected Areas-Natural Heritage, Wildlife Conservation Society, and Conservation International.
Per square kilometer, Colombia is the most biodiverse country in the world. There are more bird, amphibian, butterfly and frog species here than anywhere else. One of the species found in the country is the capybara, known as the largest rodent in the world. It thrives in the flooded savannahs of the Orinoco region.
WWF was a key partner in a PFP in Brazil that resulted in the permanent protection of 150 million acres of land in the Amazon. And it is a key partner in a PFP in Peru that seeks to permanently protect 41 million acres in the Amazon. We recognize the benefits natural resources in well-managed protected areas provide to people and wildlife—rivers that are a source of drinking water, mangroves that act as a barrier during storms, forests that provide livelihood opportunities for ecotourism adventures, and more.
The Colombia initiative is different from other PFPs WWF has been involved with because it includes land outside of the protected areas, such as private reserves, land managed by Afro-Colombian communities and land owned by indigenous communities. This land is part of larger regions that will be healthier if managed as one landscape, given the interconnectivity of the rivers, mountains, and other natural resources that cut across their borders.
Gregorio Utturia's livelihood is fishing in the Pacific Coast protected area, Utria National Park, that is adjacent to his community. By using sustainable fishing practices, he and other fishermen in his community play an important role in ensuring the park is properly managed.
This project will help Colombia meet national goals related to creating new protected areas and reaching peace. It also is a means for the country to contribute to global goals, including those that are part of the Paris Agreement, Aichi Targets, Sustainable Development Goals, and Convention on Biological Diversity.

Heritage Colombia is part of a global WWF strategy, Earth for Life, that seeks to strategically increase the number and accelerate the pace of PFP initiatives so that the most important forests and other natural resources are permanently protected and sustainably managed.