Celebrating Women in Sustainability: Samantha Sims
A Q&A with Samantha Sims, Vice President, Environmental Sustainability & Product Stewardship, PVH Corp.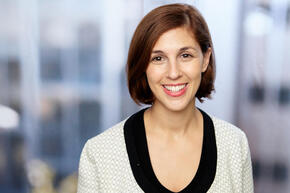 What are some of the biggest challenges of your work?
One of the best aspects of working in corporate sustainability are the multi-faceted challenges – and finding solutions! Three that are top of mind right now are:
• Working across complex supply chains, poised to evolve significantly over the coming decade, to fulfill increasing consumer expectations related to social and environmental impacts of the products we offer, such as climate change and resource scarcity.
• Communicating information about environmental issues in ways that reach different associate audiences to help them adapt their everyday work to adjust to the impacts of climate change and generate more positive change.
• Scaling sustainable innovations that are critical for the apparel industry to make circular products mainstream.
What accomplishment or project are you most proud of?
While I'm incredibly proud of programmatic milestones that contribute to fighting climate change and enabling a circular economy, like setting a science-based target, driving PVH's sustainable material footprint to be ~40% sustainable and our global water stewardship partnership with WWF, I'm most proud of the team we've built. This stellar team (of many women) partners with hundreds of associates across our global business to embed sustainable considerations into their everyday ways of working. With creativity, determination and resourcefulness they tackle everything from promoting renewable energy procurement in owned & operated and supply chain facilities to driving new sustainable approaches to product development. They're simply awesome and I'm so fortunate to work with them!
We're seeing a surge of women leaders across the sustainability sector. Why is this a positive development and what do you think it signals for the future?
My 5-year-old, Zoe, answered this by saying, "because women are strong and brave and problem solvers, Mommy." I think she's pretty spot on. I believe the problem solving piece links to a sense of creativity and energy that I see in many of the women I'm privileged to work with at PVH and throughout the sustainability space. I'm also incredibly energized by the need to engage more diverse points of view into the sustainability sector as we tackle big environmental challenges that intersect with similarly pressing social justice crises.
How do you think corporate sustainability will change over the next decade and beyond?
In terms of the apparel sector, consumers will gradually find more sustainable and circular products on (virtual) shelves thanks to increasing expectations for brands to be ethical and sustainable. The companies that offer the best sustainable and circular consumer products and brand experiences will have genuinely incorporated social and environmental considerations into long-term, strategy development, general ways of working, IT systems and HR performance management. I'm incredibly excited to see interesting sustainable business models, partnerships and acquisitions become tables stakes. Additionally, more and more businesses will consider their operations and risk management in relation to nature and climate change – but the most advanced companies will apply sustainability as a lens for creating opportunity and value – such as turning waste into assets.
…

About Samantha
Samantha (Sam) Sims leads the environmental sustainability function at PVH Corp., one of the largest global apparel companies with brands including Calvin Klein, Tommy Hilfiger, IZOD, Van Heusen, Warner's and Olga. She is also responsible for driving strategy planning across the Global Corporate Responsibility Function.

Sam built the environmental program at PVH, which encompasses initiatives across owned and operated facilities, supply chain, and brand product development. She serves on PVH's Corporate Responsibility (CR) Leadership team where she advises company leaders on a range of environmental and human rights issues, as well as reporting quarterly to PVH's CR Committee of the Board of Directors. Sam was instrumental in developing the company's 2030 Forward Fashion strategy, which positioned the company to pursue a greater level of ambition with respect to human rights, climate change and sustainable product development.
…

The views expressed in this blog do not necessarily reflect those of WWF.