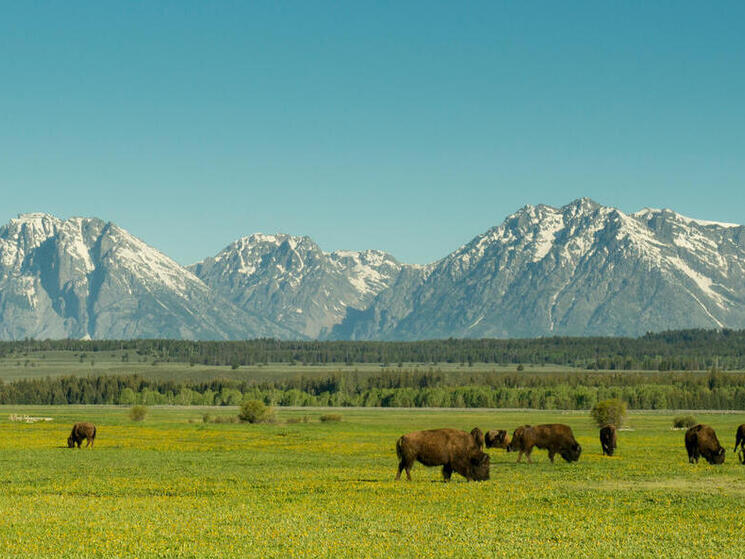 WWF's Bioplastic Feedstock Alliance (BFA) works to encourage the responsible development of plant-based plastics. Members of the BFA, including WWF's lead on packaging and material science, Erin Simon, recently traveled to the Northern Great Plains, one of only four remaining intact temperate grasslands in the world.
The BFA members journeyed to the Northern Great Plains to see how sustainable agricultural practices can help conserve and protect the prairies for generations to come. The members were on a fact-finding mission: to see first-hand how they could leverage their collective power to achieve WWF's goal of sourcing crops (or "feedstock") for plastics production in a way that also protects this ecologically-sensitive region. Here is a look at what they learned about the importance of ecosystem health in their travels.
The Northern Great Plains is a critical eco-region

The Northern Great Plains once rivaled the African savanna in abundance of wildlife. Up until the 19th century, millions of bison, pronghorn antelope and elk could be seen grazing on an endless sea of prairie grass. Today, large swaths of those grasslands and the native species that depend on them are gone due to intensive agriculture and grazing as well as oil, gas and coal development. WWF recognizes that conserving the Northern Great Plains goes hand-in-hand with sustaining the rural communities who live here, and works with the ranching and farming industries to develop more sustainable practices.

Farm sustainability is critical to ecosystem resiliency

When farms are sustainably managed, they can help preserve and restore critical habitats, protect watersheds, and improve soil health and water quality in the region.
The BFA members were eager to learn about sustainable crop management practices in the Northern Great Plains. Through visits to local farms, they saw how farmers defined sustainability at the farm-level, with an emphasis on the health of the soil. Healthy soil reduces the dependence on fertilizers, helps reduce the impacts of floods, and ensures that the land will be productive for the long-term.

Ensuring both economic and environmental sustainability

The BFA members visited Cronin Farms on their trip, and were inspired by their approach to land stewardship. Cronin Farms has adopted sustainable agricultural practices, including increasing crop diversity to ensure the long-term health of the soil. They have also integrated other revenue streams by introducing livestock (which also benefits soil health) and ecotourism. While crop insurance and subsidies often provide disincentives for farmers to adopt sustainable practices, Cronin Farms demonstrates that it's possible to ensure both economic and environmental sustainability.

Holistic solutions are the path forward

As the BFA members learned on this visit, sustainably managed landscapes, including farms, are critical to ensuring the health of the region. When done in a sustainable way, farming can help support biodiversity and environmental resilience and economic well-being. The lessons we learn from these farmers will prove to be invaluable as we look for ways to responsibly source feedstocks in the future.

WWF and our partners can work collectively to leverage our power

Perhaps the most important takeaway from this visit is that we all have a role to play – from farmers to corporate buyers of feedstock – in protecting and conserving our the grasslands. We need to collaborate and address the environmental threats to this unique region in a holistic way. We all benefit from the services that the grasslands provide – from flood protection to biodiversity – and we will need to find inclusive solutions that endure well into the future.