Oceans
A resilient ocean sustains marine life and functioning ecosystems that support rich biodiversity, food security and sustainable livelihoods
Overview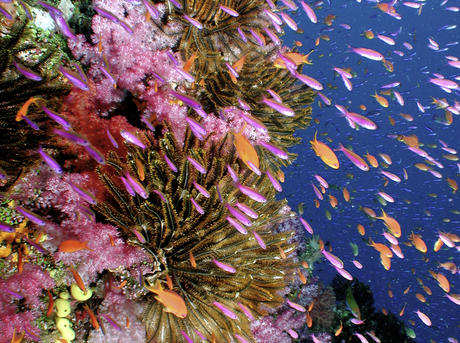 95%
Oceans make up 95% of all the space available to life
Life began in the oceans. They are home to an estimated 2 million species, from the largest animal that has ever lived to the tiniest bacteria. Marine biodiversity far outweighs that on land. New species are found all the time, as scientists estimate that 91% of marine species have yet to be discovered, catalogued or described. Covering 71% of our planet's surface, oceans have shaped human history, culture and lives, and continue to do so. They are a life-support system for Earth and a global commons that provide us with free goods and services, from the food we eat to more than half of the oxygen we breathe. They are the foundation to the planetary water cycle that produces rain and snow; and are a source of food, feeding more than 1 billion people with their primary source of animal protein.
The oceans also regulate the global climate; mediate temperature, and drive the weather, determining rainfall, droughts and floods. They are the worlds' largest store of carbon where an estimated 83% of the global carbon cycle is circulated through marine waters.
WWF's oceans work focuses on healthy and resilient marine ecosystems that support abundant biodiversity, sustainable livelihoods, and thriving economies.
Alaska's Bristol Bay is a sprawling watershed of winding streams and rivers, vast wetlands and tundra, forests of alder and spruce, and home to a variety of fish, birds and terrestrial animals. Learn more about this incredible place that WWF is working hard to save.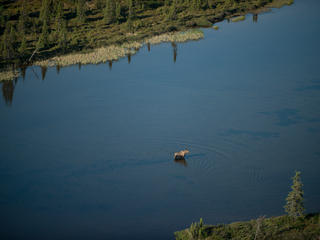 Why It Matters
A LIVING BLUE PLANET

Oceans contain the greatest diversity of life on Earth, from the freezing polar regions to the warm waters of the tropics. Unfortunately, the biggest drivers of change in our oceans are the removal of living resources from the ocean; the conversion, loss, degradation and alteration of the physical habitats that make up the ocean ecosystem; and the many pollutants entering the ocean from a of myriad sources.

HEALTHY COMMUNITIES

Oceans act as a life-support system for people around the world, providing us with free goods and services, from the food we eat to the oxygen we breathe. But oceans are downstream from everywhere on the planet, and are subject to the collective footprint of more than seven billion people. In the last four decades populations of marine mammals, birds, reptiles and fish have declined on average by half, with some dropping by nearly 75%.

CARBON SINKS

Oceans are the world's largest store of carbon, where an estimated 83% of the global carbon cycle is circulated through marine waters. The global climate and our oceans are responding to decades of increasing carbon emissions. There is no place on earth this is more evident than in the Arctic, where the effects of the changing climate are unprecedented. The most drastic result is the shrinking sea ice, where the Arctic Ocean is projected to be nearly ice-free in the summer by 2050. This impacts species that rely on the ecosystems that are both visible and invisible, but critical as a source of food and for breeding.

PROVIDING FOOD

Fish and other seafood are a major source of protein for approximately a billion people. It's crucial that we keep oceans safe and robust to help feed the planet. Overfishing, illegal fishing, bycatch, poor governance, and lack of monitoring and enforcement are challenging the health of the ocean, where species, as well as entire ecosystems are being lost. Globally, there has been a decline in the abundance of fish stocks, between 50-90% depending on species.

NURTURING MANGROVE ECOSYSTEMS

Perhaps one of the most valuable habitats on the planet, mangroves provide important nurseries for a vast array of aquatic animal species. Loss of mangroves is estimated to be occurring at a rate five to ten times that of the loss of rainforest. Sea grasses and coral reefs, also incredibly productive and valuable, have seen similar losses and all face continuing threats.

CLEAN WATERS

When oceans are clean and resilient, people and wildlife benefit. We're facing an urgent challenge: An enormous loading of plastics is in our oceans with estimates of 46,000 pieces of plastic per square mile.

VIBRANT CORAL REEFS

The intricate structures of coral reefs are the hubs of busy, biodiversity-rich ecosystems. But the continual absorption of CO2 is increasing acidity levels and changing the oceans' basic chemistry, which is happening at a rate faster than it has over the past 65 million years.