Oceans
Achieve resilient and productive oceans that support rich biodiversity, food security, and sustainable livelihoods
Overview
250+ MILLION PEOPLE
depend on ocean ecosystems for coastal protection and livelihoods
The ocean is a planetary superpower. Home to spectacular ecosystems and treasured wildlife, the ocean covers 71% of our Earth's surface and sustains the lives of billions of people. It regulates our climate, produces half the oxygen we breathe, and fuels the water cycle that produces rain and freshwater.
Studies show that when ocean ecosystems are resilient, people nearby are more resilient too. A group of researchers looked at more than 100 studies to better understand the connection between marine protection and human health, and found that a majority of people realize the social, health, economic, governance, and ecological benefits from a healthy ocean. But those benefits are not guaranteed.
After decades of overuse and pollution, these services are being interrupted.
One out of three fish stocks is overfished. Hundreds of thousands of marine mammals, seabirds, and sea turtles are captured each year, along with tens of millions of sharks. Half of all coral reefs and mangroves are gone.
We still have time to give the ocean the room it needs to be resilient in the face of growing threats. But we have to work together. WWF is prioritizing two pathways to build a more resilient ocean—We're finding the solutions to fix broken global systems that lead to declines in nature while protecting those places that wildlife and people can't live without.
Mangroves, with their incredible ability to capture and store carbon, can be a solution to the climate crisis.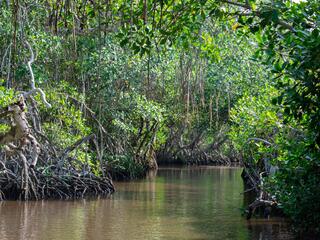 Why It Matters
Global Climate

Our ocean plays a crucial role in keeping the planet's temperature balanced and driving weather, such as rainfall and winds. Unfortunately, it's also absorbed most of the planet's warming—over 90%—and a significant amount of our carbon pollution as a result of human-caused climate change. Warmer ocean waters are driving stronger storms and bleaching coral reefs. As the ocean absorbs carbon dioxide, it becomes more acidic, threatening most shelled organisms, including small crustaceans that are fundamental to the marine food chain.

Sustainable Livelihoods

The ocean is a lifeline for people around the world, generating at least $2.5 trillion worth of products and services each year. Fishing alone supports more than 260 million jobs. Only a healthy ocean can keep this economic engine running.

Food Security

Seafood is the major source of protein for roughly 1.5 billion people. But according to the UN Food & Agriculture Organization, one out of every three assessed wild fish populations have been harvested beyond their limit and cannot handle the pressure that would come from adding more boats, nets, or poles. Establishing sustainable, non-destructive, and well-managed fisheries is vital to ensure a lasting supply of seafood for the world

Biodiversity

Scientists estimate more than 2 million species live in ocean waters and nine out of ten haven't been fully identified. The Living Blue Planet Report recorded a 36% overall decline in the abundance of vertebrate marine life between 1970 and 2012. Unsustainable fishing is the primary direct threat to marine wildlife, followed by habitat degradation, which can also include a loss of food sources.