Stories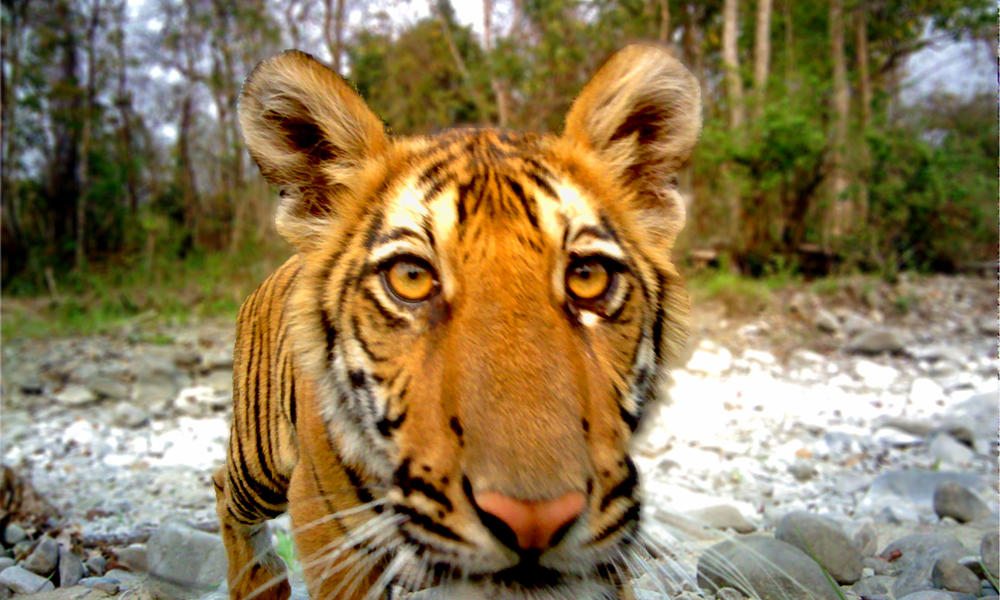 In less than a decade, Bhutan's Royal Manas National Park has achieved a big win for tiger conservation. From only 10 tigers in 2010, its population has now grown to 22. With a global population of as few as 3,890 wild tigers, every population increase matters. And it marks a significant step towards achieving the goal of doubling the world's wild tigers.
The Iberian lynx is the world's most endangered cat. In 2002, there were fewer than 100 left in the wild. WWF and its partners are working to restore the Iberian lynx to areas where it used to live. And where it could still flourish today - with a little help.

WWF Magazine: Fall 2017

Without direct intervention, the Yangtze finless porpoise may face extinction. But that reckoning is up against an even more powerful force: unyielding economic development.

WWF Magazine: Fall 2017

At WWF, we're committed to ensuring that the nations of the world uphold their commitments under the Paris Agreement, despite the White House announcement that the US would exit the agreement.

July 20, 2017

Every five years, the US determines where oil and gas companies can purchase leases for offshore drilling. The most recent plan excluded the Arctic, but the Trump administration wants to change that.

WWF Magazine: Fall 2017

A free-flowing river runs from its source to its outlet or "sink"—another river, a lake, or the sea—with few obstacles or alterations to how and where it flows. Here's how researchers spot one.

WWF Magazine: Fall 2017

Glacier is one of the last pristine wilderness areas left in the lower 48 states. Its rugged peaks, forested valleys, and alpine meadows offer refuge to a diversity of unique flora and fauna.

WWF Magazine: Fall 2017

Each year, WWF leads a team of park rangers and conservationists to set controlled fires along remote stretches of the Rio Grande/Rio Bravo River.

July 18, 2017

Wetlands are often undervalued. Between 300 million and 400 million people live close to—and depend on—wetlands. Learn more about these important habitats WWF is working to conserve.

WWF Magazine: Fall 2017

Chris Field is confident we will solve climate change. We just need to do one thing first.

WWF Magazine: Fall 2017

Lindsay Bass helps forge collective solutions to the threats facing freshwater around the world.

WWF Magazine: Fall 2017

Edward Burtynsky's near-abstract photography documents the countless ways that water shapes our landscapes.

WWF Magazine: Fall 2017

US Fish and Wildlife Service recently announced manatees had been downlisted from Endangered to Threatened on the List of Endangered and Threatened Wildlife.

WWF Magazine: Fall 2017

WWF is working with partners to not only restore the United Kingdom's rivers and wildlife to a healthy state, but to protect them—and the otters and others who depend on them—from challenges to come.

WWF Magazine: Fall 2017

Explore a global WWF project that's combining big partnerships with bigger data to map and protect the world's last free-flowing rivers.

WWF Magazine: Fall 2017

Whether we're washing clothes or watering the lawn, all the water we use in our homes is drawn from a nearby lake, river, reservoir, or aquifer. Together, we can help protect this vital resource.

WWF Magazine: Fall 2017

Among fly-fishing aficionados, the golden mahseer is legendary.

WWF Magazine: Fall 2017

WWF National Council member Dan Sarles serves as executive director of the Eaglemere Foundation. He's helping WWF safeguard the environment, from Arctic waters to South American forests.

WWF Magazine: Fall 2017

Shambhu Paudel noticed that the research on freshwater species in his home country of Nepal was extremely limited. So, with help WWF's Russel E. Train Education for Nature Program, he's changing that.

WWF Magazine: Fall 2017

California is a global winemaking powerhouse. But extreme weather—from droughts to floods, all driven by climate change—could threaten that productivity.

WWF Magazine: Fall 2017

If you've ever gotten together with friends to play Risk or Settlers of Catan, you know the appeal of a strategy board game.

WWF Magazine: Fall 2017

All life depends on water. Learn how WWF is helping to secure global freshwater resources for people and a living planet.

WWF Magazine: Fall 2017

Solitary, beautiful, and elusive, the jaguar is the biggest native feline to roam the Americas.