Stories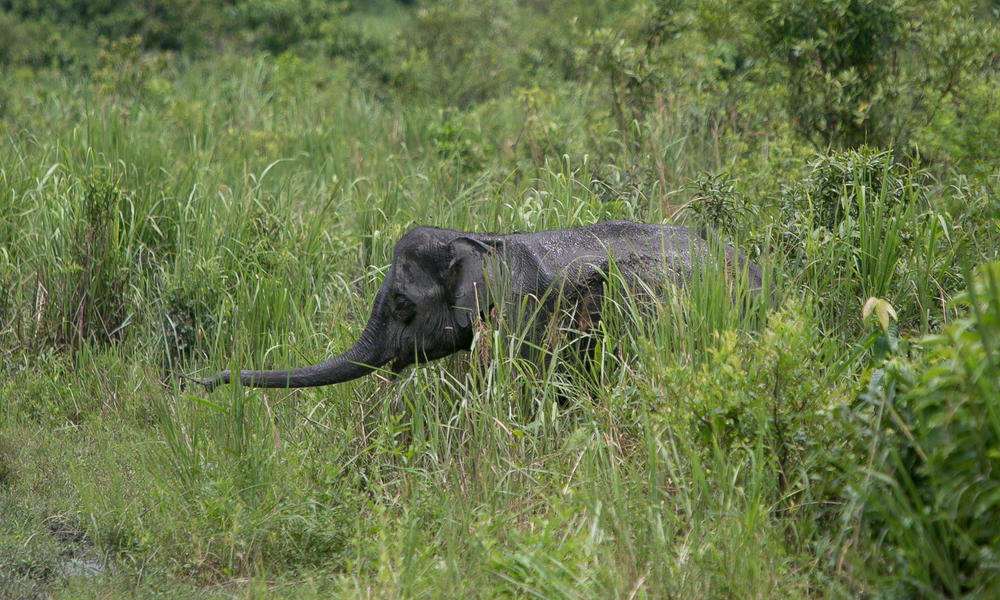 WWF's first international Human Wildlife Conflict Tech Challenge sought innovative solutions to minimize human-wildlife conflict in response to two specific case studies focused on Asian elephants and carnivores.
WWF Magazine: Fall 2017

If you've ever gotten together with friends to play Risk or Settlers of Catan, you know the appeal of a strategy board game.

WWF Magazine: Fall 2017

All life depends on water. Learn how WWF is helping to secure global freshwater resources for people and a living planet.

WWF Magazine: Fall 2017

Solitary, beautiful, and elusive, the jaguar is the biggest native feline to roam the Americas.

WWF Magazine: Fall 2017

As monsoon rains roll in, wildlife in India's Kaziranga National Park begins to lumber toward higher ground beyond the protected area's southern border. WWF works to preserve these vital corridors.

June 30, 2017

WWF and Tiger Beer US are engaging in a campaign to fundraise to support rangers around the world, including those in tiger range countries to reduce the threat of poaching to this species. Tiger Beer will match up to $25,000 of consumer donations from July 1 through August 31, 2017 to support WWF's Back a Ranger Program.

June 29, 2017

In mid-October of 2016, an Amur tiger was seen in the Russian city of Vladivostok. Despite efforts to capture him, he proved elusive, and gained international attention. On October 20th, he was finally captured and taken to a rehabilitation center. After being rehabilitated, he was released into his new home, Bikin National Park.

June 27, 2017

Many people may not know that access to fresh water around the globe can have big impacts here in the US. This week, WWF released a new book entitled Water, Security and U.S. Foreign Policy, exploring how access to water affects US national security and prosperity and how the US can respond effectively. We sat down with two WWF experts to provide some background on this link between fresh water and national security.

June 27, 2017

The government of Belize has not put into place promised protections for the Belize Barrier Reef World Heritage site, leaving the largest barrier reef in the western hemisphere under threat from offshore oil drilling and damaging coastal construction, according to a new WWF assessment.

June 20, 2017

The village of Sobphouan, with help from WWF, is a leading example of successful efforts in Laos to replace traditional agriculture and farming—drivers of widespread deforestation—with sustainable rattan production.

June 16, 2017

Last winter, WWF and other volunteers built nests for the rare ringed seals of Lake Saimaa so they could give birth. Out of the 81 pups born months later, 90% were born in these man-made snowbanks.

June 12, 2017

Kimberly Clark and WWF have collaborated to raise awareness of the FSC logo and what it represents.

June 08, 2017

The government of Mexico announces a permanent ban on gillnets in the Upper Gulf of California - a fantastic and encouraging step forward in the path to saving the vaquita.

June 06, 2017

In a disturbing and growing new trend, Asian elephants of all ages are being slaughtered in Myanmar for their skin and other body parts. WWF is launching an emergency action plan to train, equip, and deploy 10 anti-poaching teams to the most vulnerable areas, and implementing a thorough plan to stop the slaughter.

June 05, 2017

Leaders across the US economy reaffirmed their commitment to climate action despite the Trump administration's decision to pull out of an unprecedented and essential international agreement to curb climate change.

May 31, 2017

The United States has announced its intent to withdraw from the historic Paris Agreement, the world's first truly global plan to address climate change.

Swimming through fresh waters in parts of South America and Asia is what one might consider an unexpected figure: the dolphin. It joins the ranks of the shark and the sea turtle as some of the oldest creatures on Earth. And while they're most commonly associated with oceans, dolphins—and porpoises—can actually be found in several major rivers on two continents.

May 24, 2017

Flooding is currently the most common natural disaster worldwide, and rising global temperatures will only make it more frequent and severe. WWF has developed an integrated framework for managing floods, giving managers more flexible and effective solutions to prevent or respond to such natural disasters.

May 24, 2017

In Kyrgyzstan, community based conservation activities led by Farida Balbakova have paved the way for an integrated, climate-smart landscape management plan to protect the snow leopard.

May 17, 2017

A snow leopard was successfully collared in Kangchenjunga Conservation Area on May 8, 2017 making it the fourth one to be collared in Nepal's eastern snow leopard conservation complex.

May 15, 2017

With an estimated 30 or fewer remaining individuals, the vaquita are the focus of WWF's new report calling for immediate, collective action to save the species from extinction. Prepared for WWF by Dalberg, Vanishing vaquita: saving the world's most endangered marine mammal comes just before the two-year ban is due to expire at the end of May.

May 12, 2017

New footage shows how narwhals use their tusks to hunt and stun fish before eating them.

May 12, 2017

In Nepal, broom grass is transforming steep, degraded slopes above the Trishuli and Seti rivers in the Aamdanda village.

May 12, 2017

Human-wildlife conflict is a major issue for many poor people who live near forests in rural areas of Nepal. That's one of the reasons why WWF and other partners in conservation launched the Hariyo Ban (Green Forest) program to find lasting solutions that protect people's lives, livestock and crops and prevent the retaliatory killing of wildlife.