Greener Apron: Inside Starbucks' Refreshed Sustainability Course
Date

: 01 March 2023

Author

: Jenna Bailey and Cheron Carlson, WWF
Are you ready to become a sustainability changemaker?
In partnership with WWF and Intersectional Environmentalist, Starbucks is launching an updated sustainability course, Greener Apron, on the company's open-source platform, Starbucks Global Academy.
Greener Apron gives Starbucks partners (employees) and anyone wanting to learn more the information and tools they need to learn about sustainability, leveraging examples from Starbucks' sustainability initiatives, and how they can make small changes to make a big difference at work and in their communities. The goal of the course is for individuals to be empowered with a personal action plan to move forward in their sustainability journey.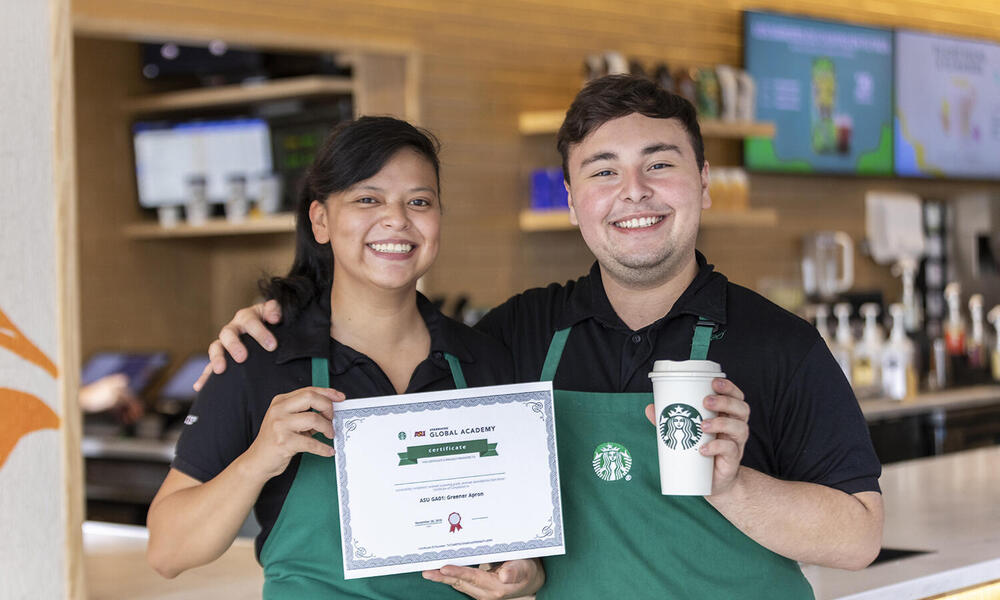 This updated course promotes learning, connection, and action. It helps drive WWF's conservation mission forward at scale by not only by building a foundation of knowledge around core environmental issues but also helping to build a greater community of advocates who can connect with others to drive positive change at work, at home, and in their communities.
Together, WWF, Intersectional Environmentalist, and Starbucks have refreshed the Greener Apron course to make it more meaningful and accessible. These updates include condensing the course to focus on what's most important which cut the time to complete the course by more than half (from 4 to 5 hours to approximately 2 hours), making the course more interactive to enhance the learning experience, connecting Greener Apron with other learning opportunities in Starbucks' Global Academy, and creating a new ongoing learning page to house other learning opportunities and the Greener Apron Action Toolkit. This toolkit allows individuals to curate an action plan that makes sense for them.
Greener Apron helps Starbucks engage their partners in sustainability, both at work and at home. The benefits of this go beyond just helping the planet, as employee engagement is one of the most effective ways for companies to attract and retain talent, especially with Gen Zs and millennials. 89% of Gen Zs and millennials who feel empowered to drive change within their organization feel a sense of belonging. Employee engagement, in general, can lead to employees feeling more connected and loyal to their organizations. Companies willing to act can help make progress towards saving our planet, while also gaining an advantage in the competition for talent.
When companies take the step to invest in talent development in the form of sustainability education, they are demonstrating corporate sustainability leadership while simultaneously empowering their employees, a critical stakeholder audience, to help propel the company towards their goals and targets. It's a win-win situation.
"At Starbucks we have an aspiration to become resource positive, to give back more than we take from the planet. Achieving this is not going to happen with one company or one individual, but when thousands of Starbucks partners and customers from around the world come together, we have the power to create change. Greener Apron provides partners and customers with the knowledge and resources they need to lead the way in their own sustainability journey."

Michael Kobori Starbucks Chief Sustainability Officer
Greener Apron is not just building sustainability champions at Starbucks. It is an open-source platform, with a broad and global reach, that is helping Starbucks and WWF empower and mobilize champions in all walks of life regardless of industry or profession. It is designed for everyone interested in sustainability, regardless of where they are in their sustainability journey.
The newly updated Greener Apron course is available on Starbucks Global Academy in the U.S., Europe, Middle East and Africa, Latin America and Caribbean, and Asia Pacific. A customized course for Canada is coming soon.
Join the tens of thousands of sustainability champions around the world that have committed to the effort to lead by example and make a difference one action at a time! Take the Greener Apron pledge and get started today.