Overview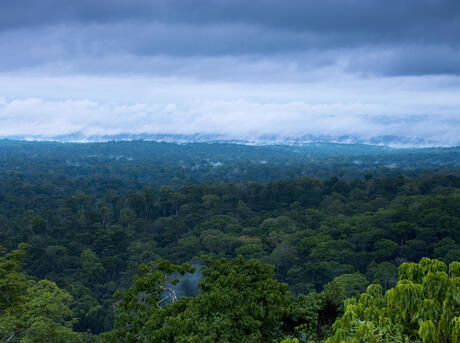 Forests are essential for life on Earth. Three hundred million people worldwide live in forests and 1.6 billion depend directly on them for their livelihoods. Forests also provide habitat for a vast array of plants and animals, many of which are still undiscovered. They protect our watersheds. They inspire wonder and provide places for recreation. They supply the oxygen we need to survive. They provide the timber for products we use every day.
Forests are so much more than a collection of trees. Forests are home to more than three-quarters of the world's life on land. These ecosystems are complex webs of organisms that include plants, animals, fungi and bacteria. Forests take many forms, depending on their latitude, local soil, rainfall and prevailing temperatures. Coniferous forests are dominated by cone-bearing trees, like pines and firs that can thrive in northern latitudes where these forests are often found. Many temperate forests house both coniferous and broad-leafed trees, such as oaks and elms, which can turn beautiful shades of orange, yellow and red in the fall.
The most biologically diverse and complex forests on earth are tropical rainforests, where rainfall is abundant and temperatures are always warm. Forests also play a critical role in mitigating climate change because they act as a carbon sink—soaking up carbon dioxide and other greenhouse gases that would otherwise be free in the atmosphere and contribute to ongoing changes in climate patterns.
But forests are being destroyed and degraded at alarming rates. Deforestation comes in many forms, including fires, clear-cutting for agriculture, ranching and development, unsustainable logging for timber, and degradation due to climate change. This impacts people's livelihoods and threatens a wide range of plant and animal species. In 2020, the tropics lost more than 12 million hectares of tree cover. That's roughly 30 soccer fields' worth of trees every single minute.
The Amazon, the planet's largest rainforest, lost at least 17% of its forest cover in the last half century due to human activity. In Indonesia, the island of Sumatra has lost 85% of its forests—primarily due to conversion for oil palm and pulp plantations—and a similar level of destruction is taking place on the island of Borneo. Deforestation also undermines the important carbon sink function of forests. It is estimated that 15% of all greenhouse gas emissions are the result of deforestation.
The Thirty Hills Forest Company recently completed its first-ever biodiversity monitoring survey for tigers and other key wildlife species in one part of the forest.

Why They Matter
People Depend on Forests

Millions of people around the world depend on forests for hunting, gathering and medicine, forest products such as rubber and rattan, and small-scale agriculture. Deforestation can disrupt the lives of local communities, sometimes with devastating consequences. Forests provide a vast array of resources to all of us, including food, wood, medicine, fresh water, and the air we breathe. Without the trees, species can disappear, the natural water balance can become disrupted and the ecosystem that supports the human population can fall apart.

Carbon Sink

Forest trees and other plants soak up carbon dioxide from the atmosphere and store it away as they grow and thrive. Tropical forests alone hold more than 210 gigatons of carbon, seven times the amount emitted each year by human activities.

Unique Biodiversity

Eighty percent of the world's known terrestrial plant and animal species can be found in forests, and tropical rainforests are home to more species than any other terrestrial habitat. A square kilometer of forest may be home to more than 1,000 species.
Threats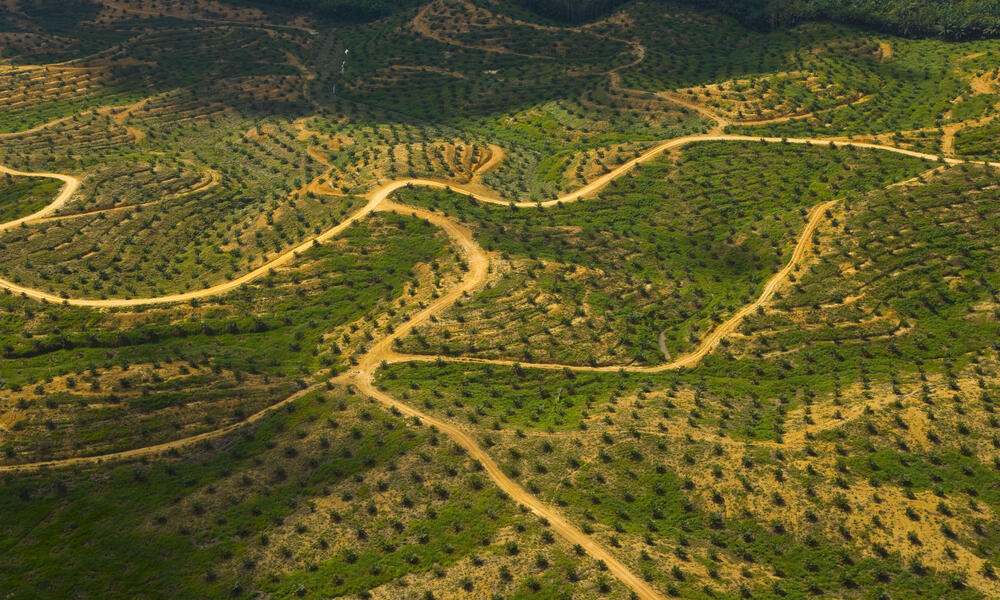 Conversion to Agriculture
As the human population continues to grow, there is an obvious need for more food. In addition, agricultural products, such as soy and palm oil, are used in an ever-increasing list of products, from animal feed to lipstick and biofuels. Rising demand has created incentives to convert forests to farmland and pasture land. Once a forest is lost to agriculture, it is usually gone forever—along with many of the plants and animals that once lived there.
Illegal Logging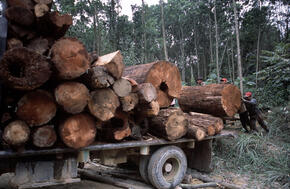 National laws regulate the production and trade of timber products at all stages, from harvesting to processing to sales. These laws can be violated in any number of ways, such as taking wood from protected areas, harvesting more than is permitted and harvesting protected species. Illegal logging occurs around the world, and in some places, illegal logging is more common than the legal variety. This destruction threatens some of the world's most famous and valuable forests, including rainforests in the Amazon, Congo Basin, Indonesia and the forests of the Russian Far East. Illegal logging also depresses the price of timber worldwide, disadvantaging law-abiding companies, and depriving governments of revenues normally generated by duties and taxes. Poor communities near forests are often vulnerable when outsiders try to gain control over the timber nearby, which can lead to repression and human rights violations.
Fires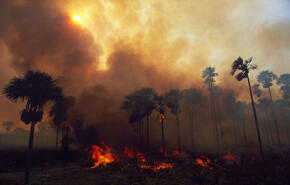 Fires are a natural and beneficial part of the forest landscape, but they can be a problem when they occur in the wrong place, at the wrong frequency or at the wrong severity. Each year, millions of acres of forest around the world are destroyed or degraded by fire. The same amount is lost to logging and agriculture combined. Fire is often used as a way to efficiently and inexpensively clear land for other uses such as planting crops. These fires not only alter the structure and composition of forests, but they can also open up the forests to invasive species, threaten biological diversity, alter water cycles and soil fertility, and destroy the livelihoods of the people who live in and around the forests.
Fuelwood Harvesting
Wood is still a popular fuel choice for cooking and heating around the world, and about half of the illegal removal of timber from forests is thought to be for use as fuelwood.