Amazing image of wild tiger in Bhutan
The remarkable story behind one photograph and a nation's work to protect tigers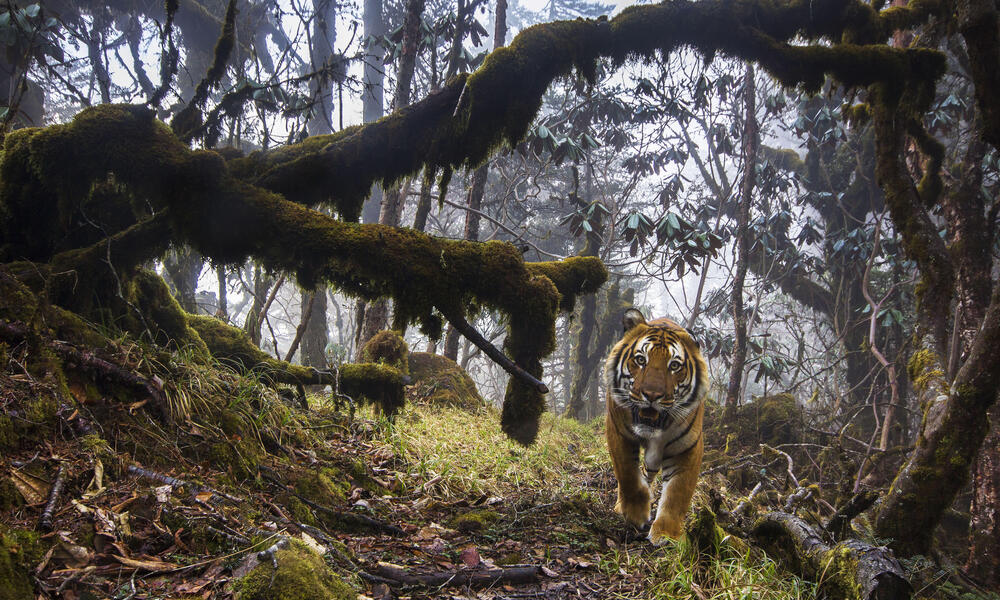 It's a stunning image—a tiger stares out from its lush forest habitat in the wilds of Bhutan. Finding this tiger was no easy task. Filmmaker and photojournalist Emmanuel Rondeau spent four weeks in the wildlife corridors of this mountainous country with a camera trap poised to capture an image of the elusive tiger. After weeks of waiting, a tiger appeared on the final day of the expedition. The result? The first high-resolution camera trap image of a wild tiger in Bhutan captured at an altitude above 11,000 feet.
Beyond the photograph and Rondeau's exciting journey, there is also the bigger story of how the nation of Bhutan is helping save tigers. Home to an estimated 103 wild tigers, Bhutan is a model of conservation, working to ensure tiger safety and natural breeding in the wild against the backdrop of poachers and illegal wildlife traders. Of the world's 13 tiger range countries, Bhutan may be the smallest but it is fast becoming one of the biggest conservation champions.
Learn more about Rondeau's trip and watch his video diaries.

WWF is supporting tiger countries like Bhutan through a variety of initiatives aimed to protect tigers from poaching and habitat loss. Here are five ways WWF and the government of Bhutan are working together, along with other partners, to conserve the country's natural heritage and offer tremendous hope for wild tigers:
Zero Poaching Strategy.
Last year, WWF Bhutan worked to bring together governments, communities and organizations, to develop a National Zero Poaching Strategy. The goal is to strengthen anti-poaching and surveillance programs, ensuring safe protection of tigers and no detectable signs of poaching in the landscape over a sustained period of time.
SMART Patrolling.
SMART (Spatial Monitoring and Reporting Tool) is an open source program for law enforcement to monitor more than 140 sites, including Royal Manas National Park in Bhutan. These databases are the most extensive source of information on illegal activities and patrolling in protected areas and have helped park offices in Bhutan identify high risk areas so they can allocate resources to effectively curb poaching.
Ranger Training.
Rangers are the frontline in the battle to protect wild tigers. WWF Bhutan—in collaboration with the national government and local academic institutions—provides specialized and comprehensive training to support a well-trained, equipped, motivated and effective force for tiger conservation.
CA|TS site assessment.
Protected areas for tigers are essential for their long-term security and population recovery. Conservation Assured Tiger Standards (CA|TS) is a tool that enables effective management of protected areas through a standards accreditation system. Bhutan is in the process of registering three sites under CA|TS: Jigme Dorji National Park, Jigme Singye Wangchuck National Park and Royal Manas National Park, making sure wild tiger homes are secure and benefiting biodiversity conservation.
Partnerships.
Tx2 is an initiative by all 13 tiger range countries to double the world's wild tiger population. It's the most ambitious conservation effort ever attempted for a single species. WWF supports Tx2 in numerous ways, including collaborating with diverse partners to transform specific tiger landscapes. One example is Project CAT, a partnership with Discovery Communications to protect tigers in one of the world's most critical tiger habitats. Since November 2016, Discovery Communications has supported WWF's efforts in a key site that spans nearly a million acres in India and Bhutan. Discovery's support will provide protection for a transboundary conservation area across India and Bhutan. This will safeguard tigers and other species, improve grasslands, restore habitat, and further joint transboundary tiger monitoring.