Blood-free honey — How a safer harvesting program is reducing deadly human-tiger conflicts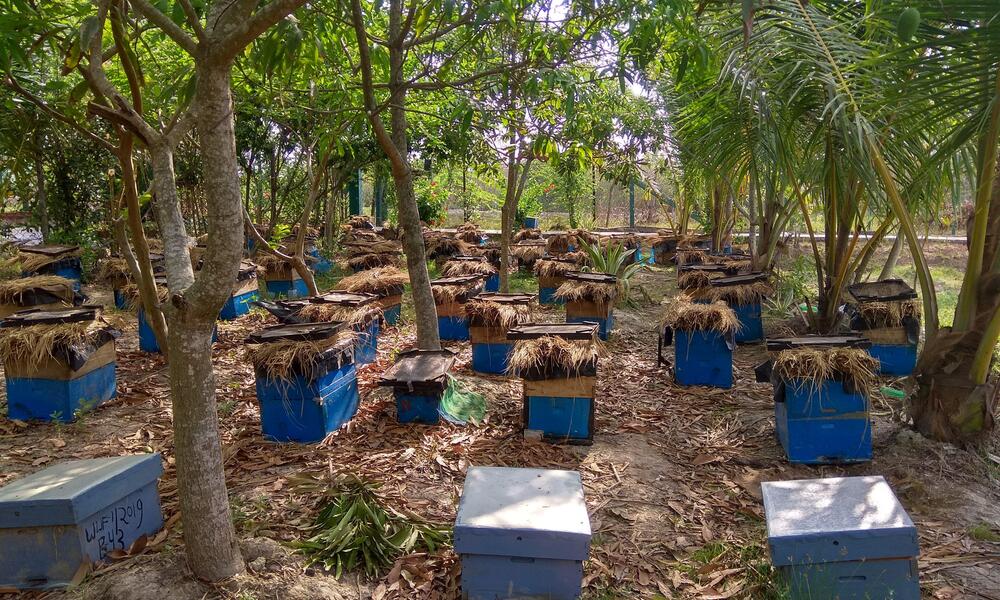 Date: May 12, 2020
Author: Whitney Kent
The Sundarbans, the only coastal mangrove tiger habitat in the world, runs from southern Bangladesh into India's West Bengal State. It is a unique ecosystem where tigers have become excellent swimmers and can swim from one mangrove island to another in search of territory and prey.
The Indian Sundarbans is home to more than 4.5 million people and wild honey collection is a major traditional livelihood for many. But being a mouli (traditional honey collector) is a dangerous job. While out in the reserves collecting wild honey, these moulis are vulnerable to tiger attacks. Approximately six honey collectors die each year in the Sundarbans due to human-tiger conflict, a tragedy that has led to the term "blood honey."
Less risk, more honey
WWF India, in association with the Sundarbans Biosphere Reserve (SBR) Directorate, has implemented a program to significantly reduce the number of tiger-related deaths of honey collectors. A pilot study in 2014 placed apiary boxes—or man-made beehives— in a designated, fenced area within the reserve to be managed by moulis with licenses to harvest wild honey. Results revealed that the wild bees attracted to the boxes produced nearly double the amount of honey collected from hives in the wild. The initiative was further expanded with support from Dabur India Limited to include and train more moulis.
Scaling up

Encouraged by the success of WWF India's pilot efforts, the West Bengal Forest Directorate, the Panchayat and Rural Development Department, and Government of West Bengal came together to scale up the project. In the forest fringe villages of 24 Parganas (South) Division—the region's second largest protected area after Sundarban Tiger Reserve —they provided loans to the community with the support of the West Bengal State Cooperative Bank Ltd. The funds will promote the project and help augment other livelihood activities.
As of today, 70 honey collectors have now been trained and are collecting honey from a total of 1,400 apiary boxes placed in designated areas in the forest camps of 24 Parganas (South) Division. The moulis own and manage the apiary boxes and no longer have to collect wild honey from deep within the mangrove forest and put themselves in harm's way.
Selling the honey
The honey collected by three of the four cooperatives will be sold under the brand name Bonphool Wild Honey. And there are discussions with housing societies, retail stores, and outlets to promote the product.
"Efforts like this are crucial in helping manage human wildlife conflict and enabling communities to make a safe living while coexisting with a predator that is essential to the health of the broader ecosystem they live in," said Nilanga Jayasinghe, senior program officer for Asian Species Conservation at WWF. "This is one of many interventions WWF India has implemented as part of a holistic and sustainable effort to reduce human tiger conflict in this region. Communities that live with wildlife are at the heart of our work to address such conflicts. These efforts not only save lives and enable improved livelihoods for poor communities, but also foster stewardship of nature and conservation."
WWF India has been working for biodiversity conservation, climate change adaptation, and securing sustainable livelihoods for local communities in Sundarbans since 1973. These efforts include enabling communities to address climate risks by increasing adaptive capacity and building resilience and minimizing human wildlife conflict in a landscape they share with tigers. Initiatives like Bonphool Wild Honey will be expanded to improve the livelihoods of local communities, promote coexistence, and further tiger conservation in this unique tiger habitat.

Because this unique ecosystem directly supports local communities through subsistence activities such as fishing, in addition to collection of non-timber forest products like honey, the COVID-19 related national lockdown has had an impact on these communities' livelihoods. WWF India and the West Bengal Forest Directorate have reached out to over 4,500 households, through the Joint Forest Management Committees in Sundarbans, to provide hygiene and food supplies to communities in the Sundarban Tiger Reserve and 24 Parganas (South) Forest Division.

Partners and supporters - Wildlife Wing, West Bengal Forest Directorate; Sundarban Biosphere Reserve Directorate; Dabur India Limited; Canara HSBC Oriental Bank of Commerce Life Insurance Company Limited; Bose Institute; Department of Botany - Visva-Bharati University; Department of Environmental Science - University of Calcutta and Krishi Vigyan Kendra-Nimpith.