Diving for Data in the Galápagos
An innovative program in the Galapagos helps scuba divers reduce their impact on the reef and allows local dive shops to improve their business.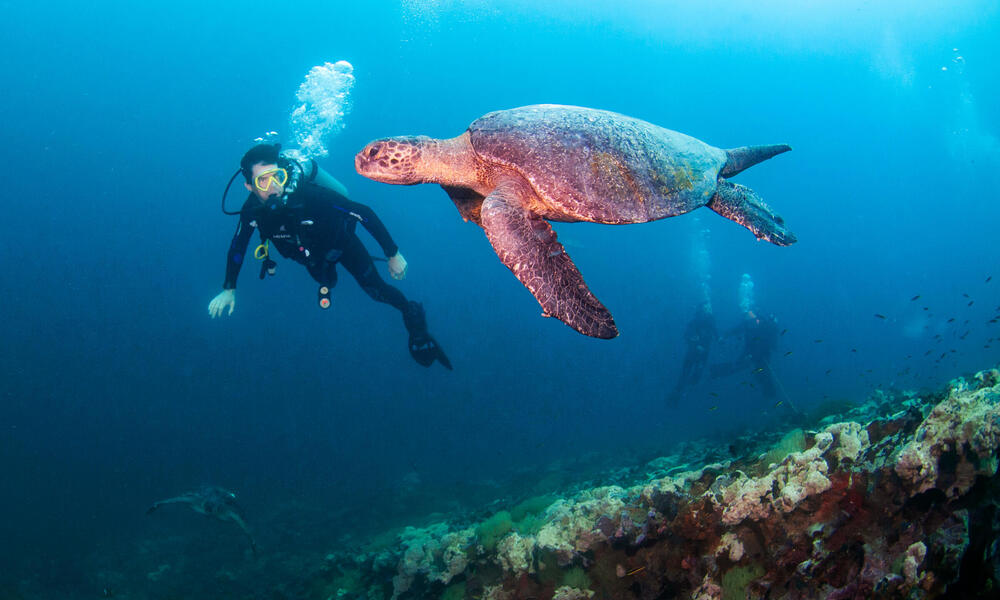 Date: February 05, 2019
Author: Brendan Borrell
Fifteen meters below the ocean's surface, Nicolas Moity glides past a sea turtle in the Galápagos Islands Marine Reserve. With an underwater pen and a whiteboard strapped to his wrist, the pony-tailed marine biologist discretely takes notes. He's not recording the turtle's behavior, but that of the scuba diver a few feet away, whose fins keep brushing up against the fragile reef.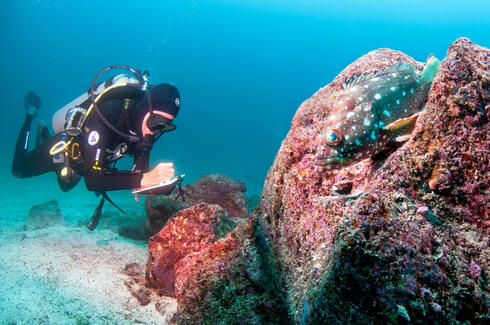 Several times each year, Moity or his volunteers at the Charles Darwin Foundation and the Galápagos National Park go "undercover" on tourist boats to collect data on the impacts of diving at sites around the Galápagos Islands. After the dive, Moity explains who he is and hears all kinds of sheepish apologies from the negligent divers. He doesn't scold them, but hands out questionnaires, asking divers for information ranging from the cleanliness of the boat to how well the guides warned them about hazards.
He's a one-man Yelp with a scuba mask.
Over time, Moity's data has revealed some surprises, such as the fact that more experienced divers tend to be more careless when it comes to touching the reef. "Depending on the group, guides can use this information to adapt their briefing," he says.
The effort, which Moity began three years ago with the support of a grant from WWF's Marine Biodiversity Fund, is now part of DiveStat, an official program of the Galápagos National Park with the support of the Ministry of Tourism, Charles Darwin Foundation, and WWF-Ecuador . DiveStat's ultimate goal is to help boost the "ocean economy" in the Galápagos in a sustainable way—ensuring that tourism and livelihoods can flourish while minimizing any impact on its irreplaceable ecosystem.
Divers play an important role in the islands. Compared to typical tourists, who spend 5-7 days in the Galápagos, scuba divers spend an average of 10 days "Before DiveStat, a lot of divers came to the Galápagos," says Juan Carlos Izurieta of the Tourism Ministry. "But we didn't know how many of them there were, what were their demographic characteristics, and what they were doing underwater."
Dive shop owners can access DiveStat's data to see how they rank against other shops in terms of customer satisfaction, guide quality, and other metrics. Unlike Yelp, there's no public shaming, as every shop is given a code that only they know to see their results.
DiveStat also gathers data directly from guides to share sightings of, say, hammerhead sharks, which every tourist wants to see, or sightings of unusual species, which scientists might want to know about. "We are in the field more than anyone else," says diving guide Natalia Cifuentes, who is proud to be one of DiveStat's most prolific contributors.