From the front lines of climate change, Arctic Youth Ambassador Gabriel Stenek shares one village's story
Date: September 03, 2019
Author: Erin Waite
While making the 15-mile journey from his home in Shishmaref, Alaska, to his grandfather's cabin two years ago, Gabriel Stenek reached the narrow lagoon that separates the barrier island on which he lives from the mainland and saw an unusual sight for March: water glistening in puddles on top of the ice. Typically, the lagoon is frozen solid that time of year, forming a sort of bridge he can cross safely on his snowmobile. Now, he wasn't sure if the melting ice would support his weight. He sped full throttle across the channel.
Thankfully, Stenek made it home safely. But he knows of others who haven't been so lucky. "That was a really scary experience," he says. "The whole time I was thinking about community members who have fallen through the ice and lost their lives."
For Stenek, an Arctic Youth Ambassador, such tragedies underscore the biggest problems facing Shishmaref, a remote Inupiat community of about 600 people. Located on a tiny island in the Chukchi Sea, just north of the Bering Strait and 20 miles below the Arctic Circle, Shishmaref has struggled for decades with coastal erosion and flooding attributed to climate change. But as temperatures in the Arctic rise at a pace twice as fast as the rest of the world, sea ice that once buffered Shishmaref's coast is forming later in the fall and melting earlier in the spring. With an increasingly exposed shoreline, the island is crumbling into the sea, threatening an entire community and their way of life.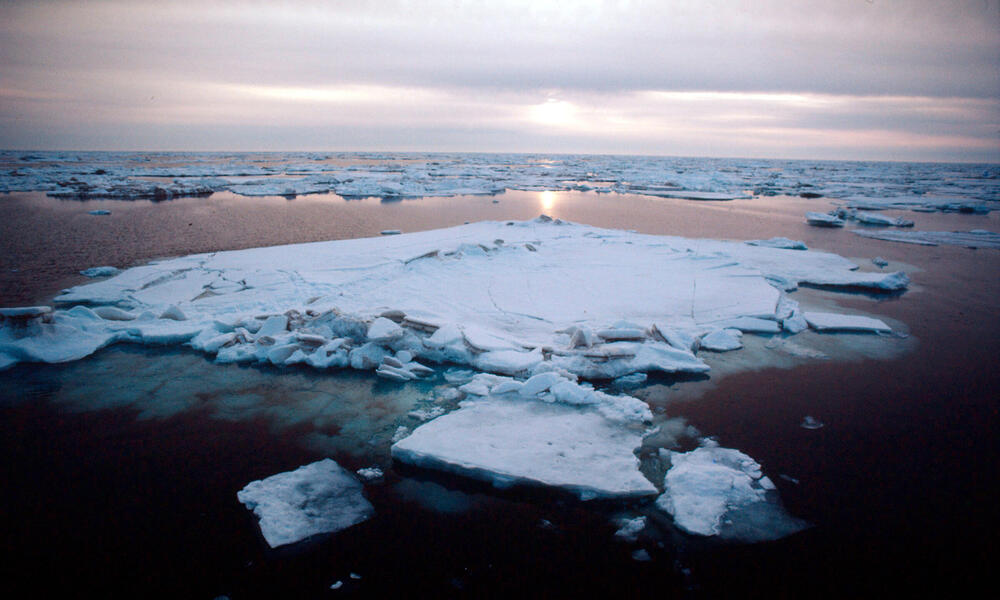 On the edge

"Sea ice is essential in Shishmaref," says Stenek. "It's how we travel to and from the mainland and allows us to secure vital food resources and maintain our culture."
As in many Alaskan villages, nearly everyone in Shishmaref subsistence hunts and fishes. It's a way of life dictated by hundreds of years of Inupiaq tradition. It's also, as Stenek points out, borne of necessity. Because Shishmaref is so isolated, buying food from stores is incredibly expensive. "That's why every month of sea ice counts," he says. "Without strong ice, hunting is much more dangerous and difficult, which affects our food supply."
A warming climate isn't only impacting Arctic sea ice coverage—the layer of permafrost on which Shishmaref sits is also thawing, destabilizing the land beneath homes and along the coast. Since 1969, more than 200 feet of the island's shoreline has washed away. One home fell into the ocean a few years ago, and 13 others were moved further inland to avoid a similar fate.
Stenek notes that on some parts of the island, entire roads—such as the only road to the village's dump—have been eaten away by storm surges rising above the seawall.
In 2016, Shishmaref residents voted to relocate their village to the mainland about five miles away. It's now one of 12 Alaska Native villages exploring relocation options. But the plan, which has seen several iterations as far back as the 1970s, would cost an estimated $180 million to complete.
Some villagers—mostly elders—are hesitant to relocate at all. If the village does move, says Stenek, there's a good chance they'll lose their native culture and sense of identity. "Our ancestors have lived on this island for hundreds of years," he says. "We're accustomed to life by the sea ice—our values and practices are all based on having the ocean nearby. Moving to a new site would erase that."
Sharing hope

Witnessing such drastic changes at home has motivated Stenek to share the story of Shishmaref and the many villages along the Alaskan coast now facing imminent threats from climate change. As an Arctic Youth Ambassador, he wants to raise awareness about the effects of rising temperatures and melting sea ice on coastal communities and to urge swift action at the international level to reduce carbon emissions. It's not only about working to secure a better future for people in Alaska, but for people around the world.
"Many people think of climate change as something happening to the polar bears in the Arctic," he says. "I want others to realize that it's not just affecting one people or place. In reality, it's happening everywhere—from Puerto Rico to New Orleans and California."
Young people, Stenek believes, will be a force that drives change for good. If he could remind his peers of one thing, it's that no matter where they come from or what they've seen, their perspectives matter. "We all have a voice," he says. "It's important that we speak up now."
Do your part. Tell Congress to prioritize climate action.