Greater one-horned rhino moved to new home in Nepal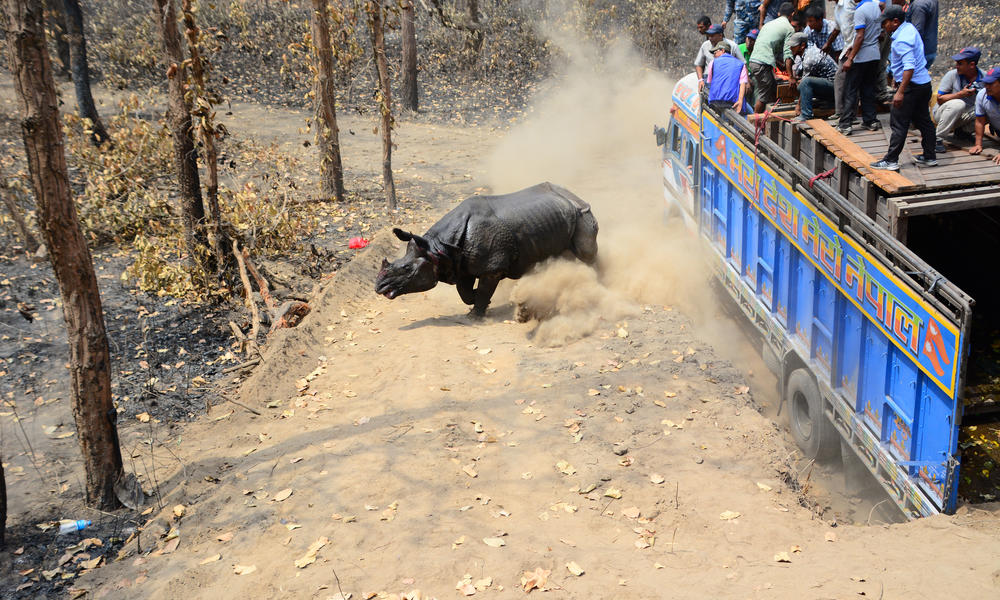 A greater one-horned rhino found a new home in Nepal's youngest national park after the government, with the support of WWF and partners, successfully moved the adult male from the country's thriving Chitwan National Park.
Experts tracked and safely sedated the 12-year-old rhino on April 3, fitting it with a GPS collar and loading it into a specially designed truck to transport the iconic animal to Shuklaphanta National Park.
The rhino is one of five that Nepal's Ministry of Forests and Soil Conservation, WWF, and partners will move to the park. An additional five rhinos will be moved to Bardia National Park in the same expedition which is part of a larger effort to move 30 rhinos to two national parks between 2016 and 2018. Five rhinos were initially moved from Chitwan to Bardia in 2016.
"The Government of Nepal is committed to the goal of bringing back rhino numbers to their historic size of 800 in Nepal," said Man Bahadur Khadka, director general of the Department of National Parks and Wildlife Conservation. "The translocations are an important step in this direction where we aim to create a second viable population of rhinos in the western complex of the Terai Arc Landscape."
Four rhinos were translocated to Shuklaphanta from Chitwan in 2000, which formed the first source population in the national park at the time. The park is now home to 10 of Nepal's 645 rhinos, and the introduction of five new rhinos is aimed at boosting the existing population.
"Nepal is leader in protecting greater one-horned rhino from the threat of poaching," said Bas Huijbregts, the African species manager for WWF's wildlife conservation program. "As a result of 1,000-plus days of zero poaching of rhinos in Chitwan National Park alone, it is likely at the ecological carrying capacity. Therefore, the focus in Nepal is now on establishing new populations through translocation to protected areas with suitable habitat and protection capacity within the greater-one horned rhino's historical range. Two translocated females from Chitwan to the Babai Valley gave birth last year, so this approach is working, and it is very exciting indeed."