New Hope for Forests and Families in Indonesia
WWF's reforestation programs help preserve our most precious wildlife and empower locals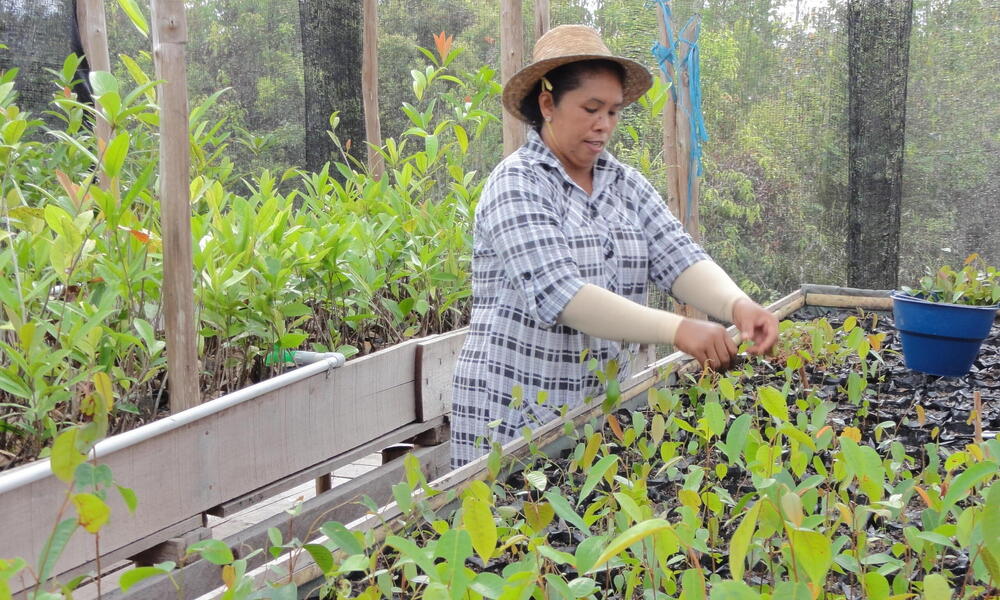 Date: May 07, 2013
Author: Anand Mishra
Forests and communities in Indonesia have faced a number of natural and manmade challenges in recent decades: wildfires, illegal logging and political unrest.
Recognizing these difficulties, WWF has offered a way for community members to help rehabilitate their forests and earn a living. WWF's reforestation programs in Indonesia help conserve precious wildlife and empower local people to maintain critical ecosystems.
Forest Fires and Illegal Logging
Acil Udah and her family live near Borneo's Sebangau National Park in Indonesia, home to one of the largest orangutan populations in the wild and the largest remaining peat swamp forest in Borneo. From 1995 to 2003, forest fires and illegal logging devastated the park; over those eight years, 136,000 acres of forest were lost—nearly 10 percent of the park's total area.
Udah, who has lived near the park since the 1980s, says the fires and illegal logging changed her life. The fires destroyed all the rubber trees near her home. Her husband resorted to illegal logging—a job that pulled him away from home and forced him to try to please corrupt bosses who withheld his income.
"I thought Sebangau forest would be completely destroyed and those of us who call this place home would forever suffer in poverty," Udah said. "Thankfully, Sebangau was saved as a national park in 2004 and all the illegal logging stopped. My family is back together."
Udah and her husband now nurture rubber tree saplings and other species for planting at a tree nursery. When those trees mature, Udah and others will tap the trees and receive income from selling the latex.
"Rubber trees and other types of trees will save and recover our forest," Udah said.
Fleeing Political Unrest
Across the Java Sea situated on Java's western tip, Ujung Kulon National Park is the only place in the world where the rarest rhino species—the Javan rhino—still exists. WWF began forest rehabilitation efforts in June 2012 in Kramat Jaya, a tiny village on the edge of the park. Asep, a father of four, is one of the villagers working to rehabilitate that area.
But Asep didn't always have the stability he enjoys today. He fled his home in 2001 due to political unrest, leaving behind his home, restaurants and rice fields—15 years of labor and love. Two years later, Asep was placed with 176 other families in a government sponsored program in the buffer zone of Ujung Kulon National Park to farm.
Unfortunately, the land proved difficult to cultivate and Asep needed to work as a laborer to bring in additional income for his family.
Today, the future looks brighter. Asep and 15 other families now partake in WWF's forest rehabilitation program—sponsored by Avon—that allows for each household to plant and manage nearly 2.5 acres of fruit trees, including mango, avocado, banana and rambutan. The men and women of the village clear the land and plant saplings; they will eventually harvest the fruit for sale and their own consumption.