Newborn rhino is a hopeful sign for South Africa's relocated rhino population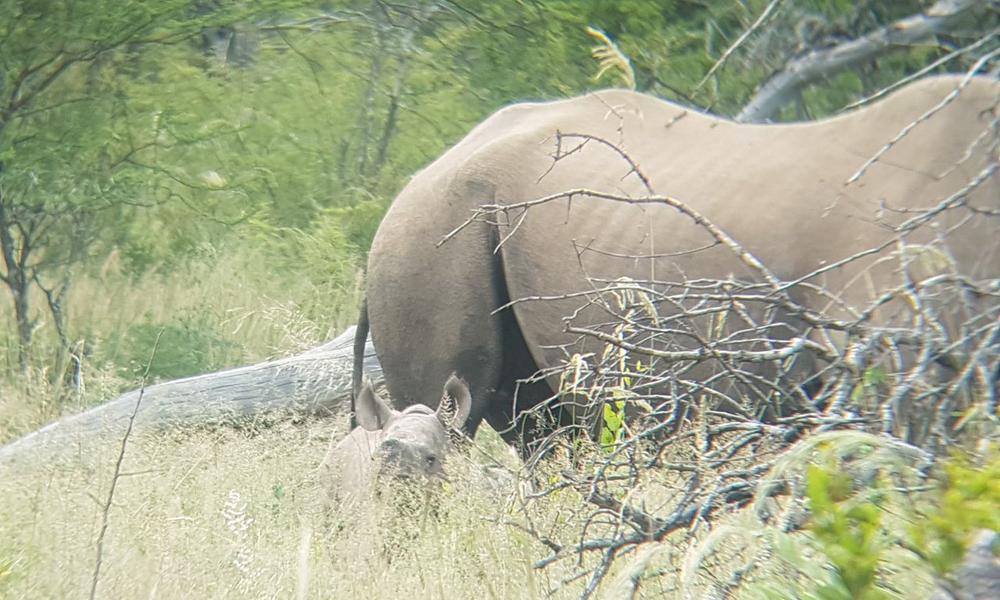 Earlier this month, WWF conservationists in South Africa were surprised and delighted to discover a new addition among a population of recently relocated black rhinos. A baby rhino calf was spotted alongside its mother just months after the female was moved—along with 13 other rhinos—by WWF's Black Rhino Range Expansion Project (BRREP) from the province of KwaZulu-Natal to a new location in the north of the country.
BRREP is an initiative that has been working since 2003 to bolster and increase black rhino numbers in South Africa. Since its launch, the project has been at the helm of efforts to establish new populations of black rhinos using translocation—a process that involves capturing small groups of rhinos from healthy populations then releasing them in new sites where they have the space and resources they need to breed.
The newborn rhino is an exciting indication that the project's hard work is paying off, and that the rhinos moved as part of the latest translocation—completed in October 2017—are thriving in their new environment.
As further proof of BRREP's success, some of the rhinos involved in the move were offspring from earlier project sites. There are about 90 surviving calves that have been born on BRREP sites, and about 200 black rhinos living in BRREP sites across South Africa —roughly 10% of the country's black rhino population.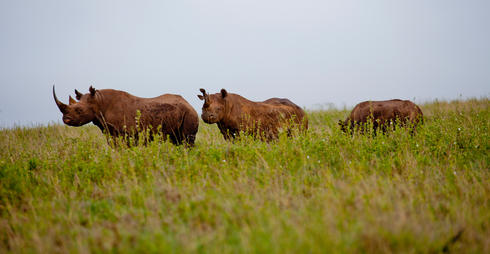 "The birth of this calf is yet another proof that the establishment of new breeding groups is a highly successful conservation strategy for the black rhino", according to Bas Huijbregts, Manager of African Species conservation. "Not only does BRREP increase birth rates and spread the poaching risk, the thriving 11 new black rhino populations also protect an additional 200,000 hectares of prime rhino habitat. These ecosystems are a safe haven for a wide range of other species".
Yet despite a gradually increasing population that now numbers more than 5,000—nearly double the black rhino population in 1995, when the species teetered on the verge of extinction—black rhinos remain critically endangered. In South Africa, home to 40% of the black rhino population, the poaching crisis has accelerated at an alarming rate in the last decade; the number of rhinos poached rose from 13 in 2007 to a record 1,215 in 2014, making wildlife crime the most immediate threat to their survival.
In the last year alone, 1,028 rhinos were slaughtered for the illegal trade in rhino horns.
BRREP is a partnership between WWF, Ezemvelo KZN Wildlife and Eastern Cape Parks and Tourism Agency. Projects like these are vital for ensuring that the black rhino has fighting chance at long-term survival. The project has contributed towards a 21% increase in the black rhino population in KwaZulu-Natal since 2003. But increased anti-poaching efforts, better habitat protection, and demand reduction for rhino horn will be a crucial part of ensuring that black rhino numbers continue to trend in the right direction.