WWF supporters raise more than $250,000 to help bison in Badlands National Park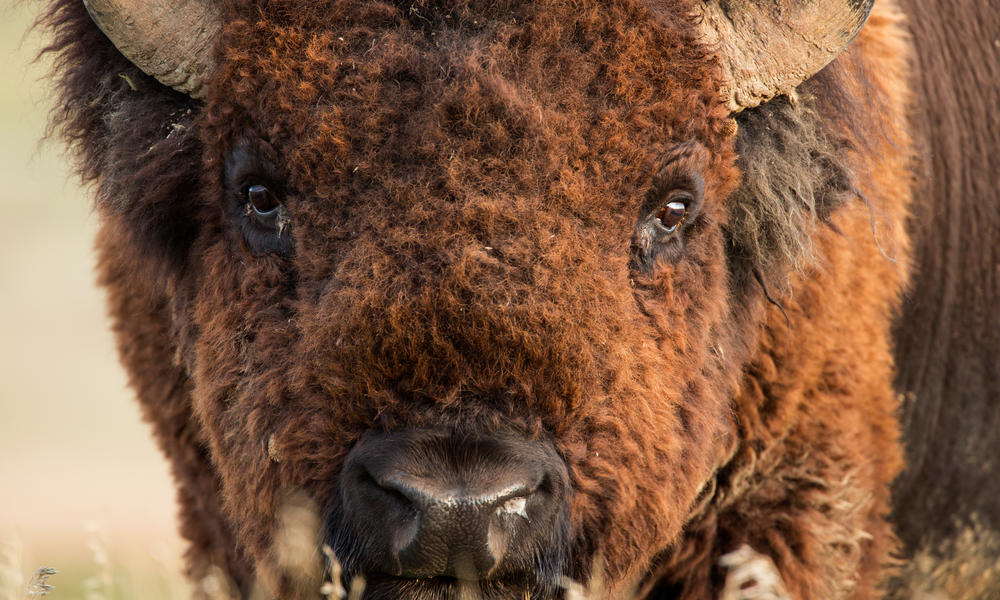 Generous WWF supporters gave bison at Badlands National Park a new lease on life—in just two weeks.
In early March, nearly 2,500 people donated a total of $256,512 to extend bison habitat at the park from 57,640 acres to 80,193 acres. This will allow the park to achieve and sustain a herd of more than 1,000 bison, and will allow more park visitors to see and learn about the United States' National mammal.
"Thanks to you bison recovery takes a big step forward with this project," said Martha Kauffman, managing director of WWF's Northern Great Plains program. "It's good for bison, it's good for the prairie, and it's good for people who will get to experience this majestic animal. We're thrilled that we could make this happen in such a short time, and it's because of you!"
The National Park Service matched funds delivered by WWF and the National Park Foundation, resulting in an estimated $1 million expansion project within the North Unit of Badlands National Park. Construction of 38.3 miles of new fence to extend bison range is expected to begin this summer and will be completed within a year.
WWF's bison restoration efforts are focused on herds within the Northern Great Plains. Though a milestone of about 20,000 Plains bison managed as wildlife in North America was achieved in the 1930s, 75% of those herds number fewer than 400 bison each, threatening the long-term genetic health of the species. Therefore, WWF set the ambitious goal of sustaining five herds of at least 1,000 bison in the Northern Great Plains by 2025 to secure the species' health. The herd expansion at Badlands represents one of the first successes towards WWF's 5 herd goal.
WWF has been working with Badlands National Park on their bison expansion effort in the North Unit for several years. In 2014 we supported a land swap that removed a parcel of private land inside the park that blocked bison range expansion. We provided comments supporting the Park's Environmental Assessment proposing expansion. And finally, with this exciting effort and with your help, Badlands National Park will make more room for bison to roam.
"We in the National Park Service extend our gratitude and great appreciation to the World Wildlife Fund and the generous donors who supported it in this effort," said Badlands National Park Superintendent Mike Pflaum. "In addition to benefiting the health of the bison herd and the native mixed-grass prairie, this project will soon make it possible for a majority of the visitors to Badlands to view and learn about these magnificent animals in the stunning landscapes of this spectacular national park, all directly supporting the mission of the National Park Service. This will result in Badlands being an even more compelling place to visit, learn, and experience than it already is."