Polar Bear Stories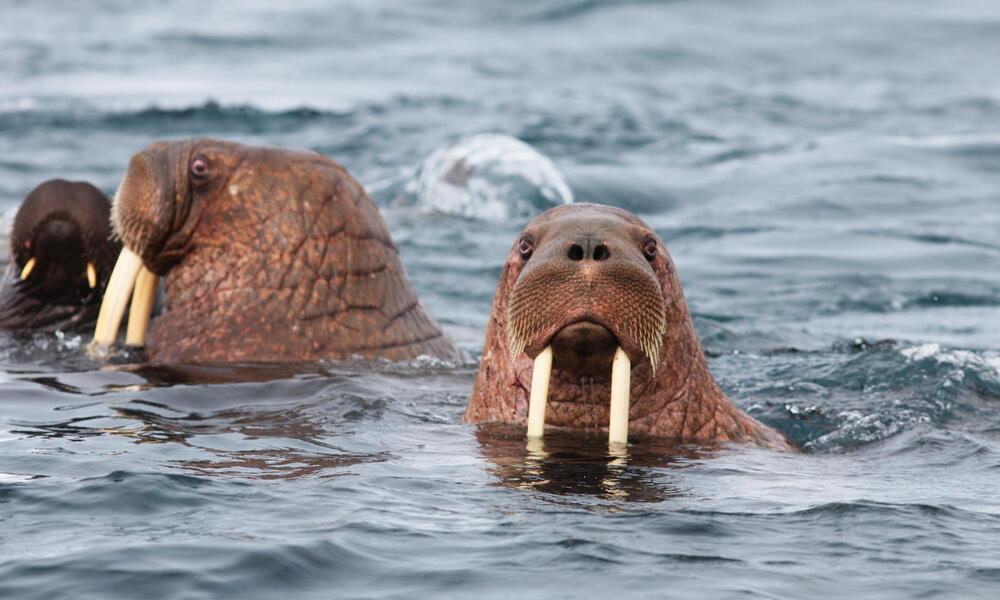 How a handful of the Arctic's abundant wildlife would be impacted by offshore drilling and a potential oil spill in the Arctic.
March 29, 2016

After a record-breaking warm Arctic winter, sea ice hit a record low for the largest area it covers during the winter months. The ice covered only 5.60 million square miles on March 24— surpassing last year's record low of 5.61 million square miles.

The Arctic Ocean is about 5.4 million square miles—about 1.5 times as big as the US—but it is the world's smallest ocean. Learn more about the Arctic and what WWF is doing to help protect it.

March 15, 2016

We now have the opportunity to keep offshore drilling out of the Arctic Ocean. Every five years, the US government draws up a five-year planning outlining where oil companies can drill. The Arctic's Beaufort and Chukchi seas are on the line. We have a chance to persuade our government to remove these pristine places from their list.

WWF Magazine: Fall 2015

A new plan for resilience in a warming Arctic

July 02, 2015

The US government announced its draft plan to conserve polar bears, calling for timely and decisive reduction of greenhouse gas emission levels to curb climate change. Immediate action to reduce the long-term impact of climate change is essential.

May 04, 2015

We all know how great moms can be. The same is true in parts of the wild. Take a look at a few images of animals with their parents.

WWF Magazine: Spring 2015

A partnership between researchers, scientists and WWF looks at biodiversity by the spoonful

WWF Magazine: Spring 2015

US and Russian biologists team up on polar bear research

Forty percent. That's the stunning population loss for polar bears in the southern Beaufort Sea. The news comes from a new study linking the dramatic decline in this polar bear subpopulation in northeast Alaska and Canada to a loss of sea ice due to climate change.

October 21, 2014

WWF's Elisabeth Kruger focuses on mitigating conflict between polar bears and people, and ensuring species conservation is consistent in the three countries that are home to the Bering, Chukchi, and Beafort Sea polar bears: the US, Russia and Canada.

April 30, 2014

WWF scientists spent two weeks in April on a research expedition to the islands of Arctic Norway to study polar bears and their habitat. They gathered data on 53 bears total and placed GPS collars on seven females.

WWF Magazine: Summer 2014

February 27, 2014

Polar bears usually give birth to twin cubs that stick around for about two years. Take a look at a mother polar bear and her cub snuggling in the snow.

December 11, 2013

As polar bears trudged back onto their sea ice hunting grounds for the winter, an international gathering of arctic nations was working last week to protect the future of the species.

November 13, 2013

WWF member Elsa Bailey realizes a lifelong dream at the age of 100 as she tracks polar bears in the Arctic.

November 04, 2013

The International Forum on the Conservation of Polar Bears will bring together representatives from polar bear range countries, along with scientists, members of indigenous communities, WWF and other conservation leaders.

WWF Magazine: Winter 2013

Bear-proofing for polar bears—and people

September 17, 2013

The amount of ice covering the Arctic Ocean's surface has reached its lowest point this year. Why is the ice melting so quickly? Black carbon is partly to blame.

September 05, 2013

We know very little about the wildlife and habitat of the Siberian coast, and so WWF teamed up with Canon on a research expedition to learn more.

February 06, 2013

WWF works with Arctic communities to protect people and polar bears from avoidable cases of conflict

January 14, 2013

Now available for free in the iTunes App Store, 'WWF Together' is a unique interactive experience that brings you closer to the stories of elephants, whales, rhinos and other fascinating species. Discover the animal's lives and the work of WWF in a way you've never seen before. Try out "tiger vision," stay as still as the polar bear during a hunt, and chop the panda's bamboo.

April 10, 2012

What's it like to work in the Arctic? Find out from Margaret Williams, Managing Director of WWF's Arctic Program.