Stories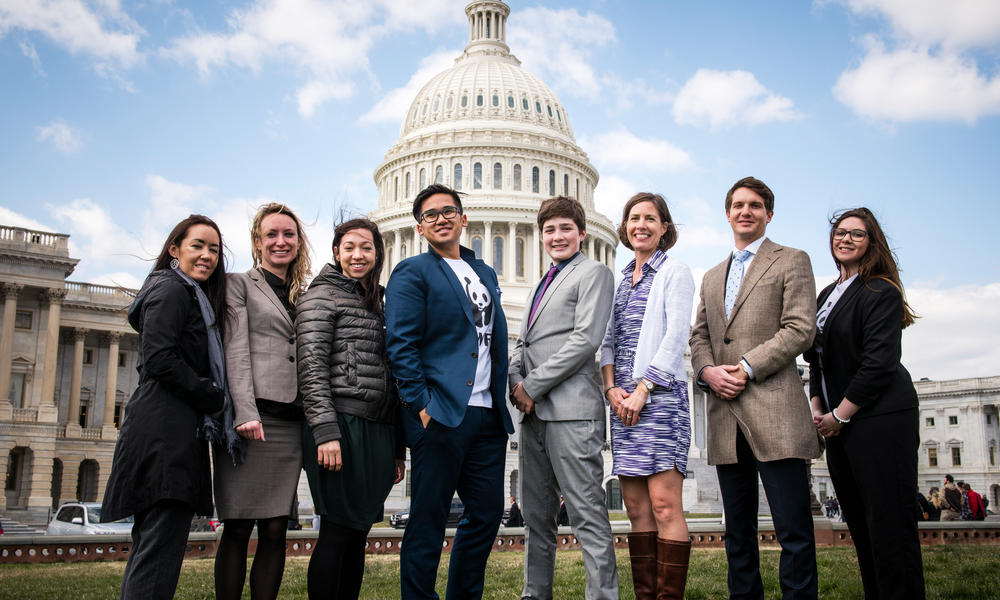 Activists from around the country assembled on Capitol Hill for WWF's Lobby Day 2018 to persuade lawmakers to maintain the amount of funding the United States government provides for international conservation programs.
December 14, 2017

WWF's Black Rhino Range Expansion Project (BRREP) has been working with passion, commitment, and determination for a brighter future for the critically endangered black rhino for more than a decade. BRREP works to grow black rhino numbers by creating new populations and provides equipment and training to rangers to monitor, manage, and protect rhinos.

The Sumatran rhino is so rare and elusive that even the most senior of the rangers have never seen the animal in the wild. But just because you don't see something doesn't mean it's is not there.

December 13, 2017

This will be one of the great litmus tests of the conservation movement: can we marshal the resources necessary to secure the gains we've made in the Amazon and chart a new path forward?

December 13, 2017

As 2017 comes to a close, we're taking a moment to highlight some of our biggest conservation successes of the year. And we couldn't have done it without your support.

December 12, 2017

WWF and research partners are now tracking river dolphins in the Amazon using satellite technology—a tool that will provide new insight into the animals' movements, behavior, and threats they face.

By the end of December, it will be illegal to sell or buy elephant ivory in China. But will the new and critical ban succeed in a country that's home to the largest legal ivory market in the world?

November 30, 2017

Pavel Fomenko is a man of the wilderness and tiger protector with WWF-Russia. Here is his story.

November 29, 2017

From the world's largest mangrove forests in the Sundarbans to temperate forests in the snowy mountains of Bhutan, protecting tigers and their natural homes helps provide benefits for thousands of other animals and millions of people.

November 21, 2017

WWF sat down with Chef Dan Barber to discuss cooking, food waste, and what we can do improve our current food system.

November 20, 2017

If you're passionate about conservation, consider this: preventing and reducing food waste is one of the best things you can do to conserve natural resources and wildlife. Check out these tips to avoid tossing food in the trash this holiday season.

November 13, 2017

WWF's first international Human Wildlife Conflict Tech Challenge sought innovative solutions to minimize human-wildlife conflict in response to two specific case studies focused on Asian elephants and carnivores.

November 11, 2017

Bhutan now has a great means for bringing that commitment to life—long-term funding to ensure its protected areas, which cover half of the country, are properly managed forever. It is the first initiative of its kind in Asia and one of only a few in the world.

November 02, 2017

A new great ape species—the Tapanuli orangutan—was officially announced by an international team of scientists today. With 800 or fewer individuals, the Tapanuli orangutan is the rarest of all great apes.

Climate change impacts all parts of the world, and finding solutions to the challenges posed by such an immense threat will require action from every country. Annual international climate talks are key to effectively addressing the problem.

A tight-knit ranching community in Muenster, Texas is home to something pretty special: a clean energy revolution.

October 24, 2017

Grassland birds native to the Northern Great Plains are losing vital habitat in the form of plow-up for row crop agriculture.

October 24, 2017

Assuring the world that the United States is still an ally in the fight against climate change, American leaders outside of the federal government—from governors and mayors to business executives and university presidents—announced they will attend the next round of international climate talks in November.

October 23, 2017

For perhaps the first time ever, a snow leopard was captured by a camera trap in a remote forest in the Indian state of Arunachal Pradesh. Arunachal Pradesh remains largely unexplored, making this photographic evidence of snow leopards especially significant.

Looking back over years of moving black rhinos to create new populations as part of the Black Rhino Range Expansion Project in South Africa, it's worth noting how capture and release techniques have improved.

October 18, 2017

A first-of-its-kind report, released in collaboration with our partners in the region, warns that Belize stands to lose millions in revenue generated by one sector alone if protections for the reef aren't put in place and enforced.

WWF Magazine: Winter 2017

When people ask me the secret to designing conservation efforts that last, I am always quick to answer: The secret is listening. It is the most important thing we do.

WWF Magazine: Winter 2017

Scientists are discovering an average of one new species in the Amazon every other day.