Stories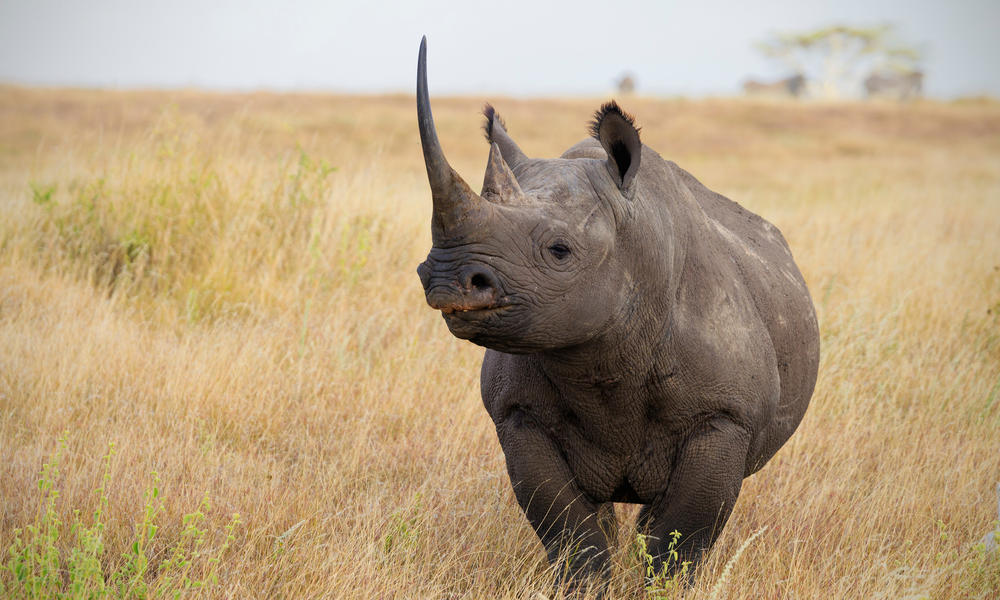 WWF's Black Rhino Range Expansion Project (BRREP) has been working with passion, commitment, and determination for a brighter future for the critically endangered black rhino for more than a decade. BRREP works to grow black rhino numbers by creating new populations and provides equipment and training to rangers to monitor, manage, and protect rhinos.
The report, New Species of Vertebrates and Plants in the Amazon 2014-2015, details 381 new species that were discovered over 24 months, including 216 plants, 93 fish, 32 amphibians, 20 mammals, 19 reptiles and one bird.

August 24, 2017

Wildlife roam large areas and do not recognize human-imposed boundaries. They need help doing things like crossing busy roads. This incredible elephant encounter emphasized how important movement corridors are for wildlife.

August 18, 2017

As thousands of walrus come ashore, they congregate in large groups known as "haulouts." These mass gatherings are dangerous and even deadly for the animals.

August 10, 2017

Amid a dire poaching crisis, wild Asian elephants in Myanmar received swift and essential aid from thousands of WWF supporters committed to protecting this iconic species. More than 3,000 people donated $263,211 in less than four weeks to fund an emergency action plan to train rangers and get boots on the ground to fight wildlife crime.

August 09, 2017

Alaska's Bristol Bay is a sprawling watershed of winding streams and rivers, vast wetlands and tundra, forests of alder and spruce, and home to a variety of fish, birds and terrestrial animals. Learn more about this incredible place that WWF is working hard to save.

August 01, 2017

In 2014, Weile became the first textile company in the world to adhere to the Alliance for Water Stewardship (AWS) Standard, an international standard co-founded by WWF to promote the use of fresh water in a way that is socially equitable, environmentally sustainable, and economically beneficial.

July 31, 2017

WWF recently concluded a project that worked closely with local communities to reduce land degradation, forest loss, and climate change vulnerability in the Himalayas in Nepal. Empowered by the Global Environment Facility, WWF worked directly with the government of Nepal to design and implement the project.

July 28, 2017

Filmmaker and photojournalist Emmanuel Rondeau spent four weeks in the wildlife corridors of Bhutan with a camera trap poised to capture the elusive tiger. After weeks of waiting, a tiger appeared on the final day of the expedition. The result? The first high-resolution camera trap image of a wild tiger in Bhutan captured above 11,000 feet.

In 2013, Jinjing began working with WWF and The Coca-Cola Company to convert 100% of its productions to sustainable practices, including building water-collecting and irrigation systems and constructing wetlands.

Little known even to people who live in China's Yangtze River Basin, a shy mammal with a secret smile has been pulsing through the waters of Asia's longest river for some 100,000 years.

July 27, 2017

The coastal nation of Belize is at a crossroads. In 2009, the reef system was added to UNESCO's List of World Heritage in Danger. It remains on the list today because of mangrove deforestation, unsustainable coastal development and offshore oil exploration. The good news is a coastal zone management plan can safeguard Belize's natural assets and produce a win-win opportunity for the people and environment.

July 27, 2017

Singye Wangmo exudes a natural passion for wildlife. One of the few female forestry officers working on the ground in Bhutan, she spends her days protecting the tigers of Royal Manas National Park from poachers.

This Chinese deer went extinct in the wild, only to be saved on a British duke's estate. Now, Père David's deer is back home in China and adding a new chapter to its illustrious story.

WWF Magazine: Fall 2017

Each river is unique. What makes a river special depends entirely on its influences: its people, landscape and purpose. Learn more about three inspiring rivers and the breadth of life they support

The Iberian lynx is the world's most endangered cat. In 2002, there were fewer than 100 left in the wild. WWF and its partners are working to restore the Iberian lynx to areas where it used to live. And where it could still flourish today - with a little help.

WWF Magazine: Fall 2017

Without direct intervention, the Yangtze finless porpoise may face extinction. But that reckoning is up against an even more powerful force: unyielding economic development.

WWF Magazine: Fall 2017

At WWF, we're committed to ensuring that the nations of the world uphold their commitments under the Paris Agreement, despite the White House announcement that the US would exit the agreement.

July 20, 2017

Every five years, the US determines where oil and gas companies can purchase leases for offshore drilling. The most recent plan excluded the Arctic, but the Trump administration wants to change that.

WWF Magazine: Fall 2017

A free-flowing river runs from its source to its outlet or "sink"—another river, a lake, or the sea—with few obstacles or alterations to how and where it flows. Here's how researchers spot one.

WWF Magazine: Fall 2017

Glacier is one of the last pristine wilderness areas left in the lower 48 states. Its rugged peaks, forested valleys, and alpine meadows offer refuge to a diversity of unique flora and fauna.

WWF Magazine: Fall 2017

Each year, WWF leads a team of park rangers and conservationists to set controlled fires along remote stretches of the Rio Grande/Rio Bravo River.

July 18, 2017

Wetlands are often undervalued. Between 300 million and 400 million people live close to—and depend on—wetlands. Learn more about these important habitats WWF is working to conserve.