Northern Great Plains Stories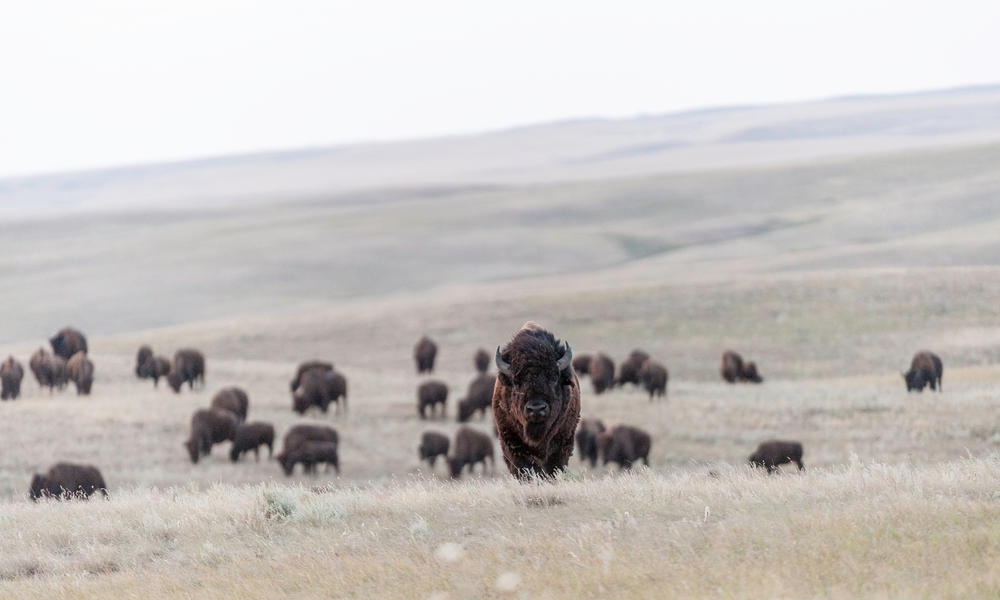 Help bring bison back to their native home in the Northern Great Plains.
Bison are the largest native grazers of America's Northern Great Plains. Take a look at why bison are unique to our landscape and what WWF is doing to help.

May 12, 2014

Once found throughout the Great Plains, the black-footed ferret is one of North America's most endangered animals. WWF is helping to reach this goal by restoring and protecting ferrets and their prairie dog habitat in seven locations in the region.

WWF Magazine: Summer 2014

WWF is only one voice among many

WWF Magazine: Summer 2014

Protecting wildlife in America's Northern Great Plains

Since 2000, WWF has worked in this part of the country to conserve and restore the Northern Great Plains' natural heritage and native wildlife. So which animals call this beautiful region home, and why do they matter?

February 04, 2014

The US Congress took major steps to protect one of the last four intact grasslands in world. By passing the 2014 Farm Bill, Congress is ensuring your tax dollars do not incentivize the plow-up and drainage of native grasslands and wetlands.

June 13, 2013

The Oglala Sioux Tribe works with the National Park Service to plan the first tribal national park within the Park System.

June 05, 2013

In the Northern Great Plains, land is a hot commodity. The widespread conversion of prairie to cropland has profound effects on the natural environment and human communities of the region.

May 30, 2013

The owners of Switzer Ranch realize the immense importance of acting to conserve the Sandhills in Nebraska and their native life.

April 09, 2013

WWF-US works in countries as diverse as Namibia and Nepal and Mexico, but our roots are firmly planted in the United States. In our first year, three of the five grants made by our Board of Directors supported domestic projects. More than 50 years later, our in-country work remains an anchor of our conservation portfolio.

January 22, 2013

A prescribed burn is part of WWF's long-term approach to maintaining healthy habitats and human communities in the Northern Great Plains region, supporting native species expansion and reducing encroachment by invasive species.

November 16, 2012

The communities and wildlife of the Northern Great Plains have not suffered the fate of the Dust Bowl on the Southern Plains. But threats loom—runaway oil and gas development, a changing climate, and agriculture policies that incentivize conversion of grasslands and wetlands to crops, regardless of expectations for crop success.

When governments set up conservation areas that protect and connect nature, wildlife begins to thrive and so do people.

March 14, 2012

In March 2012, 71 new bison calves were released on the American Prairie Reserve (APR)—a WWF partner in the Northern Montana Prairie. The young calves are descendents of the last bison that called this area home more than 100 years ago.