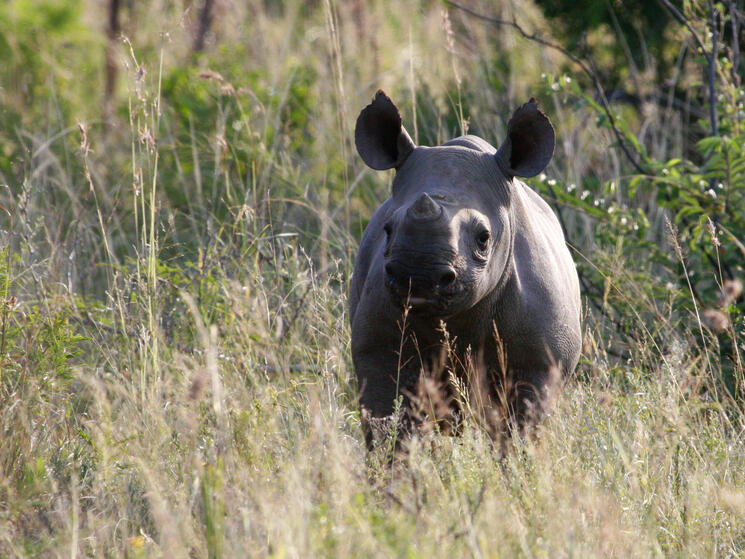 September 22, 2021 marks the eleventh annual World Rhino Day: a global celebration of an animal whose future has long been uncertain.
At the beginning of the 20th century, an estimated 500,000 rhinos roamed Africa and Asia. By 1970, rhino numbers dropped to 70,000—and today, around 27,000 rhinos remain in the wild.
Very few rhinos are able to survive outside national parks, reserves, and community conservation areas, as they remain under threat from poaching for their horns and from significant habitat loss and degradation.
Within these protected areas, rangers play a critical role—and, at times, represent the last line of defense standing between a species' survival and their extinction.
Governments hire rangers to uphold laws and regulations designed to limit the loss of critical biodiversity and natural resources. Rangers often come from the regions they protect, utilizing their familiarity with the local realities to help protect communities from human-wildlife conflict and wildlife crime. Their roles can vary dramatically, depending on the local need: from environmental scientist, to firefighter, to political ambassador, and beyond. Often, they operate in remote and physically taxing working environments.
For some, these responsibilities can prove life-threatening, or even fatal: indeed, since 2009, over 1,800 rangers have lost their lives in the line of duty according to the International Ranger Federation and the Thin Green Line Foundation.
In WWF's 2019 "Life on the Frontline" survey—which includes feedback from over 7,000 rangers across 28 countries, spanning Asia, Africa and Latin America—the organization found that 85% of rangers felt being a ranger was a dangerous endeavor. Armed illegal poachers and interactions with wildlife are the greatest threat to ranger safety, ranking the ranger profession as one of the most dangerous in the world.
Many of these dangers are sadly unavoidable parts of the job. Yet other risks can be prevented. Malaria, for instance, is a widespread health issue for rangers, and it can be better managed with the help of mosquito nets and repellents. Yet 68% of ranger respondents in Africa reported having contracted malaria within the preceding 12-month period. Given the remote nature of their postings, rangers' access to clinics or medical assistance is often extremely limited, making the proliferation of malaria cases all the more troubling.
In response to this issue, WWF partnered with SC Johnson to improve the health and welfare of rangers and to create awareness around malaria interventions and the health challenges rangers may face on the ground.
"Rhinos and many other animals in Tanzania continue to be threatened by wildlife poaching, which only fuels global criminal syndicates and the proliferation of arms, violence, and corruption. Government rangers have enough to worry about – their health should not be yet another cause for concern. We're grateful for this essential support from SC Johnsons so that rangers can effectively protect themselves from malaria and other mosquito borne diseases, as well as learning basic steps to help prevent the spread of COVID-19," said Drew McVey, WWF Wildlife Crime Advisor, Eastern Africa.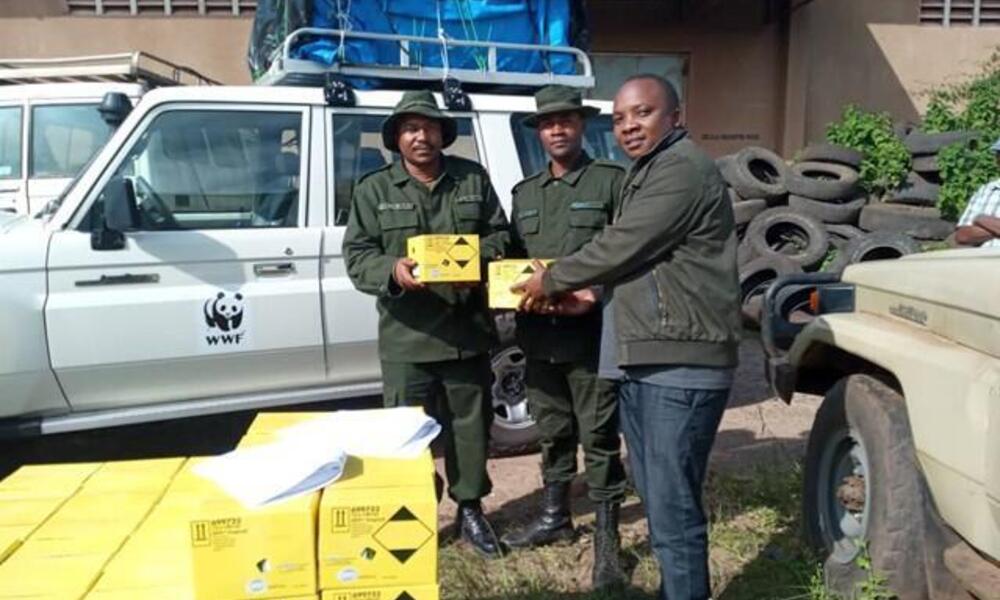 Through this collaboration, SC Johnson provided mosquito repellents to over 2,000 Tanzanian rangers in 20 protected areas, including three sites that rhinos call home. Tanzania was chosen for this project as the country is among the most affected tropical countries when it comes to pathogen transmitting mosquitos. In addition to the mosquito repellents, SC Johnson co-developed with WWF educational materials to illustrate the correct way to use and dispose of the repellents. The materials also included information highlighting how to prevent the spread of COVID-19, which included wearing facial masks, social distancing, and hand-washing recommendations.
Sample of the poster used to educate rangers on the safe and effective use of mosquito repellents.
"Protecting endangered wildlife is critically important to sustaining the ecosystems of some of the most diverse places on the planet. Rangers play a central part in protecting vulnerable animal populations," said Alan VanderMolen, senior vice president and chief communications officer for SC Johnson. "SC Johnson is glad to partner with WWF on this important initiative so that we can ensure that while we are protecting wildlife, we are also helping to protect rangers from common mosquito-borne diseases like malaria so that they can continue to do this essential work for future generations."
As governments work to establish new frameworks to support rangers' ongoing health needs, short-term solutions and mitigation tactics are critical—both to limit the physical risks that rangers are experiencing, and to ensure that they able to continue protecting local communities and wildlife, including rhinos.
The support of corporate partners like SC Johnson will be integral over the coming years, fostering an environment in which rangers and the people and communities they protect are able to thrive.