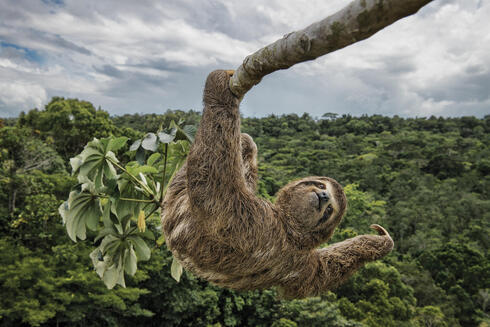 Questions and answers
Do sloths swim?
Sloths are strong swimmers. They will sometimes drop down from their treetop perches into water and use their extended arms to propel through the water.
Why are sloths slow?
Sloths have an extremely low metabolic rate, which means they move at a languid, sluggish pace through the trees. On average, sloths travel 41 yards per day—less than half the length of a football field!
What do sloths eat?
Sloths munch on leaves, twigs and buds. A low metabolic rate means sloths can survive on relatively little food; it takes days for them to process what other animals can digest in a matter of hours.

Habitat

Sloths spend a majority of their time up in the canopy, coming down only one time per week to relieve themselves.

Diet

Sloths munch on leaves, twigs and buds.

Threats

Though not all sloths are endangered, some of the six species are threatened by habitat loss.

INTERESTING FACT

Sloths live solitary lives and travel between trees using canopy vines. They depend on the health and survival of Central and South American tropical forests.