2020: A critical year for our future and for the climate
Climate change is here and this is what it looks like: more frequent flooding in the central US, a longer and more costly wildfire season in California, and droughts across the Great Plains. Like investing in your retirement, the sooner we take action, the better chance we have at preventing the direst impacts of our rapidly warming world. The world's best scientists tell us that to undo the most extreme scenarios of climate change, 2020 must be the year for coordinated, comprehensive climate action. But we've got a lot of work to do before then.
The good news is that global momentum around climate change is building toward a crescendo. Six in 10 Americans are now either "alarmed" or "concerned" about climate change, a number that has more than doubled in the past five years. Hundreds of thousands of people from all walks of life, including students, teachers, communities of faith, health care professionals are taking to the streets to demand climate action. And more than 500 global companies have committed to set climate goals based on the best available science.

Responding to this call to action, governments worked together to develop the Paris Climate Agreement in 2015—an unprecedented step to reduce worldwide emissions. Nearly 200 countries pledged to reduce emissions and keep temperature rise well below 2° C (3.6° F).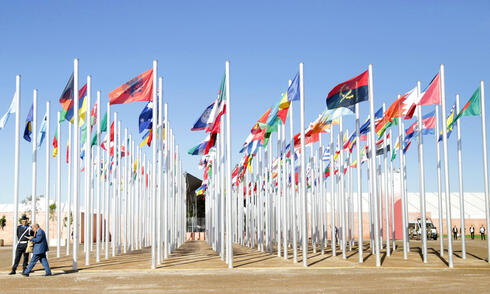 And although countries created the first truly global plan to tackle climate change in the coming years—the Paris Climate Agreement—the work is far from over. There is still a gap between what countries pledged to do and what scientists say is needed to avert climate catastrophe. To address this, countries set five-year milestones to take stock of progress and strengthen commitments with the first of these opportunities coming up next year. If we do not deliver more aggressive targets, it will be nearly impossible to limit global warming to 1.5° C (2.7° F) and cracks will start to appear in the foundation of the Paris Agreement's architecture.
As we near the 2020 deadline, national governments must decide just how low their emissions can go. But there is a silver lining in the climate fight: In countries like the United States, Japan, Argentina, Mexico, and others, businesses and local governments are working with national leaders to back up climate pledges. When major corporations and cities show federal leaders that they are already on-track to substantially reduce their own emissions, heads of state can be more confident pledging ambitious targets. It's a collaborative way of working that's spreading all over the world.
But this is major worldwide action on climate change, so it won't be easy. One significant obstacle is the United States' federal government's continued efforts to undermine climate and conservation activities, including an announcement to withdraw from the Paris Agreement. It's a setback, but we will remain focused and it will not stop our momentum.
Americans of all stripes want climate action, and we will make it happen. Sixty-seven percent of Americans want the federal government to do more to reduce the effects of global climate change. And more than 3,600 leaders from America's cities, states, tribes, businesses, colleges, and universities are still devoted to meeting climate commitments as part of the We Are Still In movement. With so many in our corner, WWF and other conservation organizations are letting the world know: the US will do its part to address the climate crisis.
Now it's our job to prove it. As we approach the upcoming UN Climate Summit and the 2020 deadlines, we need to reduce our own emissions and demand others do the same. If we can reach a tipping point where all leaders understand that we'll no longer tolerate inaction, those leaders will act. With everyone's help, we can make 2020 the year we took back our planet.
Make a difference: Tell Congress to prioritize climate action