For a ranger in the Pantanal, everything is connected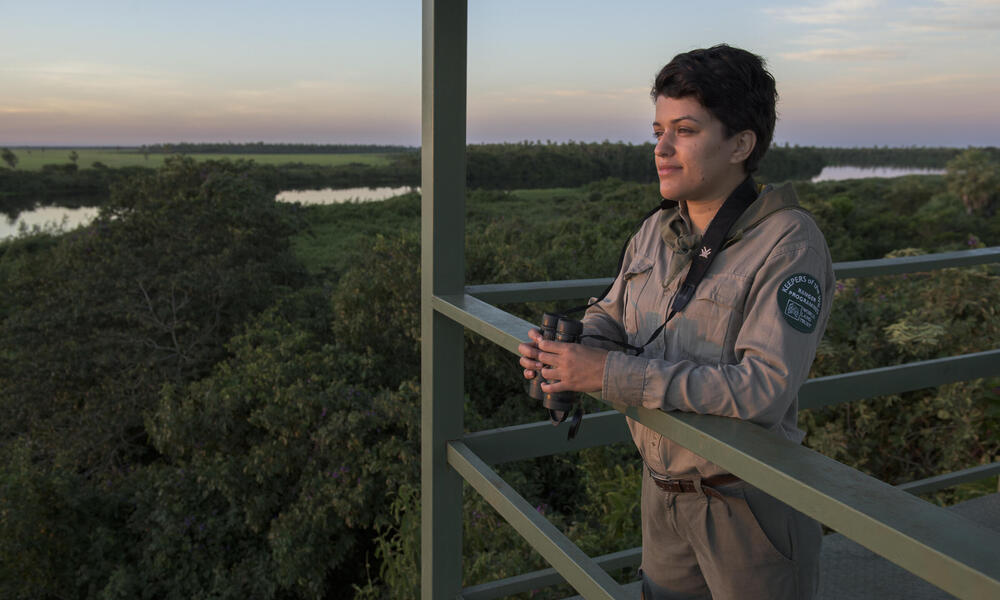 Date: November 05, 2019
Author: Jill Langlois
LOS TRES GIGANTES STATION, Paraguay — It was the meeting of the waters of the Paraguay River and the Rio Negro — one a deep blue, the other the color of a strong cup of tea — that captivated Carolina Alvarez when she first arrived in the Pantanal.
The 28-year-old had always wanted to be a park ranger — she studied forestry for five years in Asunción, Paraguay — and felt at home as soon as she arrived at Los Tres Gigantes biological station, a conservation area managed by Guyra Paraguay, that sits on a bend of the Negro River in the Pantanal, the world's largest tropical wetland.
"The Pantanal is one of the few places where life can be seen in its natural state," she says. "It's all connected. The palm fruit falls from the tree into the water for the piranha-like pacu to eat. In some ways, we eat that fruit too."
Indeed, everything is connected. The Pantanal straddles three countries and is fed by rivers that originate hundreds and thousands of miles away in other ecosystems, requiring the collaboration of government officials, community leaders, business executives, environmental advocates, and rangers like Carolina. In 2018, Brazil, Bolivia, and Paraguay took a big step in that direction, signing a landmark trilateral agreement known as the Pantanal Initiative to reduce pollution, strengthen water governance, and expand scientific knowledge, while ensuring the rights of indigenous peoples.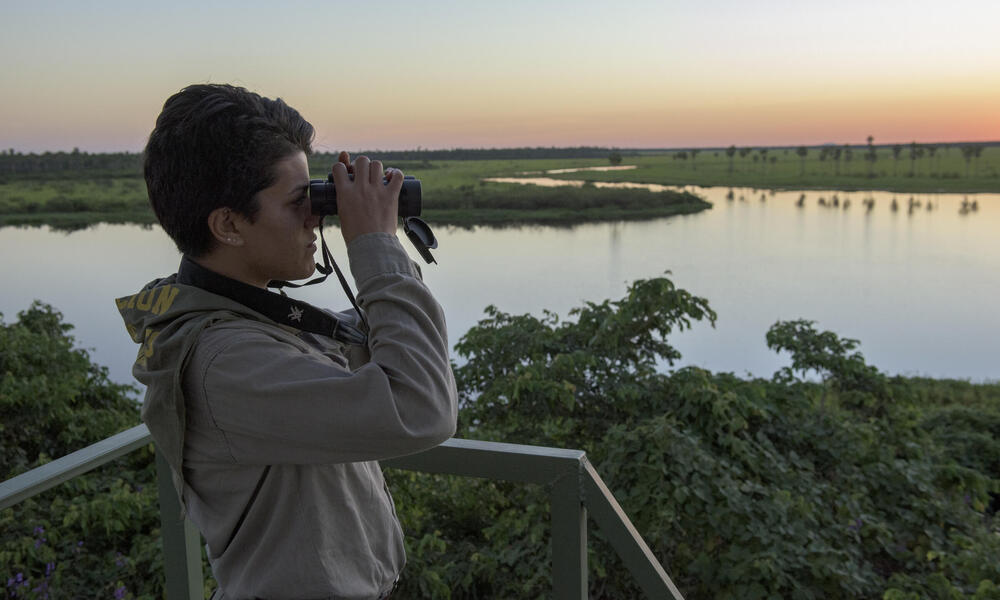 After completing a course designed for rangers, where she learned about protected areas, biodiversity, map interpretation, environmental law and relationships with indigenous communities, Alvarez was offered the lead role at Los Tres Gigantes Station, overseeing the other rangers and the work they all share. As one of the only two women working in the conservation area, she was excited to take on the challenge.
"It was an easy offer to accept," she says. "It was something I always wanted, to protect a place like this and help it thrive."
In an average week Alvarez monitors plants and animals — jaguars, anacondas and caiman among them — with trap cameras, cleans trails and welcomes the conservation area's visitors, many of whom stay in the solar-powered building facing the water. Visitors can take their time exploring the riverfront and trails of Tres Gigantes, heads turned up to search the sky for the Pantanal's innumerable species of birds, like toucans and parakeets, and down to look for species that don't soar above the river, like marsh deer and giant otters.
Alvarez spends Friday mornings at the public elementary school in Bahía Negra, working alongside local environmental NGO Eco Pantanal—a local partner of Guyra Paraguay and WWF—to teach kids about the importance of taking care of the place where they live. She's also planning a weekend camp to bring high school kids to Los Tres Gigantes Station, where they can learn more about conservation and sustainable development.
Environmental education and planning are important pieces of conservation work in the Bahia Negra district, done through partnerships with Guyra Paraguay, WWF, local organizations, and rangers like Alvarez.
"Education is fundamental for these kind of places to keep existing," Alvarez says. "And the role of local communities in conservation is fundamental for them to feel a part of this place."