Nepal successfully collars four snow leopards in four years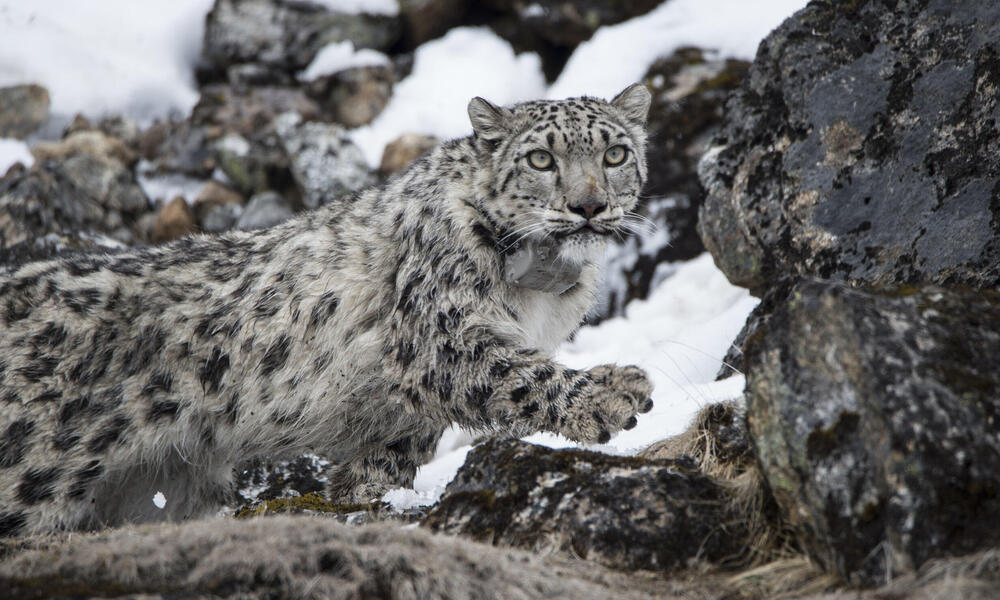 A snow leopard was successfully collared in Kangchenjunga Conservation Area on May 8, 2017 making it the fourth one to be collared in Nepal's eastern snow leopard conservation complex.
The snow leopard, a sub-adult female about two years of age and weighing 66 lbs., was tracked and fitted with a satellite-GPS collar, and released into the wild at 11:36 am at an altitude of 15,873 ft. She was named Yalung by the local people after the name of a local area which is planned to be developed as a snow leopard ecotourism site in the future. Yalung will be closely monitored by the government, WWF and local citizen scientists following the collaring.
Data received from the collars have helped Nepali conservationists determine the snow leopards' movement patterns, habitat use and preferences, home ranges to identify critical core habitats and corridors between them, including trans-boundary habitat linkages and climate resilient habitat for future conservation. This information will also be important in developing landscape-scale conservation management plans and refining the existing snow leopard habitat in the Himalayas. Information received from the previously collared snow leopards have shown encouraging movements of the snow leopards between Nepal, India and China, with one of the snow leopards reaching a highest altitude of 19,219 ft. – the highest documented so far for snow leopards around the globe.
"Nepal's snow leopard conservation action plan launched earlier this year by the Prime Minister of Nepal guides the country's commitment to ensure 100 breeding snow leopards in three of its landscapes by 2020," stated Man Bahadur Khadka, Director General of the Department of National Parks and Wildlife Conservation. "Nepal's learnings from satellite telemetry on the species since 2013 will play a key role in future snow leopard monitoring using cutting edge technology which is a key objective of this five-year plan."
The government had provided approval to collar four snow leopards in the eastern complex (particularly Kangchenjunga Conservation Area). The mission began in 2013 with the first collaring of a male snow leopard; this was followed by similar successful expeditions in 2015 and 2016. With the completion of this mission, two female and two male snow leopards have been collared in Kangchenjunga Conservation Area.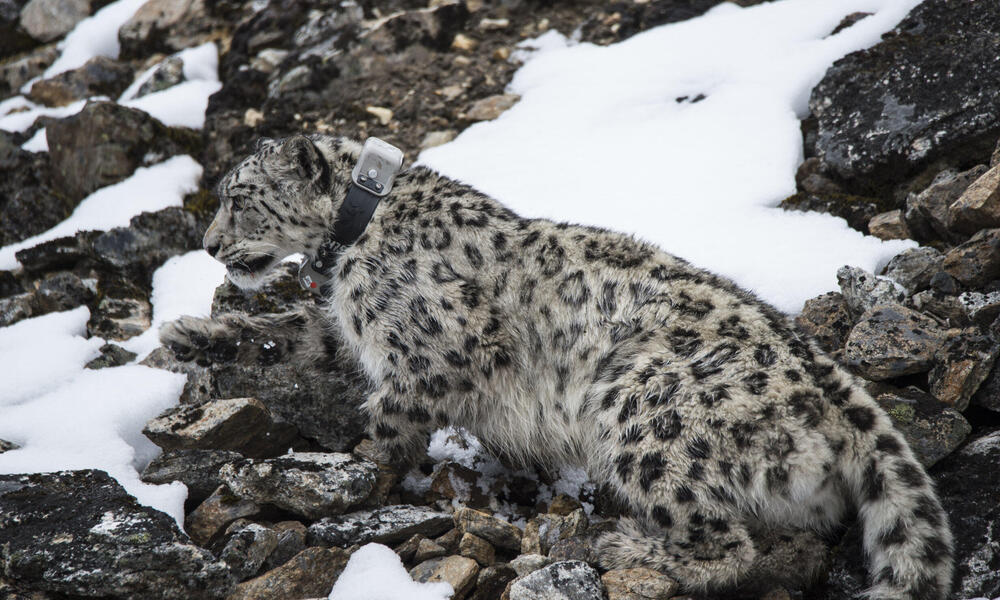 "Building on existing science and knowledge on snow leopards is an imperative for cohesive conservation efforts aimed at protecting the ghost of the mountains," stated Anil Manandhar, Country Representative of WWF Nepal. "It is encouraging to note the role of the local people, through citizen scientists and snow leopard conservation committees, and the coordinated effort from the grassroots to the central level in snow leopard conservation."

The expedition, led by the Department of National Parks and Wildlife Conservation, was comprised of representatives from the government, National Trust for Nature Conservation, Kangchenjunga Conservation Area Management Council, WWF Nepal's young wildlife biologists and local citizen scientists. WWF-Nepal provided technical and financial support for the collaring, which was funded by WWF-UK and USAID.