New study indicates a 53% decrease in area occupied by monarch butterflies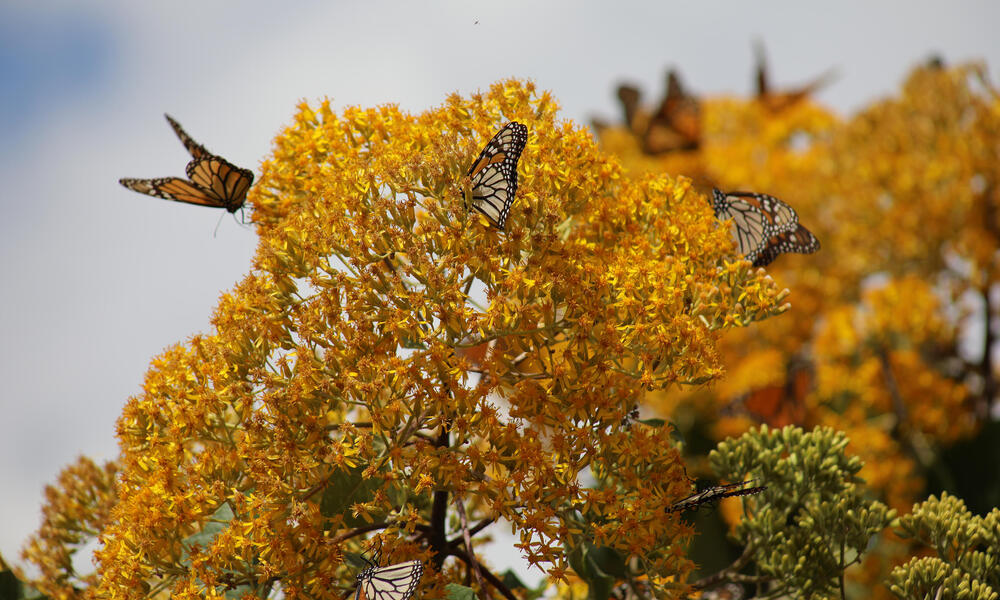 The latest survey assessing the population of monarch butterflies that winter in Mexico indicates a population decrease of 53% since the previous season. In the 2019-2020 wintering season, the area of forest occupied by monarch butterflies was 7 acres, down from 15 acres in the 2018 - 2019 season.
The area occupied by monarch butterflies in the forests of Mexico is used as an indicator of the number of butterflies that migrate each year from the US and Canada to Mexico. The survey conducted was led by WWF-Mexico and is carried out every year in collaboration with the National Commission of Protected Natural Areas of Mexico, and the WWF Alliance-Telmex Telcel Foundation, in coordination with local communities. This year's monitoring found 11 colonies where monarchs congregated.
Substantially lower temperatures in Southern Texas when monarchs arrived in March and April 2019 led to a slow growth of eggs and larvae during the Spring. This resulted in fewer monarchs to produce the following generations, including the one that migrates from Canada through the US to Mexico. Therefore, the smaller population occupied fewer acres of Mexican forests.
"The current monarch butterfly population decline is not an alarming one, but we must remain vigilant and not allow it to become a trend in the coming years. Conservation is a long-term job," said Jorge Rickards, Managing Director, WWF-Mexico. "The latest forest report indicates the hibernation habitat is in good condition, with a very low illegal logging rate. We are committed to continuing to work with everyone involved to help the species, its habitat and the local communities that depend on it."
Each year monarch butterflies migrate from southeastern Canada and the northeastern United States to hibernate in the forests of Mexico.
This migration is considered as one of the most admirable phenomena in the animal kingdom. Preserving their journey requires action in light of threats such as climate change, land conversion, and forest degradation.
WWF works with the Mexican government, local communities, and partners to protect the monarch hibernation grounds in the Monarch Butterfly Biosphere Reserve, and to support sustainable projects that provide an economic alternative to the people who live in the monarch region.
We can all help by planting nectar plants from which butterflies can feed and obtain enough energy to continue their journey throughout North America. Plants like milkweed in the United States and Canada are essential for monarch reproduction; it's the only plant where monarchs lay their eggs and where baby larvae feed from.
Find out which kind of milkweed you should plant in your region and help save the monarch butterfly.