WWF welcomes the 2018 class of conservation leaders
Meet the recipients of the Russell E. Train Fellowship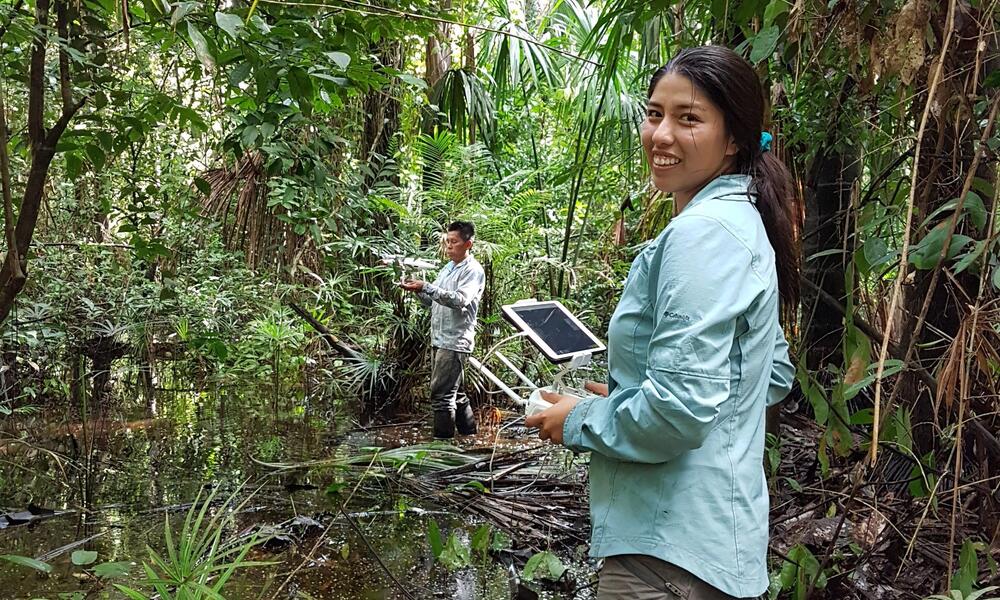 Ten inspirational conservationists from six countries will use their expertise to conserve the world's most critical ecosystems through WWF's unique fellowship program. For 24 years, the Russell E. Train Education for Nature Program (EFN) has supported conservationists from the Global South to earn advanced degrees in conservation-related fields. Selected for their innovative proposals and merit-based history, these Train Fellows will focus their research on key topics, from analyzing park ranger working conditions in the Galápagos to preserving African manatees in Gabon.
Train Fellows attend universities around the world, learning from leading experts and researching critical topics affecting the environment. After graduation, these dedicated individuals return to their home countries to implement their research, expand academic programs, and build conservation networks.
Train Fellowships are named after the late Russell E. Train, founder and chairman emeritus of WWF-US. Train recognized the enormous need for conservation capacity on a global scale and felt that without education and training, the full potential of promising leaders would never be achieved. To help build capacity in critical places and make his vision a reality, EFN has provided support to over 2,600 conservationists worldwide.
Meet the 2018 Train Fellows
Elizabeth Campbell | Peru

Elizabeth Campbell works to conserve marine wildlife and ecosystems in Peru. She is pursuing her doctorate in biological sciences from the University of Exeter in the United Kingdom, specifically studying the threats facing Amazon river dolphins. Endemic to Peru, river dolphins are important indicators for the biological health of the environment and Elizabeth is committed to identifying and implementing improved conservation measures for the species.

Oscar Carvajal Mora | Ecuador

Oscar Carvajal Mora is supporting park rangers in Galápagos National Park. His master's in conservation biology from CATIE in Costa Rica will examine park ranger working conditions by conducting an analysis of their training, safety, mobility, infrastructure, and equipment. After completing his degree, Oscar will have a tool for protected area managers that effectively outlines the role of park rangers and highlights capacity gaps to be addressed.

Pavel Garcia Soto | Guatemala

Pavel Garcia Soto devotes his time to monitoring and conserving Guatemala's river ecosystems. His doctorate in organismal biology from the University of Montana in the United States will look at the causes and consequences of low leaf-shredding insects in neotropical streams. This research will help Pavel provide an accurate indicator of the conservation status of streams and their water ecology in Guatemala.
Francisco Laso | Ecuador

Francisco Laso is exploring the relationship between agriculture and conservation in the Galápagos. As part of his doctorate in human-environment interactions from the University of North Carolina at Chapel Hill in the United States, Francisco is exploring how farmlands, invasive plants, and wildlife interact. By evaluating these complex relationships, he's hoping to fill the knowledge gap between conservation efforts and land use on the islands.

Serafino Afonso Rui Mucova | Mozambique

Serafino Afonso Rui Mucova is devoted to educating vulnerable communities in Mozambique on the effects of climate change. With his doctorate in biology and ecology of global climate change from the University of Aveiro in Portugal, he plans to address the issues of climate change and ecosystem services to develop sustainable use strategies and community climate adaptation plans.

Christy Achtone Nkollo Aganga | Gabon

Christy Achtone Nkollo Aganga works to protect the African manatee along the coast of Gabon. As part of her doctorate in biogeography from Omar Bongo University in Gabon, Christy is working to document the number of manatees, monitor their behavior, collect poaching information, and raise awareness of their cultural significance. Her data will not only help answer many questions about this elusive species, but also contribute to the revision of the coastal management plans in Gabon to better protect them.
Jaime Ortiz | Ecuador

Jaime Ortiz is a Galápagueño dedicated to preserving island ecosystems. For his doctorate in invasion ecology from Cornell University in the United States, Jaime will be studying the effects of non-native earthworm invasions on the Galápagos , which may be contributing to the spread of invasive plant populations. Jaime's goal is to aid in the construction of a management strategy based on scientific information, prevention, and education to avoid the effects of non-native earthworms on the islands.

Ximena Tagle | Peru

Ximena Tagle wants to understand the economic value of palm fruit in Peru. As part of her doctorate in Earth observation from Wageningen University and Research Center in the Netherlands, Ximena will determine where palm tree species are found, their density, and their fruit production. With this data, Ximena hopes to show that the forests' economic value can come from non-timber products and encourage conservation of the Peruvian Amazon.

Sunil Tamang | Nepal

Sunil Tamang is helping communities in Nepal sustainably rebuild after natural disasters. During his master's in applied science from Lincoln University in New Zealand, he will be studying disaster risk and resilience, learning how to build resilient infrastructures for long-term recovery. When he returns to Nepal his goal is to work in natural resource management, showing others how to rebuild while also preserving natural ecosystems.
Ngawang Thapke Sherpa | Nepal

Ngawang Thapke Sherpa is dedicated to preserving the natural resources found in his village in the Everest region of Nepal. This year, he will be pursing his master's in natural resource management and ecological engineering from Lincoln University in New Zealand. As part of his studies, Ngawang will be learning a range of natural resource management techniques to build his technical and leadership skills. Upon returning home, he hopes to develop sustainable resource management projects for his community.