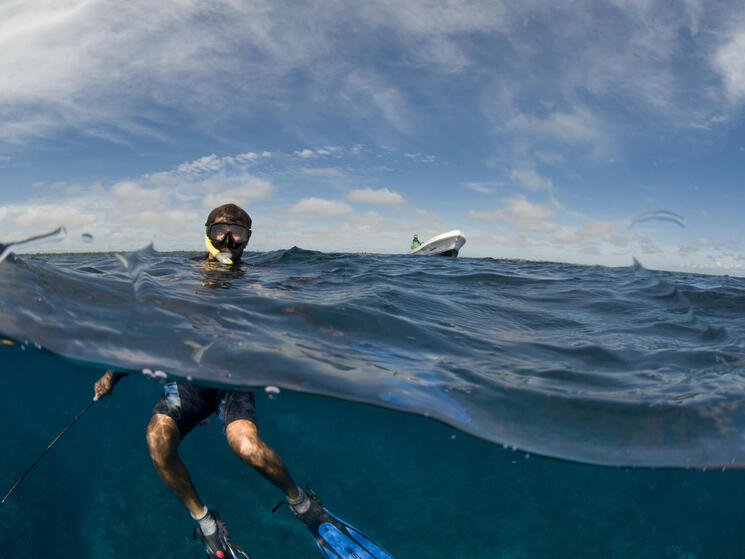 Date

: 13 July 2022

Author

: Caroline Tippett, Vice President of Ocean Markets and Finance
This is part one of a series that explores what sustainable coastal and marine tourism will look like in 2030 and 2050, and identifies the three key shifts needed by 2025 to achieve this ambitious vision.

As pandemic restrictions are being lifted gradually in most coastal regions, millions of tourists will be swarming to their favorite beach destinations this summer. Tourism remains an effective and familiar way for people to connect with nature. Although a healthy ocean is unequivocally a cornerstone of high-quality traveler experiences, the most significant market-based contributor to finance protected areas and a tool to benefit local communities and businesses, the dominant mass tourism approach does not take nature into account—with devastating consequences for marine habitat and its fauna.
With more than 1.4 billion international travelers travelling the world before the pandemic, according to the UN World Tourism Organization (UNWTO)[1], the potential for tourism as a powerful and transformative force for sustainable development is significant. In 2019, the tourism sector was the third largest for exports, one of the fastest growing, the largest service employer and one of the most critical drivers of economic growth through job and enterprise creation, export revenues and infrastructure development. This trend is forecast to resume when the pandemic recedes.
There is no healthy ocean without sustainable coastal and marine tourism at a scale to meet consumer demand. Well-managed tourism can support conservation while contributing to sustainable development and providing income opportunities and a higher quality of life for coastal communities. We have an opportunity by 2030 to get things right. After all, it's in the tourism industry's self-interest; nature is its most important business partner. Hotels, cruise ships, tour operators and the industry's long and wide supply chain depend on beautiful destinations for their long-term business health. The vision of the World Wildlife Fund (WWF) for the next decade is to contribute with our partners in conservation towards nature-positive tourism where all supply chain actors converge to create value for people, nature and businesses. This approach has been framed by the UN Sustainable Development Goals and the industry and standards and principles set by the Global Sustainable Tourism Council (GSTC).
Since its inception, WWF has partnered with the travel industry. Businesses across the travel industry are increasingly aware of the competing needs in any given seascape, how habitat loss and climate change are intricately related, and the transformational role the travel industry can play in restoring and elevating ocean resilience.
It starts with a shift from a 'first do no harm' mentality to making a net contribution to people and the planet. This requires a holistic approach that leverages existing movements to protect places, provides access to financing to support sustainable tourism enterprises and ensures policies are co-created with and ultimately benefit Indigenous Peoples and local communities.
Shifting industry to nature-positive tourism
The first shift that needs to occur will be structural, factoring sustainable tourism into the High Ambition Coalition for Nature and People 30×30 ambitions[2]. Area-based conservation interventions need to be integrated, holistic and based on good outcomes for local people, global society and nature. The sovereignty of local communities and Indigenous Peoples over their natural seascapes needs to be codified through co-created conservation plans in areas where tourism, nature and people coexist. Thus, businesses need to work in synergy and team up with communities directly impacted by coastal developments and tourism activities. This will have to include embedding sustainability and resilience principles across the lifecycle of infrastructure projects. This vision also relies heavily on improved tourism management systems, including raising the capacities, education and inclusiveness of travelers, the private sector and local communities.
The second shift is perceptual, moving from outdated mass tourism to sustainable, restorative tourism. Mentalities across the tourism supply chain should also shift to view protecting wildlife as the best partner for ocean tourism. In the first major study of world wildlife tourism, researchers at the University of Oxford's Wildlife Conservation Research Unit concluded that up to 40 percent of tourism worldwide is wildlife tourism across seascapes and landscapes[3]. Wildlife viewing, including iconic species like whales, sharks, turtles, dolphins and other megafauna, drives billions of dollars for the tourism industry. In this sense, a sustainable blue economy globally and in many areas remains one of the most significant livelihood generators and a robust engine for local economies. Sustainable tourism should improve governance in protected areas and strengthen cooperation between management bodies and local stakeholders for more significant mutual economic and environmental benefits.
The third shift needs to come from finance. Tourism can be big business and is enabled by capital flows from financial markets. In 2019 alone, before the pandemic, tourism accounted for $948 billion in capital investment, or 4.3 percent of total investment worldwide that year[4]. These financial flows need to be aligned to a sustainable blue economy to minimize short-, medium- and long-term risks, such as those stemming from climate change and a degraded environment.
Financiers, including banks and investors, urgently need to adopt and implement the Sustainable Blue Economy Finance Principles and their associated guidance[5]. This guidance has been developed to support key sectors, including the transition to sustainable marine and coastal tourism, to support the work with clients and portfolio companies to shift practices towards nature-positive outcomes. In addition, local tourism businesses and communities protecting natural capital and social cohesion must have equitable and sustainable sources of capital to grow and incentives for long-term natural resource management.
One example of this in Latin America, where the InterAmerican Development Bank launched a challenge in collaboration with the UNWTO to finance sustainable tourism development that introduced innovation for environmental sustainability and employment. Businesses that won financing through the challenge include the Green Fins Global Hub, which aims at supporting small marine tourism enterprises in Costa Rica and the Dominican Republic to achieve higher environmental standards. Another business, Experience Nariva in Trinidad and Tobago, aims to stimulate ecotourism in the Narira Swamp, a Ramsar-protected site, to benefit local communities and create incentives for good environmental stewardship.
These three shifts cannot be fulfilled if policies do not keep up with the pressing needs and anticipate future upheavals in nature conservation and the tourism industry. Appropriate policies can enable new and desirable directions, spur innovation and help address challenges and problems.
To read part two of this series click here.
[1] UNWTO. "International Tourist Arrivals Reach 1.4 Billion Two Years Ahead Of Forecasts", January 2019. https://www.unwto.org/global/press-release/2019-01-21/international-tourist-arrivals-reach-14-billion-two-years-ahead-forecasts
[2] High Ambition Coalition. https://www.hacfornatureandpeople.org/home
[3] PLOS ONE. "The Customer Isn't Always Right—Conservation and Animal Welfare Implications of the Increasing Demand for Wildlife Tourism" https://journals.plos.org/plosone/article?id=10.1371/journal.pone.0138939
[4] IISD. "Tourism Recovery and Resilience in Commonwealth Small States: Driving circular economy pathways post-COVID-19". https://www.iisd.org/articles/tourism-recovery-resilience-commonwealth-small-states-circular-economy
[5] UN Environment Programme Finance Initiative, Turning the Tide: How to Finance a Sustainable Ocean Recovery, March 2021, https://www.unepfi.org/publications/turning-the-tide/.