Climate Stories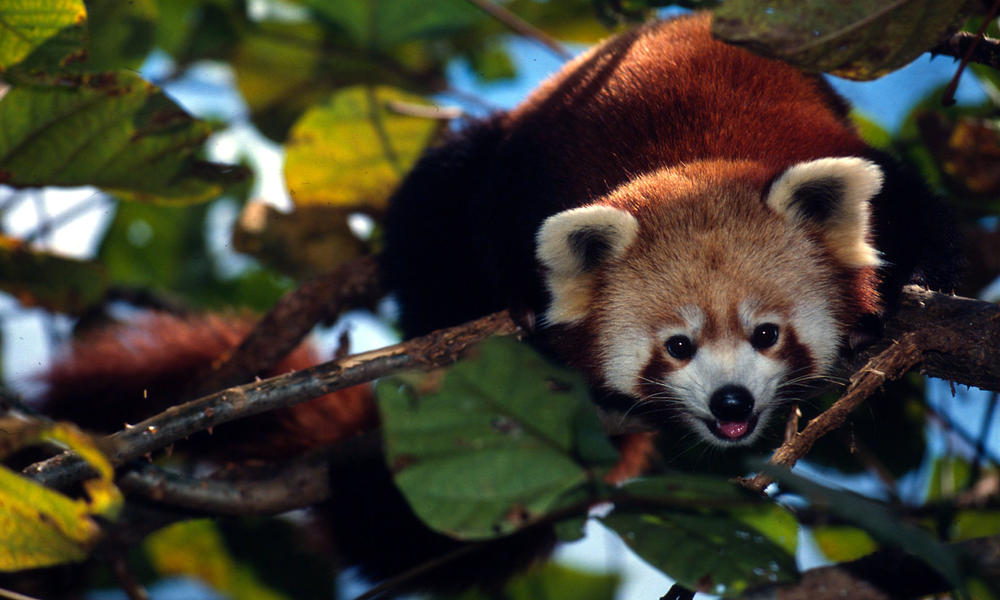 While residents of Sikkim honor the endangered red panda, they also understand the species is under a growing threat. Climate change is impacting species across the globe and red pandas—with less than 10,000 left in the wild—are not immune.
June 01, 2018

This month marks one year since the United States confirmed it was pulling out of the Paris Agreement. But across the country, national leaders and citizens continue to drive climate action and ensure the nation fulfills its emissions targets set by the accord.

March 23, 2018

It's the second-worst winter for sea ice in the Arctic. As this rapid warming trend continues, entire ecosystems are unraveling and the consequences are impacting daily life in the Arctic as well as life in coastal communities thousands of miles away.

March 20, 2018

At WWF, we're engaging with millions of Americans, leading businesses, and government leaders to tackle climate change. Here are nine reasons why we're hopeful in the face of this threat.

March 13, 2018

Up to half of plant and animal species in the world's most naturally rich areas—including the Amazon and the Galápagos—could face extinction by the turn of the century due to climate change if carbon emissions continue to rise unchecked.

February 22, 2018

January 2018 brought record-low sea ice cover to the Arctic, according to new data released by the US government. That's bad news for the ocean, wildlife, and local communities that rely on both for survival.

February 15, 2018

Dozens of fluffy shy albatross chicks sitting on artificial nests are a promising sign for scientists behind an innovative plan to give the vulnerable species a boost to help counteract the negative impacts of climate change.

WWF Magazine: Spring 2018

The Green Climate Fund, a multilateral fund dedicated to helping developing countries respond to climate change, continues this tradition of cooperation for the common good.

WWF Magazine: Spring 2018

Big-box retailer Walmart set an ambitious goal to reduce its carbon emissions. Then it encouraged its suppliers to do the same.

WWF Magazine: Spring 2018

In Muenster, Texas, a wind farm is benefiting both individuals and the larger community.

January 09, 2018

Because incubation temperature of turtle eggs determines the animal's sex, a warmer nest results in more females. Increasing temperatures in Queensland's north, linked to climate change, have led to virtually no male northern green sea turtles being born.

After a year of extremes in the US—from floods to hurricanes to wildfires—2017 is officially the third-hottest year on record. Much of the warming is attributed to human-caused changes in climate.

December 13, 2017

As 2017 comes to a close, we're taking a moment to highlight some of our biggest conservation successes of the year. And we couldn't have done it without your support.

November 11, 2017

Bhutan now has a great means for bringing that commitment to life—long-term funding to ensure its protected areas, which cover half of the country, are properly managed forever. It is the first initiative of its kind in Asia and one of only a few in the world.

Climate change impacts all parts of the world, and finding solutions to the challenges posed by such an immense threat will require action from every country. Annual international climate talks are key to effectively addressing the problem.

A tight-knit ranching community in Muenster, Texas is home to something pretty special: a clean energy revolution.

October 24, 2017

Assuring the world that the United States is still an ally in the fight against climate change, American leaders outside of the federal government—from governors and mayors to business executives and university presidents—announced they will attend the next round of international climate talks in November.

October 04, 2017

Remeza, Kingeline, Yollande and Hanitra are all part of WWF's access to sustainable energy program managed in collaboration with India's Barefoot College. The four women joined women from several other countries for a six-month training in India in applied solar technology. Most women joining the program leave their country, sometimes their native regions or villages, for the first time in their lives.

WWF Magazine: Winter 2017

The We Are Still In declaration demonstrated to world leaders that America's cities, states, tribes, businesses, colleges, and universities will work to meet the commitments of the Paris Agreement.

WWF Magazine: Fall 2017

California is a global winemaking powerhouse. But extreme weather—from droughts to floods, all driven by climate change—could threaten that productivity.

June 05, 2017

Leaders across the US economy reaffirmed their commitment to climate action despite the Trump administration's decision to pull out of an unprecedented and essential international agreement to curb climate change.

May 31, 2017

The United States has announced its intent to withdraw from the historic Paris Agreement, the world's first truly global plan to address climate change.

May 24, 2017

Flooding is currently the most common natural disaster worldwide, and rising global temperatures will only make it more frequent and severe. WWF has developed an integrated framework for managing floods, giving managers more flexible and effective solutions to prevent or respond to such natural disasters.