Climate Stories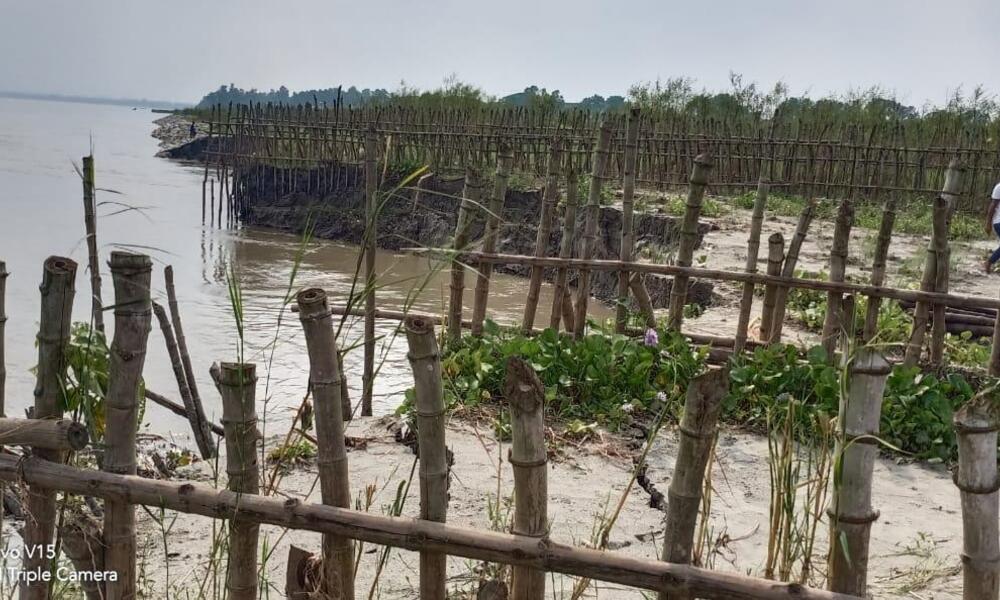 Laila Sanjida of Bangladesh, Pragya Motiwal of India, and Ruwanthi Jayasekara of Sri Lanka all experienced devastating floods in their home countries that inspired them to enter the field of flood management.
WWF Magazine: Spring 2022

The Renewable Thermal Collaborative (RTC) seeks to slash carbon emissions from industry and other large energy buyers by scaling up renewable alternatives for providing thermal energy.

January 04, 2022

Mangroves, with their incredible ability to capture and store carbon, can be a solution to the climate crisis.

November 16, 2021

WWF's SVP Climate Change, Marcene Mitchell, shares her thoughts on the 26th Conference of the Parties of the United Nations Framework Convention on Climate Change.

As the climate crisis fuels more intense disasters, environmental issues and humanitarian needs are growing increasingly intertwined. WWF's Anita van Breda takes some time to reflect on the past and look toward the future.

September 08, 2021

Wildfires are growing increasingly devastating and are both contributing to and being exacerbated by the worsening climate crisis. But there are ways that we can better manage fires so to mitigate their damage and protect communities and wildlife.

August 26, 2021

Living in a ger, meaning 'home' in Mongolia, and more commonly referred to as a 'yurt' in English, has grown popular in many places around the world. But its origin lies in central Asia, particularly across the steppes of Mongolia. Set up to be a portable home, the ger has been a traditional part of the life of nomadic herders here for millennia. But this way of life is threatened by the climate crisis.


August 16, 2021

My hope for the future is we look back and see the summer of 2021 as the turning point in the climate crisis—the moment when humanity took account of what we are doing and changed course.

August 09, 2021

A new comprehensive report by the United Nations Intergovernmental Panel on Climate Change assessing the latest state of global climate science reveals that global temperatures now hover around 1.1°C above preindustrial levels and our actions have already irreversibly altered the Earth.

July 21, 2021

WWF is launching a new project to make wildlife like tapirs less vulnerable to drought during the dry season by installing and monitoring artificial water sources in Mexico's Calakmul Biosphere Reserve through the Wildlife Adaptation Innovation Fund.

June 02, 2021

Sixty percent of Fortune 500 companies have set goals to act on the climate crisis and address energy use, yet those ambitions vary dramatically—and are not happening at the speed or scale needed to stave off the worst impacts of a warming planet, according to a new WWF report.

April 22, 2021

On Earth Day, the Biden administration took a big step forward by releasing the US national climate plan at the international Leaders Climate Summit that nearly doubles the previous administration's commitment with a pledge to cut US emissions by at least 50% from 2005 levels by 2030.

WWF Magazine: Summer 2021

As more and more people take to the skies, scientists project that without advances in airplane efficiency and industry-wide regulations, commercial aviation emissions could triple by 2050.

WWF Magazine: Summer 2021

In other words: As ocean temperatures rise and habitats change, will whales, sharks, rays, dolphins, turtles, and other sea creatures adapt or go extinct?

April 13, 2021

On Earth Day 2021, President Biden will host an international Leaders Climate Summit to rally world leaders around climate change. The goal is for countries to commit to strong measures to reduce greenhouse gas emissions while also strengthening their climate resilience plans.

February 09, 2021

Thermal emissions are the greenhouse gases released from the processes of heating and cooling. Here are four things you need to know about them and what WWF is doing to tackle this challenge.

WWF Magazine: Spring 2021

WWF received $100 million to accelerate the most promising nature-based solutions—methods that harness the power of nature to provide for communities and stabilize our climate.

WWF Magazine: Spring 2021

Hazelnuts are known for the rich, distinctive flavor they lend to some of our favorite treats, like chocolate and coffee. But this wonder crop is particularly vulnerable to climate change.

WWF Magazine: Spring 2021

Investing in open-ocean seaweed farming could help move the needle on climate change.

January 14, 2021

If humans are unable to limit carbon pollution, Cincinnati's average temperature could climb by as much as seven degrees Fahrenheit by the end of the century, according to the National Centers for Environmental Information. From a local grassroots movement to engagement at the national level, this city is taking the fight against the climate crisis into its own hands.

Every fall, the Ryrkaipiy polar bear patrol, with the support of WWF Russia, works to protect the community and prevent human-wildlife conflict. Tatyana Minenko has been leading the patrol team since 2006. That's when the climate crisis increased conflict in her village.

We Are Still In led the United States in climate action by maintaining international leadership and increasing domestic ambition.

WWF Magazine: Winter 2020

Pilot projects implemented in Zimbabwe work to address the impact of climate change and reduce pressure on natural ecosystems, benefiting the people and land alike.

WWF Magazine: Winter 2020

As erratic weather and droughts driven by climate change impact crops and freshwater, the world's favorite fermented beverage could take a hit.