Stories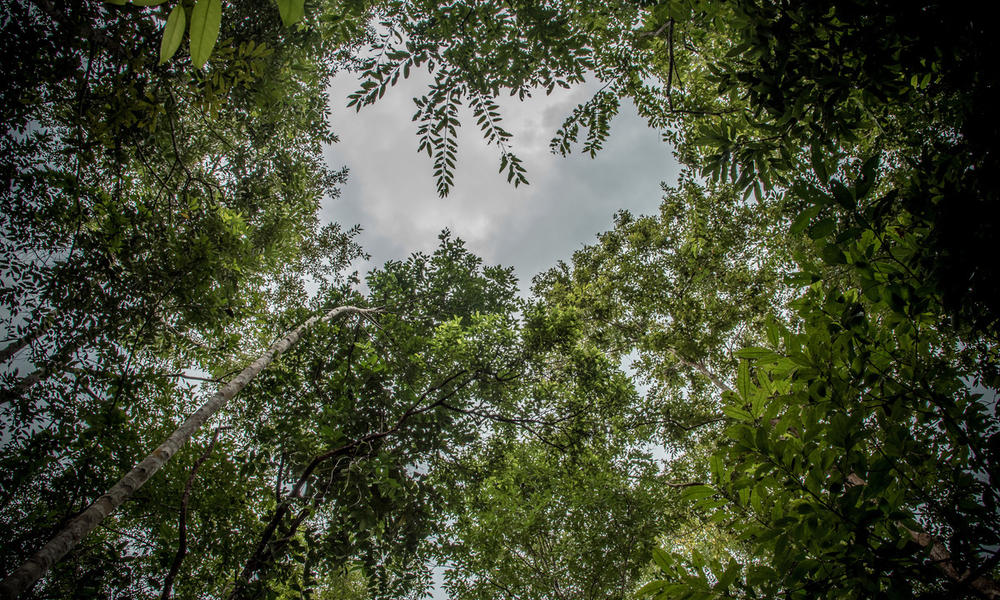 It's one of the easiest things you can do to help save the world's forests. Look for the label that says FSC® when you buy paper towels, tissues, furniture or any other products that come from forests.
April 23, 2018

Following decades of seemingly irreversible decline, the Irrawaddy river dolphin population in the Mekong region is rebounding.

April 13, 2018

The Land of the Leopard National Park is the core area for the Amur leopard. New images documented 84 adult cats and 19 cubs inside the park. This is a significant increase since a 2000 census recorded just 30 cats, and a 2015 survey numbered only 70.

April 10, 2018

While residents of Sikkim honor the endangered red panda, they also understand the species is under a growing threat. Climate change is impacting species across the globe and red pandas—with less than 10,000 left in the wild—are not immune.

April 03, 2018

Thanks to satellite collars, 60 elephants will be monitored for better protection against poaching in one of the last great African wildernesses, Tanzania's Selous Game Reserve.

April 02, 2018

Bristol Bay, Alaska is one of the most productive marine ecosystems in the world and the source of the world's largest wild salmon fishery. Yet its future is in jeopardy from the proposal for Pebble Mine. Now the US Army Corps of Engineers is attempting to fast track the mine's permit application and we must take action now.

March 27, 2018

Hey Mer is not just producing good quality rubber, she is doing so in accordance with farming practices that don't degrade the forests or mistreat workers. Such steps are necessary to protect the environment and human rights, but also to ensure good rubber prices for farmers and a long-lasting rubber industry.

March 23, 2018

It's the second-worst winter for sea ice in the Arctic. As this rapid warming trend continues, entire ecosystems are unraveling and the consequences are impacting daily life in the Arctic as well as life in coastal communities thousands of miles away.

March 22, 2018

Brazil, Bolivia, and Paraguay signed an unprecedented declaration that calls for sustainable development of the Pantanal, a 42-million-acre wetland that touches each country. The decision follows years of collaboration among the governments that are securing a prosperous future for one of the most biologically rich ecosystems on the planet.

March 21, 2018

When his three daughters were hungry, Omary Mbunda would turn to illegal timber for money. That changed when the CARE-WWF Alliance—a partnership focused on creating food systems that better nourish vulnerable communities while supporting healthy ecosystems—began promoting sustainable forestry management and conservation agriculture in Mbondo in 2015.

March 21, 2018

On March 19, 2018 the last male northern white rhino died. Sudan, 45 years old, had been under armed guard to protect him from the threat of poachers. His death is heartbreaking. The extinction of the northern white rhino is happening before our eyes.

March 20, 2018

At WWF, we're engaging with millions of Americans, leading businesses, and government leaders to tackle climate change. Here are nine reasons why we're hopeful in the face of this threat.

March 15, 2018

Activists from around the country assembled on Capitol Hill for WWF's Lobby Day 2018 to persuade lawmakers to maintain the amount of funding the United States government provides for international conservation programs.

March 13, 2018

Up to half of plant and animal species in the world's most naturally rich areas—including the Amazon and the Galápagos—could face extinction by the turn of the century due to climate change if carbon emissions continue to rise unchecked.

March 07, 2018

As president of the Bahamas Marine Exporters Association and managing director of Heritage Seafood, a leading lobster processor, Mia is working with her fellow exporters, fishermen, the Bahamian government, and international NGOs like WWF and The Nature Conservancy to ensure lobsters are fished sustainably.

March 07, 2018

As WWF works with communities around the world to preserve habitats, wildlife, and natural resources, we know that it is critical to engage both women and men for the best results—environmentally, socially, and economically.

When we think of wild animals losing their habitats, we usually envision elephants, rhinos, and tigers in faraway places. But monarch butterflies are losing their homes right here in the US—and our food is playing a part.

February 26, 2018

In 2007, nine polar bear conflicts were registered in all of Greenland. By 2017, there were 21 conflicts between August and December in the village of Ittoqqortoormiit alone. In almost all of the 21 cases, the local polar bear patrol was called to ensure that the bears were scared away from the community and kept under observation.

February 22, 2018

January 2018 brought record-low sea ice cover to the Arctic, according to new data released by the US government. That's bad news for the ocean, wildlife, and local communities that rely on both for survival.

February 20, 2018

For the first time ever, scientists in Antarctica attached a camera to a minke whale and captured incredible evidence of how it feeds. The camera – one of three "whale cams" funded by WWF-Australia – is part of efforts by scientists to better protect whale feeding areas in Antarctica.

February 15, 2018

Dozens of fluffy shy albatross chicks sitting on artificial nests are a promising sign for scientists behind an innovative plan to give the vulnerable species a boost to help counteract the negative impacts of climate change.