Stories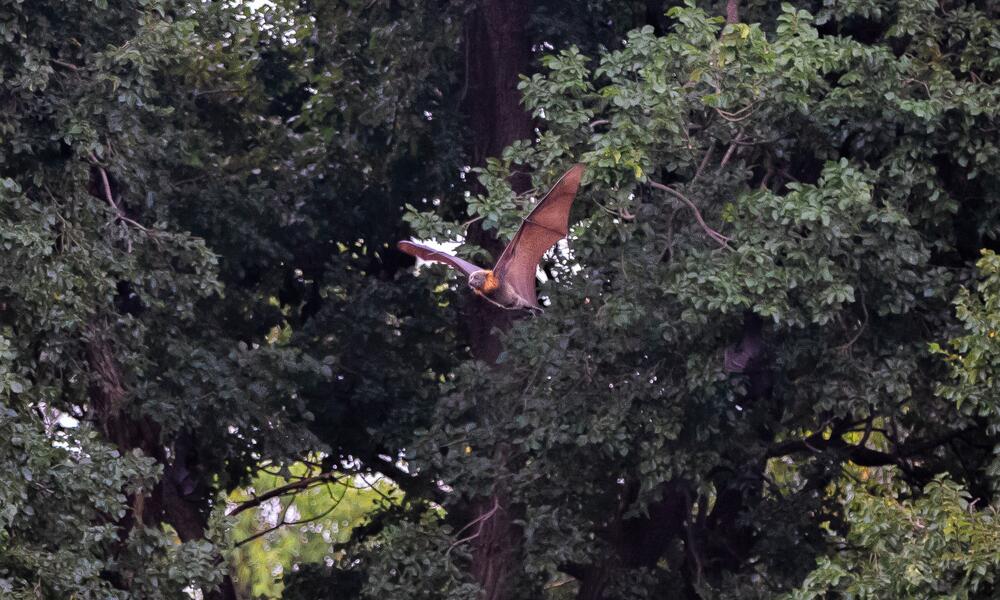 With climate change driving more extreme heat events in Australia, species across the country are at heightened risk. Flying foxes, in particular, can suffer fatal heat stress when temperatures climb to over 108 degrees, an occurrence growing more and more common across the country. But a successful trial of a system of atmospheric cooling sprinklers has given hope to researchers working to protect this vulnerable species.
April 08, 2021

Coastal communities are the stewards of the ocean, and their livelihoods directly depend on its health. Six people living at the intersection of land and sea around the world tell us why they are so committed to the ocean and what it has brought to their lives.


April 07, 2021

In an effort to better understand large carnivores like lions and wild dogs, scientists in Zambia use radio collars to track their movements, distribution, and behavior. The more we know about these umbrella species, the better we can protect them and mitigate human-wildlife conflict with the communities they share land with.

April 01, 2021

Tigers and the habitat they live in provide untold benefits to people, other wildlife, and the climate. Tom Gray, who is the Tiger Scientist at WWF's Tigers Alive Initiative, explains what's at risk if we were to lose tigers.

March 30, 2021

Every late winter and early spring, gray whales navigate to the protected bays of the Baja Peninsula, to mate or give birth to their young. Getting up close to these amazing animals is an unforgettable experience.

March 22, 2021

This World Water Day, we're celebrating 4 rivers and wetlands that we love, and cannot afford to lose.

March 18, 2021

Help bring bison back to their native home in the Northern Great Plains.

March 17, 2021

Mongolia's first-ever national snow leopard survey shows that the country's population of this elusive, big cat is stable. The survey confirmed the presence of approximately 953 snow leopards—an exciting discovery because it indicates that current conservation efforts are effective and will help develop future strategies to protect this charismatic big cat.

March 16, 2021

Every year, the Eastern monarch butterfly flies up to 2,500 miles from its breeding grounds in the US and Canada, all the way down to its hibernation grounds in central Mexico. These tiny creatures have the most highly evolved migratory pattern of any known species of their kind, but this unique phenomenon is under threat.


March 08, 2021

Separated by ocean and land, countries apart, WWF's Jan Vertefeuille reached out to Nety Riana Sari to talk about the role that women have and play in conservation efforts to protect the "Thirty Hills" rain forest in Sumatra, Indonesia, as well as her personal journey in navigating the world of environmental conservation.

March 08, 2021

Dr. Vineetha Aravind is the lead coordinator for shrimp and cephalopod fisheries that are working to improve their sustainability through fishery improvement projects. She's helping to introduce new fishing nets that will reduce the amount of bycatch.

March 08, 2021

Women leaders have established themselves as a formidable force in sustainability positions within tech. Though a relatively new discipline, this trend is helping to modernize environmental sustainability and conservation efforts as we know them—and will undoubtedly see its impact grow in the next decade.

March 04, 2021

Climate change is rapidly changing the Arctic, and its implications are global. More oil to burn would only fuel the climate crisis and put the Refuge and everything living within it at risk from toxic spills and mishaps. Now is the time for bold action that permanently protects the Coastal Plain of the Arctic National Wildlife Refuge.

March 03, 2021

Celebrating World Wildlife Day with 5 of our favorite wildlife species living in forest habitats around the world.

February 26, 2021

We can prevent a dire future, where plastic production is tripled by 2050, if we choose action now to reduce the number of single-use products produced and to ensure that the rest are made from recycled or responsibly sourced content rather than fossil fuels.

February 24, 2021

What if you could get fresh fruit and vegetables from local farmers delivered along with your mail? In a new analysis, WWF looks at how the United States Postal Service—your daily mail carrier—could bridge the gap between farmers and food shoppers, in a proposed program we call Farmers Post.

February 23, 2021

Freshwater fish are vital for communities, economies, and ecoystems. But they are under increasing threat and need our help now more than ever.

February 18, 2021

Protecting whales is crucial to protecting healthy oceans for all of us. Yet even these ocean giants are being impacted by the "deadliest predator in the sea": plastic pollution.

Our differences—the richness of all our unique views, experiences, and backgrounds—can help create stronger conservation outcomes. So we are taking steps to increase underrepresented populations within the organization.


February 11, 2021

Scientists Shauna Mahajan and Gabby Ahmadia embrace a form of leadership that values cooperation over competition and challenge the barriers that women in science can face.

February 09, 2021

Thermal emissions are the greenhouse gases released from the processes of heating and cooling. Here are four things you need to know about them and what WWF is doing to tackle this challenge.

February 02, 2021

Dairy is a staple in the diets of Mongolian people but until recently, the sale of milk products was not a prominent source of income for local herders. As it turns out, diversifying community livelihood options in this village in the Bayan-ulgii province has also led to increased protections for snow leopards in the area. A win for people, and a win for nature.