Stories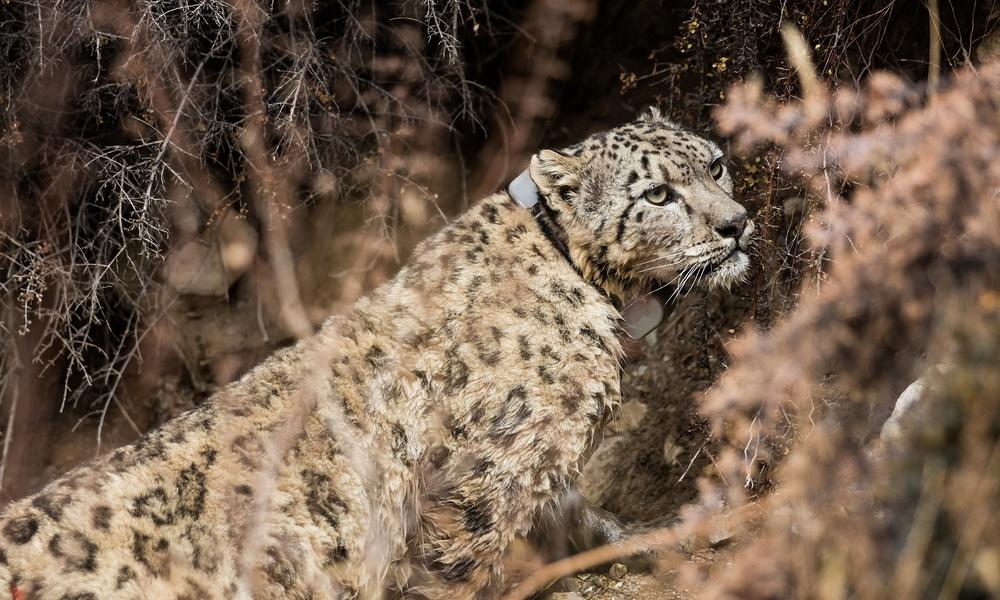 Elusive and solitary nature, snow leopards are rarely spotted and even less frequently studied within their rugged and harsh habitat. However last November, two snow leopards were captured, fitted with satellite-GPS collars, and successfully released back into their rocky homeland in Western Nepal. The two male snow leopards were the first since the 1980's to be fitted with collars within Shey Phoksundo National Park in Western Nepal.
Marisela Silva Parra, 41, is the only female member of a WWF-supported group of local farmers and community leaders who are helping their community realize the value of its natural resources. The group calls themselves Los Exploradores—The Explorers.

May 12, 2020

WWF India, in association with the Sundarbans Biosphere Reserve (SBR) Directorate, has implemented a program to significantly reduce the number of tiger-related deaths of honey collectors.

May 07, 2020

The Rosebud Sioux tribe committed 28,000 acres of native grassland for the creation of a new plains bison herd. With a capacity to support 1,500 animals, the Wolakota Buffalo Range will become North America's largest Native American owned and managed bison herd.

May 05, 2020

Twenty years ago, a gorilla habitation program provided the Ba'Aka living near the Dzanga Sanga Park with a new opportunity. And by 2020, Dzanga-Sangha employed more than 50 Ba'Aka as gorilla trackers.

April 28, 2020

New camera trap images reveal the highest-elevation sighting of a tiger in Nepal, captured at over 8,000 feet in a densely forested area.

April 21, 2020

Recent rollbacks mean a dramatic decline in the security of America's Arctic for both people and nature. Places that are so crucial for Arctic biodiversity, such as the Bering Strait—and the people who live there—are increasingly at risk.


April 16, 2020

Could sitting and observing our breath better connect us to the natural world?

In partnership with local Indigenous organization Azicatch, WWF is supporting the work of Ecosystem Services Assessment Technical Teams, which combines traditional knowledge with modern conservation practice. The aim is to strengthen Indigenous decision-making and governance and create an environmental management plan for their territory.

WWF Magazine: Summer 2020

Last year, WWF partner National Habitat led the first-ever Zero-Waste Adventure, demonstrating new possibilities for more sustainable travel.

WWF Magazine: Summer 2020

WWF Ambassador Jeremy Jauncey engages his global platform to educate and inspire travel enthusiasts about WWF and sustainable travel.

WWF Magazine: Summer 2020

Bearcats inhabit the tropical rain forests of Southeast Asia, spending most of their time high in tree canopies. And they're especially known for one strange attribute: They smell like popcorn.

WWF Magazine: Summer 2020

Cities generate 70% of global carbon emissions. But around the world, cities are making changes to ensure a greener future.

WWF Magazine: Summer 2020

In Zambia's Kafue National Park, WWF and partners are instituting new thermal imaging technology to monitor and protect wildlife from poachers, and to keep local people safer in the process.

WWF Magazine: Summer 2020

Working alongside communities, governments, and scientists, WWF-Nepal has become an intrepid leader in protecting and conserving endangered tigers and the habitats where they live.

WWF Magazine: Summer 2020

Nepal's Khata Corridor was once desolate land. Now, thanks to WWF and partners, the corridor is a perfect thruway for tigers and other dispersing animals.

WWF Magazine: Summer 2020

As the connections between people everywhere become more critical than ever due to the COVID-19 pandemic, stories of hope and possibilities can help sustain us.

WWF Magazine: Summer 2020

Climate change-related threats to biodiversity are happening now. As habitats change, extreme weather events increase, and temperatures rise, we need new tools to help biodiversity adapt.

WWF Magazine: Summer 2020

WWF president and CEO Carter Roberts talks with Secretary of the Smithsonian Lonnie Bunch about connecting people to nature and what it takes to get the job done.

WWF Magazine: Summer 2020

WWF's Bhutan for Life project helped to ensure the country's protected areas would be conserved in perpetuity. Essential to its success was support from donors like Board member Matthew C. Harris.

WWF Magazine: Summer 2020

As WWF's policy lead on wildlife conservation, Leigh Henry has played a key role in the organization's efforts to combat the illegal wildlife trade.

WWF Magazine: Summer 2020

For Jennifer and Leah Vogel, conservation is a family affair. Their passion for nature has inspired them to help protect wildlife and support communities in Zambia.

WWF Magazine: Summer 2020

Sloths are slow-moving creatures that spend their lives in tree canopies, munching on leaves and napping. When you spot one, you have time to think. Still, getting this shot had its challenges.

WWF Magazine: Summer 2020

In Malaysian state of Sabah, WWF is helping to establish a wildlife corridor through a palm oil plantation to connect two reserves, which will protect crops and allow wildlife to roam freely.