Stories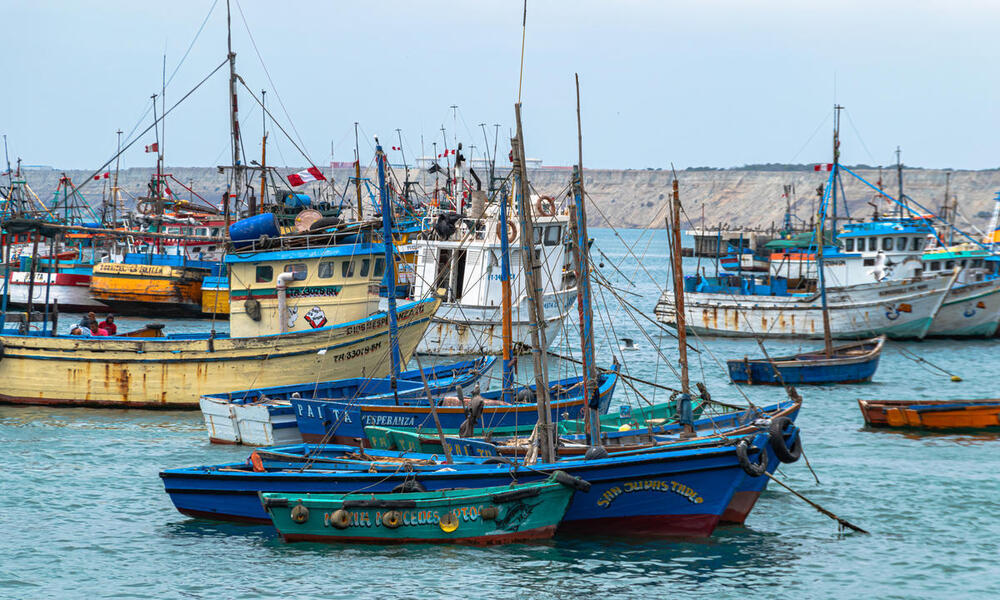 WWF co-developed a mobile application called TrazApp with fishers, government, and other supply chain actors, and has been training fishers across three fishing co-ops in northern Peru to use it.
October 14, 2021

Our oceans provide food, regulate Earth's climate, and are rooted in cultural traditions and community livelihoods around the world. When we work on ocean conservation, we are inherently also working with people dependent on the ocean, particularly those who live along coastlines.

October 04, 2021

In more than two decades at WWF, Irma's passion for conservation and sustainability has only grown, leading her to far-away locations throughout the world.

September 30, 2021

Thanks to increased conservation efforts, wolves are making a comeback in Europe.

September 29, 2021

Members of the Coalition to End Wildlife Trafficking Online have removed or blocked more than 11.6 million listings for prohibited and endangered species and associated products since 2018.


September 16, 2021

Alexandria Abuzanuq Ivanoff, who is from Unalakleet, Alaska, a small hunting and fishing community on the northwest coast, discusses how warming waters and increased shipping could impact Indigenous peoples and wildlife.



September 14, 2021

Fifteen inspirational conservationists from thirteen countries will use their expertise to protect species, fill research gaps, and conserve the world's most critical ecosystems.

September 09, 2021

Curbing illegal, unsustainable and high-disease-risk wildlife consumer demand is an urgent and difficult task. Conservationists are increasingly adopting an approach that integrates regulatory measures, consumer data, and behavioral science to successfully change attitudes and end wildlife demand.

September 09, 2021

In a concerning trend, WWF's 2021 Plowprint Report has revealed that, for the second year in a row, grassland plow-up across the Great Plains has continued to accelerate—a trend that exacerbates the climate crisis.

September 08, 2021

Wildfires are growing increasingly devastating and are both contributing to and being exacerbated by the worsening climate crisis. But there are ways that we can better manage fires so to mitigate their damage and protect communities and wildlife.

September 08, 2021

More than one-third of all sharks, rays, and chimaeras are now at risk of extinction because of overfishing, according to a new study re-assessing their IUCN Red List of Threatened Species extinction risk status. Governments and regional fisheries bodies must act now to stop overfishing and prevent a global extinction crisis.

September 02, 2021

A member of the Bajo tribe of Indonesia, a traditional fishing group leader, and a member of the ranger partner community of Wakatobi National Park, meet: Hartono.

August 26, 2021

Living in a ger, meaning 'home' in Mongolia, and more commonly referred to as a 'yurt' in English, has grown popular in many places around the world. But its origin lies in central Asia, particularly across the steppes of Mongolia. Set up to be a portable home, the ger has been a traditional part of the life of nomadic herders here for millennia. But this way of life is threatened by the climate crisis.


August 19, 2021

Today, 40% of food grown never gets eaten—1 billion more tonnes (1.1 billion tons) of food than previously estimated. The causes of food waste are complex in any region. Luckily, there are solutions.

August 16, 2021

My hope for the future is we look back and see the summer of 2021 as the turning point in the climate crisis—the moment when humanity took account of what we are doing and changed course.

August 12, 2021

WWF-India is in the process of fitting GPS-enabled collars on wild elephants to better understand the animals' basic movements and help local communities.

August 09, 2021

Between 1940 and 2010, forest cover in Laos decreased by roughly 30%, putting both people and wildlife in danger. The forest-dependent communities in Laos make almost all of their livelihoods from the forest's natural resources. Illegal logging and forest conversion for agriculture have threatened these livelihoods. To begin to build back a dwindling forest, mitigate the negative impacts of deforestation, and ensure that forest-dependent communities sustainably benefit from natural resources, forest-dependent villages, in partnership with WWF-Laos, started seedling nurseries and planting initiatives to restore their essential forests.

August 09, 2021

A new comprehensive report by the United Nations Intergovernmental Panel on Climate Change assessing the latest state of global climate science reveals that global temperatures now hover around 1.1°C above preindustrial levels and our actions have already irreversibly altered the Earth.

August 05, 2021

For the people of Pahirebesi, the pattern of disaster and recovery is routine. But once this community began to implement bioengineering techniques in their surrounding landslide-prone landscape to mitigate risk, their reality shifted.

August 03, 2021

Forests cover approximately one-third of the Earth's surface and are home to more than three-quarters of the planet's remaining biodiversity, but are declining around the world at an alarming rate. Learn about how WWF's Education for Nature program and The UPS Foundation partner to fund locally-led reforestation and restoration projects in areas with critical need.


July 29, 2021

The world's attention has never been more focused on tigers: 2022, also known as the Year of the Tiger in the Chinese Lunar calendar, is expected to be a critical juncture on the road ahead for tiger conservation.

July 26, 2021

Did you know that mangroves only cover 12% of the world's coasts, but you can see them from space?


July 21, 2021

WWF is launching a new project to make wildlife like tapirs less vulnerable to drought during the dry season by installing and monitoring artificial water sources in Mexico's Calakmul Biosphere Reserve through the Wildlife Adaptation Innovation Fund.

WWF Magazine: Fall 2021

Connecting patches of forest to ensure jaguars, their habitats, and the ecosystem services they provide are protected for the long term.