Eastern Himalayas Stories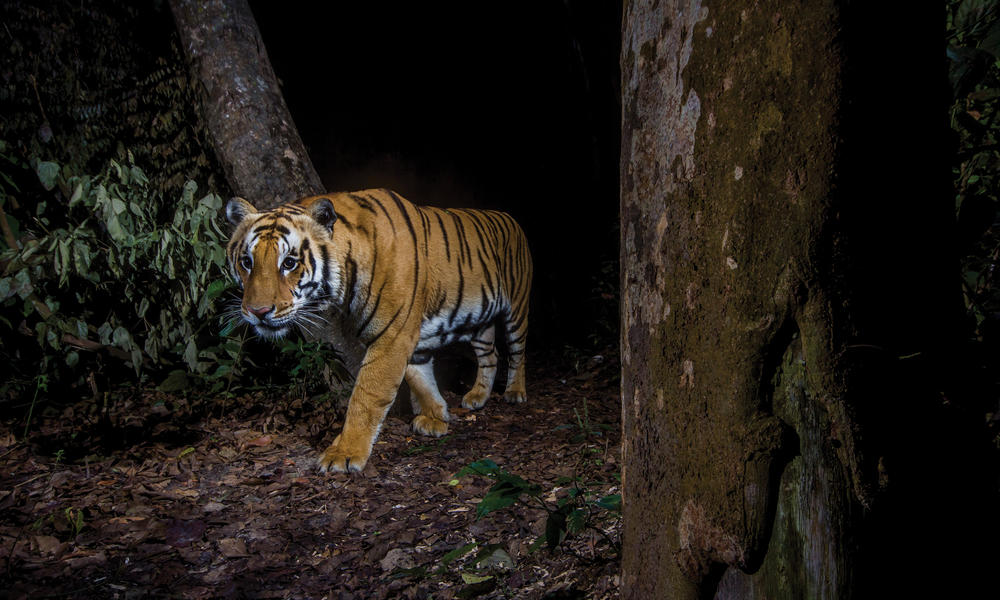 Established in 2010 and dubbed Tx2, it is arguably the most ambitious effort ever undertaken to recover an endangered species. Today, the overall tiger population decline has begun to reverse, with better data and improved surveys indicating there are likely now close to 4,000 tigers roaming free across the range states.Here are the Tx2's top nine achievements to date.
April 22, 2014

WWF was invited to be a Glass Explorer last year through the initial Giving Through Glass program. WWF's Sabita Malla tested the technology to help rhino conservation.

WWF Magazine: Summer 2014

March 03, 2014

On World Wildlife Day, the government of Nepal, WWF and other partners celebrate a milestone 365 days without a single case of rhino or tiger poaching in the Eastern Himalayan country.

January 23, 2014

Despite the importance of Himalayan forests, they are cleared at a rapid rate, often illegally and by local communities. WWF, several Nepal government agencies and other partners recently received a three-year grant from the Global Environmental Facility (GEF) to address the region's problems with degraded lands.

WWF Magazine: Spring 2014

Study shows success of protecting the Himalayas' tigers

December 18, 2013

After an ongoing project tracking elusive snow leopards in a remote area of northeastern Nepal, a government-led project team that included WWF succeeded in fitting a satellite-GPS collar on one of nature's most elusive big cats on November 25.

October 16, 2013

WWF has a long history in Nepal, working closely with local communities to secure conservation successes. This relationship led to an innovative solution that put people and their needs at the center of our programs

August 07, 2013

Since the beginning of his career, Maharjan has always worked to stop wildlife crime. Today, he organizes anti-poaching surveillance missions using intelligence gathered from a wide network of local informants.

July 29, 2013

Nepal's government announced its tiger population in had increased to 63 percent since the last survey in 2009—putting the number of tigers at an estimated 198 with a range between 163-235.

Red pandas roam the Eastern Himalayas. Here are a few things you should know about the species.

July 23, 2013

WWF's Flowing Forward approach helps communities view ecosystems through the lens of climate change.

June 19, 2013

As part of our Eastern Himalayas program, I help find solutions that protect wildlife and also bring benefits to local communities in Nepal, Northeast India, and Bhutan.

October 31, 2012

Camera traps have captured the first-ever photographic evidence of the Pallas's cat in Bhutan's Wangchuck Centennial Park (WCP). Also known as manul, this cat is a primitive species, defined by a strikingly flat head with high-set eyes and low-set ears that enable it to peer over rocky ledges in search of prey.

September 12, 2012

The use of technologies like unmanned aerial vehicles gives park rangers a vital advantage against dangerously armed poachers.

With help from WWF's Sacred Earth program, a program is established to build conservation leadership.

August 09, 2012

Camera traps identify a greater number of tigers in the region.

July 16, 2012

For the endangered animals of our planet—like the rare and regal snow leopard—climate change means much more than hotter days and intensified storms. These creatures face the prospect of a significant transformation of the habitats that sustain them.

When governments set up conservation areas that protect and connect nature, wildlife begins to thrive and so do people.

April 24, 2012

In the shadow of the world's third highest mountain, people and snow leopards are learning to coexist. In the Buddhist faith, there is a strong belief that the snow leopard is god's pet, but local communities in Kanchenjunga, Nepal often see the endangered species as a deadly threat.