Rhino translocation off to a positive start in Nepal's Terai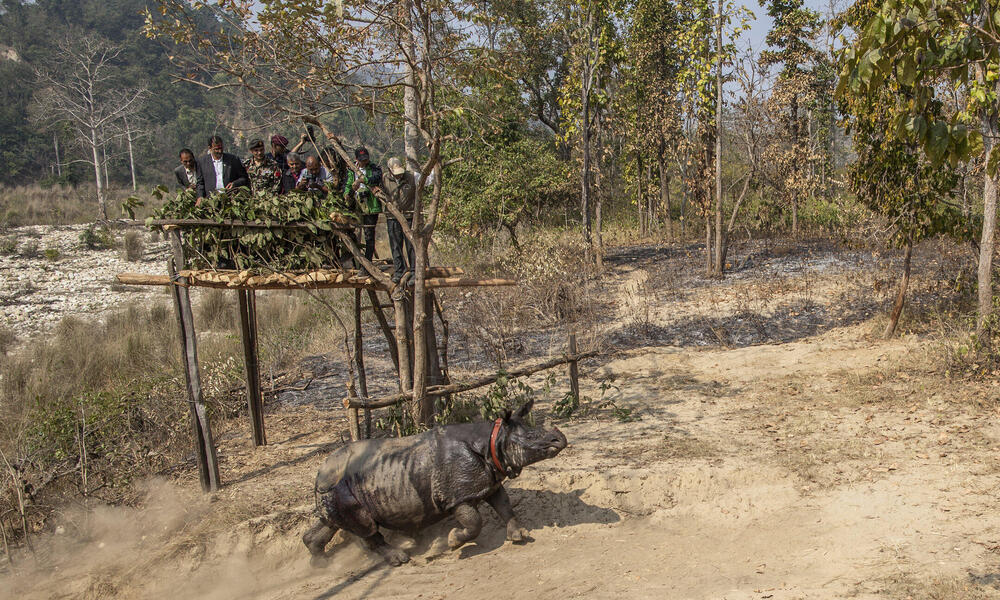 Kathmandu, Nepal –
A Greater one-horned rhino found a new home today in Nepal's Bardia National Park through a successful translocation program. The move is part of a greater effort to create a second, viable population of Nepal's rhinos to help restore the species to historic numbers.
In the coming days, four additional rhinos will make the same journey as part of the larger plan to move 30 rhinos to Bardia National Park over the next two years.
"The expedition is an important step towards creating a second viable population in the western complex of Terai Arc Landscape comprising Bardia National Park and Shuklaphanta Wildlife Reserve," stated Honorable Minister of Forests and Soil Conservation, Agni Prasad Sapkota. "Our bigger goal is to bring back rhino numbers to its historical size of 800 in Nepal."
Team rhino
To begin the journey, the rhino was first tracked and sedated. It was then fitted with a satellite collar and loaded onto a specially-designed truck and transported safely to Bardia National Park where it was released the next day.
The translocation involved the help of 33 elephants, who help herd the rhino, and a team of about 250 people. It was led by Nepal's Ministry of Forests and Soil Conservation with the support of WWF, National Trust for Nature Conservation, the Nepal Army and local communities. The translocation was funded by WWF, USAID and the US Fish and Wildlife Service.
A haven for rhinos
Nepal achieved 365 days of zero poaching in 2015, the third time since 2011. Its rhino population now numbers 645 based on a survey last year. Heightened security measures within protected areas has been a major deterrent to poaching.
Nepal's growing rhino population reflects a top level commitment to species conservation, a well-coordinated protection response between the national parks, Nepal Army, Nepal Police and local communities, and the support of conservation partners such as WWF and the National Trust for Nature Conservation.
WWF has been active in Nepal since the 1960s and remains committed to the vital work being done in the region to save its unique and irreplaceable biodiversity.
On March 1, 2016, a scout team heads out to a location in Chitwan National Park to identify a rhino for the translocation.

The identified rhino for the translocation is an adult male about 12 years of age.

Once the rhino is identified, the technical team heads out to the location to dart and fit the rhino with a satellite collar.

The rhino is sedated through a standard darting process using seasoned darters.

Once sedated, the rhino is fitted with a satellite collar to track movements of the animal in its new habitat in Bardia.

The rhino is loaded on a specially designed truck in which it will take its journey from Chitwan National Park.

The rhino is released in Babai Valley in Bardia National Park on March 2, 2016.