Rhinos make a comeback in India's Manas National Park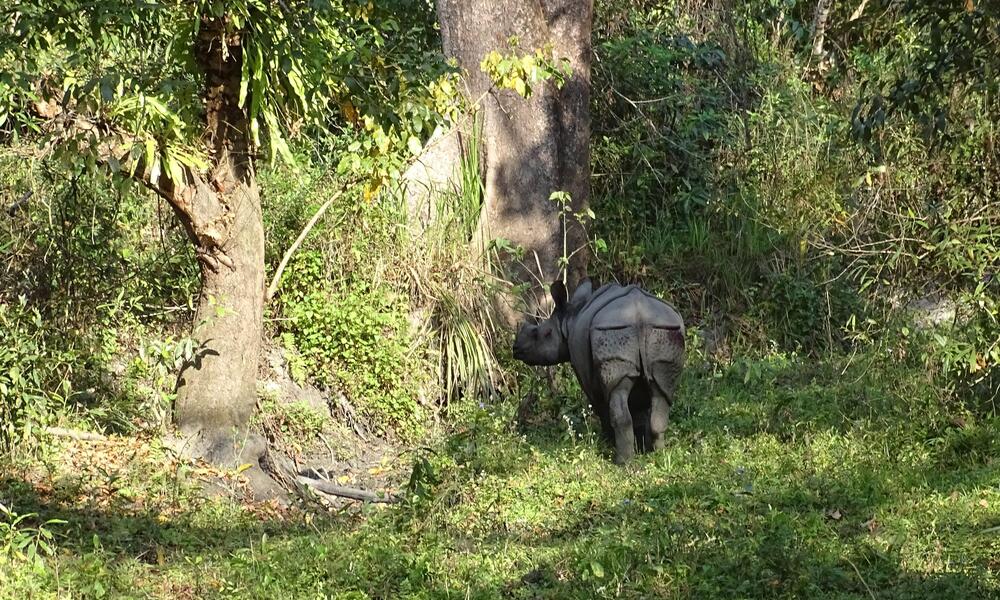 Date: July 02, 2020
Author: Whitney Kent
In a little over a decade, Manas National Park, located in the northeastern Indian state of Assam, has seen significant growth in its greater one-horned rhino population. Plans for bringing rhinos back to Manas NP were developed in 2005, and translocations began in 2008 with individuals moved to Manas from other protected areas in Assam as part of the Indian Rhino Vision 2020 (IRV2020) initiative. IRV2020 is a collaboration among the Assam Forest Department, International Rhino Foundation, WWF India, the U.S. Fish and Wildlife Service, and other partners to grow rhino populations and expand their range, while protecting existing populations and their habitats. With two female rhinos recently translocated from Kaziranga National Park in March, as well as three new calves born since the beginning of this year, Manas is now home to 43 greater one-horned rhinos!
Manas National Park
Manas NP is not only an important designated Key Biodiversity Area (KBA), it is also part of the key Transboundary Manas Conservation Area that supports many endangered species, including tigers and elephants. A few decades ago, Manas NP's rhino population of 85 to 100 was wiped out due to increased poaching during a period of local socio-political unrest. In addition, more than 80 percent of India's rhinos were concentrated in just one park - Kaziranga National Park. With rhino populations continuing to be threatened by poaching, disease, habitat loss, and overcrowding in some parks, expanding their range is an important step in enabling the growth of rhino numbers.

Translocations to Manas
Expanding the range of the species also encourages genetic variability among the rhino population, which reduces risk of disease and in-breeding. Rhinos are important for sustaining biodiversity and healthy ecosystems. As mega herbivores, they help maintain their grassland habitat, which many other species also call home.
During the first translocation in 2008, two adult males were successfully moved from Assam's Pobitora Wildlife Sanctuary to Manas. Over the next four years, 16 more rhinos were translocated to Manas from Kaziranga and Pobitora. The translocated rhinos were radio collared to monitor their health, movement, and behavior, and obtain important data for better management and conservation of rhinos in the future.
In addition to the calves born to translocated rhinos after they were moved to their new home, the Assam Forest Department, in partnership with Wildlife Trust of India-IFAW, moved 16 rescued calves that were part of a rhino rehabilitation program to Manas between 2006 and 2020. Before the translocations, the park's infrastructure and staff capacity were built to provide enabling conditions for monitoring and protecting the rhinos, since their security is always a key consideration once the rhinos are moved.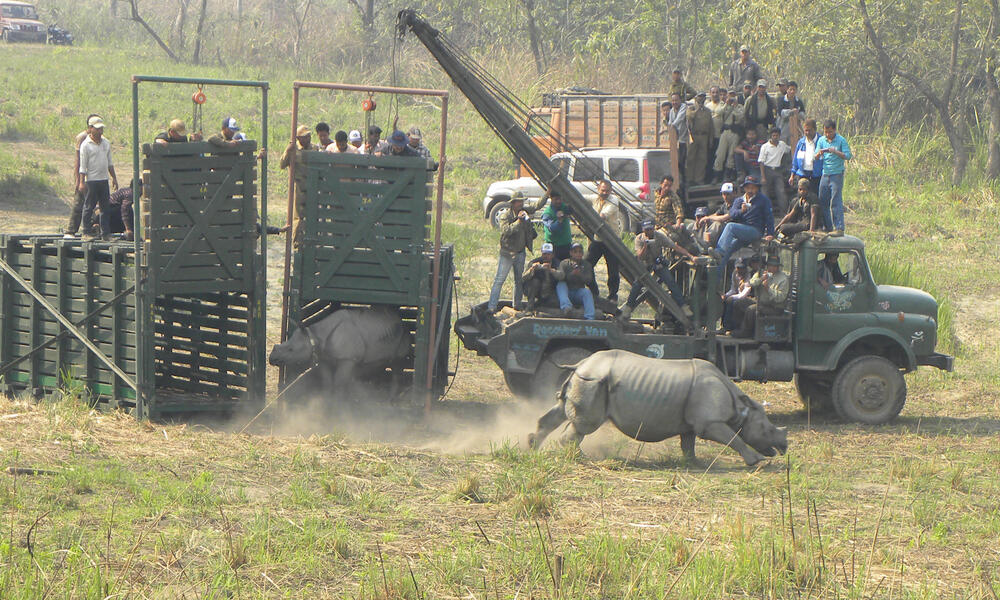 Rhino conservation also provides opportunities for further engagement with local communities
Translocations are just one component of successful rhino conservation. Local communities that live near or share rhino habitats play a critical role in helping to sustain their populations. In partnership with WWF and other NGOS, the local government and the Bodoland Territorial Council have led efforts to involve local communities in conservation. These groups have provided support to local community conservation organizations in and around Manas to raise awareness on the importance of conservation in their area and train youth and other community members to help monitor and patrol the park. In addition, these partners have been supporting communities to develop local tourism and catering opportunities to promote tourism in the area, which brings in additional livelihood opportunities.
The future for greater one-horned rhinos
Since 2008, 20 rhinos have been translocated and all translocated females have given birth at least once since they were moved to their new homes, with 26 calves born by April 2020. This growing population is evidence that these tireless efforts are paying off for rhino conservation.
"Concerted efforts like these by greater one-horned rhino range country governments and partners are why this species is one of the greatest large mammal conservation success stories in Asia. It is one of few mammals in the region to be downlisted from Endangered to Vulnerable on IUCN's Red List of Threatened and Endangered Species, a testament to diligent conservation actions. Manas NP is a shining example of this success," added Nilanga Jayasinghe, Senior Program Officer for Asian species conservation at WWF.
Today, there are around 3,700 greater one-horned rhinos in Asia, up from only 200 at the beginning of the 20th century. While the species continues to face threats from poaching and habitat loss and degradation, indicators of population growth like those from Manas are certainly cause for hope.