WWF welcomes the 2020 class of conservation leaders
Meet the recipients of the Russell E. Train Fellowship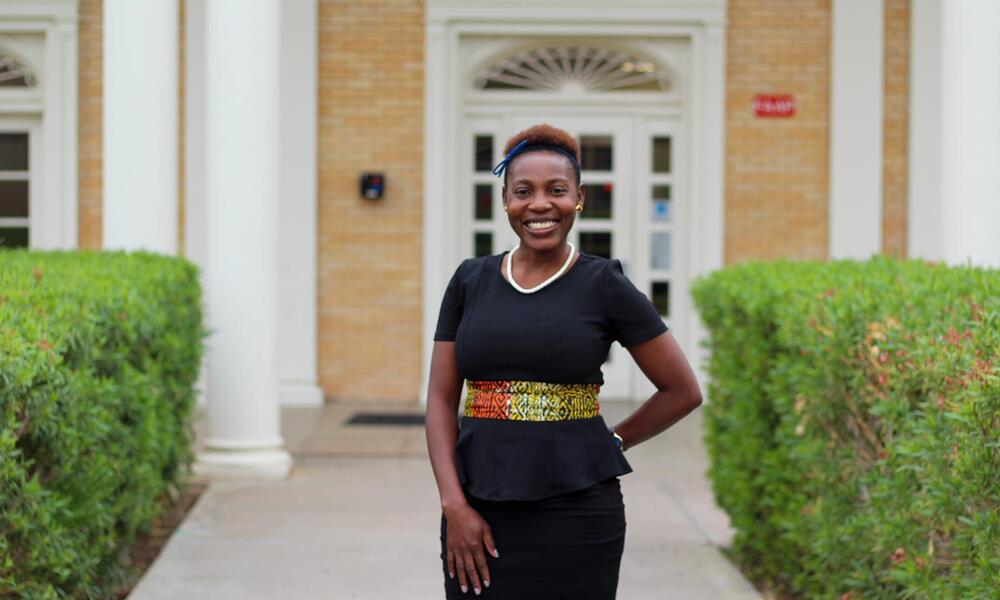 The world needs dedicated, well-prepared, and resilient leaders to address the many complex challenges facing our planet. For 26 years, WWF's Russell E. Train Education for Nature Program (EFN) has worked to support such leaders from the Global South to earn advanced degrees in conservation-related fields.
This year's recipients include 13 outstanding conservationists from six countries who are working to protect species, fill research gaps, and conserve the world's most critical ecosystems. Selected for their innovative proposals and merit-based history, this cohort will focus their research on key topics, from protecting shark nurseries in the Galápagos to assessing the impact of climate change in Namibia to addressing water scarcity in Bhutan.
Train Fellows attend universities around the world, seeking out the best academic program and resources to align with their research needs. Upon completion of their program, these individuals return to their home countries to further implement their research, expand academic programs, and build conservation networks. Now, more than ever, well-trained, in-country professionals from the Global South are essential to keep conservation projects and research moving forward.
Train Fellowships are named after the late Russell E. Train, founder and chairman emeritus of WWF-US. Train recognized the enormous need for conservation capacity on a global scale and felt that without education and training, the full potential of promising leaders would never be achieved. To help build capacity in critical places and make his vision a reality, EFN has provided support to over 2,700 individuals and organizations worldwide.
Meet the 2020 Train Fellows
© Bikhyat Sherchan

Sikshya Adhikary | Nepal

"EFN is helping pave a path for my career. This funding will allow me to grow and expand my leadership skills so I can advocate for gender concerns and sustainability in the conservation sector. My PhD research focuses on the nexus of conservation and gender, identifying the prevailing social discourse, and characterizing the gender dimensions of community-based conservation in order to address the plans to elevate and embolden women in advancing conservation. Overall, connecting gender aspects in my research and addressing social issues will help improve conservation outcomes in Nepal."

© Subrat Dahal

Sagar Dahal | Nepal

"I am receiving my PhD from Florida International University in the United States. My research will help us understand the spatial ecology of the little-known, Globally Vulnerable Fishing Cat, a small cat species present in the Terai Arc Landscape of Nepal. The support from EFN is moving me closer to achieving this goal."

© Emmaculate Kiragu

Damaris Kinyua | Kenya

"With EFN supporting my PhD in Fisheries Science from Pwani University in Kenya, I am a step closer to achieving my career goal of becoming a higher education faculty member and contributing to the solutions of today's biodiversity challenges. Specifically, my research and coursework is giving me the opportunity to work at the intersection of conservation science and policy, while also building capacity for emerging professionals, local communities, and other stakeholders to address environmental challenges."
© Francisco Rubianes

Laia Juliana Muñoz | Ecuador

"With EFN's support, I will become a better scientist and improve my laboratory skills, specifically in histological analyses. As part of my PhD program in Marine Science from the University of South Alabama, I hope to learn more methods for working with fishing communities. This fellowship lets me contribute my expertise to Ecuador, the second largest exporter of tuna worldwide, and mainly it will help me explore and study the yet unknown spawning areas of tuna in Galápagos."

© Gorki Ríos

Carolina Reyes-Puig | Ecuador

"EFN funding will help me in the development of an integrated framework for the study of phenotypic evolution, which will aid in producing robust assessments of the impacts of global change. For that, I will explore morphological, ecological, physiological, and macroevolutionary diversification in Mediterranean green lizards. With this research, I will contribute to the understanding of the effects of climate change on ectothermic organisms at a fine-scale and its application in global hotspots. In the future I plan to establish a conservation program in Ecuador with young scientists to understand the effect of climate change on ectotherms of Andean ecosystems."

© Deopaul Somwaru

Mark Ram | Guyana

"I am a dedicated and passionate undergraduate instructor at the University of Guyana, the country's sole national university. As part of my doctoral degree at James Cook University, I will evaluate mangrove restoration outcomes by examining the main ecosystem attributes of vegetation structure, environmental factors, and biodiversity. After completing my doctoral degree, I will return to the University of Guyana to implement and improve the marine and coastal biology curriculum at the undergraduate and postgraduate levels. I will also lead local research on mangrove ecology and related fields."
© Guillermo Trigo

Isabella Romero | Ecuador

"EFN has given me the opportunity to develop key social sciences research for the Galápagos by supporting my PhD in Political Science from Torcuato Di Tella University in Argentina. For conservation and sustainable development of the islands, it is essential to understand the relationship between human beings and nature."

© Kuenzang Yangchen Dolkar

Jambay Jambay | Bhutan

"I am helping communities in Bhutan address water scarcity issues that currently impact domestic water supply, irrigation, and importantly, wildlife and plant communities. My doctoral research at Clemson University will focus on how forests impact streamflow and groundwater recharge linked with climate change. My goal is to generate possible scenarios through modelling that help with decision-making in forest management, especially to restore drying springs in the regional ecosystem."

© Fernando Meza

Patricia Isabela Tapia Jaramillo | Ecuador

"I believe that biodiversity loss is more than an environmental emergency. Nature does not need us; we need nature. Therefore, if nature is in trouble, so are we. EFN funding will help me expand my career in conservation so I may become one of the leaders that our region urgently needs. With my master's degree focused on biodiversity and conservation from the University of Southampton in the United Kingdom, I will be ready to tackle current environmental problems and generate relevant, impactful solutions."
© Julio Delgado

Rosita Calderon | Ecuador

"Knowing the behavior of a species in its native site and making comparisons at introductory sites helps us understand what their preferences for possible settlements would be. The Galápagos presents a great diversity of native species, many of which are endemic. Thanks to EFN funding, I can continue to acquire more knowledge to advance my research on possible habitats for introduced species found on maritime shipping routes to the Galápagos Islands."

© Rocío Bermeo Ponce

Yasuni Chiriboga-Paredes | Ecuador

"I am a passionate woman for the conservation of sharks and migratory marine species. I have been exploring nursery grounds for juvenile sharks in the Galápagos. Thanks to EFN support, during my master's degree at CICIMAR in Baja California, Mexico, I will be able to fill the last missing criteria, through genetic tools, to define nursery grounds for juvenile sharks in the Galápagos. This will complete the first study for the islands that recognizes the importance of coastal habitats for the survival and development of sharks. I will share this information to advocate for the development of management plans and conservation strategies regarding protection of these sensible habitats."

© En'rico Ray

Fransiska Kangombe | Namibia

"The need for data on how plant survival, growth, and development might respond to climate change is key to the development of adaptive strategies such as early warning systems to maintain ecosystems and human livelihoods. For my doctoral research, I will source data from herbarium specimens, field rainfall experiments using rainout shelters, greenhouse experiments and published studies to investigate how changing environmental conditions affect plant growth and survival, the timing of flowering and reproductive output of Namibian indigenous plants."
© Susana Gallo Diaz

Susana Gallo Díaz | Ecuador

"Control of the feral cat population at the Galápagos Islands is a conservation priority for Ecuador. EFN funding is essential and will allow me to continue my PhD research, which is focused on finding a way to balance conservation needs and the wellbeing of feral cats in the Galápagos; this is a notorious push into my career as a conservationist and towards my commitment to serve my country as a veterinarian, a scientist, and as a woman."