Amazon Stories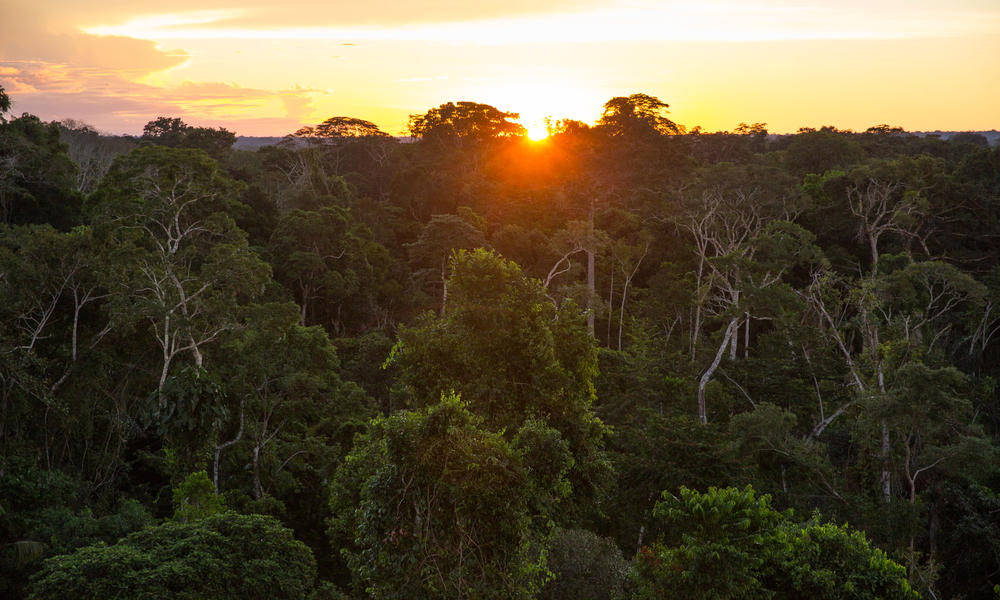 One of the best ways to stop deforestation is to ensure there's long-term funding to properly manage the country's national parks.
WWF Magazine: Winter 2014

The sounds and silences of floating down the Amazon

May 21, 2014

A model for conservation, the Amazon Region Protected Areas ensures 150 million acres—three times the size of all US parks combined—of the Amazon are protected for life.

WWF Magazine: Summer 2014

WWF is only one voice among many

WWF Magazine: Summer 2014

Journey into the world's largest tropical forest—and uncover one of the biggest conservation initiatives the world has ever seen.

WWF Magazine: Summer 2014

WWF Magazine: Summer 2014

The Global Environment Facility: Big solutions for a small planet

March 21, 2014

Sloths—the adorable and lethargic animals living in treetops—depend on the health and survival of Central and South American tropical forests. Take a look at some common questions about sloths.

WWF Magazine: Spring 2014

Sharing the world through reading, writing and ecology

WWF Magazine: Spring 2014

Evolving efforts to save the world's largest rain forest

December 26, 2013

As 2013 comes to a close, WWF takes a look back at successes over the past 12 months.

November 05, 2013

Innovative conservation finance (also called sustainable financing) is often used to help create and then permanently protect important parks and refuges.

November 05, 2013

Though WWF has been actively engaged with GEF since its creation, we are now for the first time a full partner—a GEF "project agency"—entrusted with the direct design and implementation of GEF projects.

October 21, 2013

One in 10 known species on Earth live in the Amazon, and new species are discovered each year. Here's a look at the new Amazon species findings since 2010.

August 27, 2013

It is humbling to think how little attention we give to the Amazon, despite its importance to the stability of the Earth's climate and the incredible array of life that resides there.

July 28, 2013

During World Youth Day, a plea for protection of Amazon region and its people.

July 25, 2013

WWF calls on youth faith and social leaders from Brazil and around the world to protect the endangered Amazon region.

July 16, 2013

Together with our supporters, governments, partners and local communities, WWF has achieved critical conservation results across the Amazon region through several bold and large-scale programs.

July 03, 2013

WWF President and CEO Carter Roberts knows the fate of the Amazon could determine the fate of the world.

February 02, 2013

The world's largest wetland site was declared by the Ramsar Convention on Wetlands of International Importance. The site, known as Llanos de Moxos, is located in the South American country of Bolivia. At more than 17 million acres, the wetland is roughly equal in size to the US state of North Dakota.

October 31, 2012

There is new and critical protection for wildlife and indigenous communities in one of the most biodiverse places on Earth. The government of Peru designated three new Amazon protected areas-encompassing nearly 1.5 million acres-securing a tri-national conservation corridor.