Beyond Boundaries
Date

: 20 April 2022

Author

: Patrick Browne, Vice President, Sustainability, UPS
When I think back on all the times I've spent out in the natural world, the one that stands out the most is a trip I took with the Corporate Eco Forum in 2016 to Cody, Wyoming. For this excursion I had the opportunity to experience Yellowstone National Park through the eyes of wildlife ecologist Arthur Middleton, and as we made our way on horseback for three days I felt like I was stepping back in time. The trip was a truly pivotal moment – I was able to see our country in its raw natural state. We were studying the migration patterns of the Yellowstone wildlife, the reintroduction of wolves into Yellowstone and on the lookout for grizzlies; we drank water from streams, and needless to say there was no cell service or modern amenities. Nothing I could study or learn could have prepared me for this trip.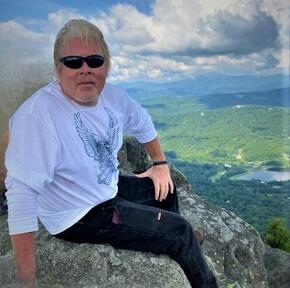 As we explored and observed the migrations of greater Yellowstone, it dawned on me how nature has no boundary. Every community, even Yellowstone, is only one part of a much larger ecosystem. The park relies heavily on the surrounding Native nations, ranchers, local leaders, towns, states, and businesses, and the collaboration among all these parties is critical. I asked myself, "How can we sustain the natural world while continuing to develop local economies and communities?" What we need is balance, compromise, and collaboration. What we don't need are fences.
Growing up in rural parts of the United States, I spent my days out in the wilderness exploring all the hidden treasures one can only find when they let themselves roam. Today, though I'm in Zoom meetings from my home office or at the UPS global headquarters in Atlanta, Georgia, USA, I still have the luxury of feeling connected to nature because of the work I do.
If you had asked me when I started my career at UPS 33 years ago what I'd be doing today, I never would have guessed that my work would be dedicated to sustainability. When presented with the opportunity to work in a "sustainability" role in 2008, I have to admit I was unsure of whether that was a choice that was right for me. Back then it seemed a bit of a buzzword, and there were a lot of unknowns surrounding the idea about what it really meant and why it was important. The natural world itself is filled with unknowns. I realized if I could help preserve the mysterious planet that I've been exploring my entire life so that future generations could share in its beauty and wonder, then working in sustainability was the path for me.
When we set our first goal to reduce carbon emissions in 2009, I knew working in sustainability was worth it. UPS serves over 220 countries and territories and has been operating since 1907. If I can help a company with this magnitude and history push itself to decarbonize its supply chain, I can make a difference.
GHG emissions have no boundaries, and being a transportation and logistics leader, UPS has a big challenge to reduce our carbon footprint and reach our goal of carbon neutrality by 2050. We've developed a roadmap for how we will reach this goal using our guiding principles, and prioritize stakeholder engagement to open gates in the metaphorical fences that surround us.
Protecting the planet is a collective interest we all need to consider, seeing as there are no boundaries in nature to separate one part of the ecosystem from another. Just like nature, with collaboration and innovation, the possibilities to create a sustainable future have no limits.
…
The views in this post do not necessarily represent those of WWF.