Science Stories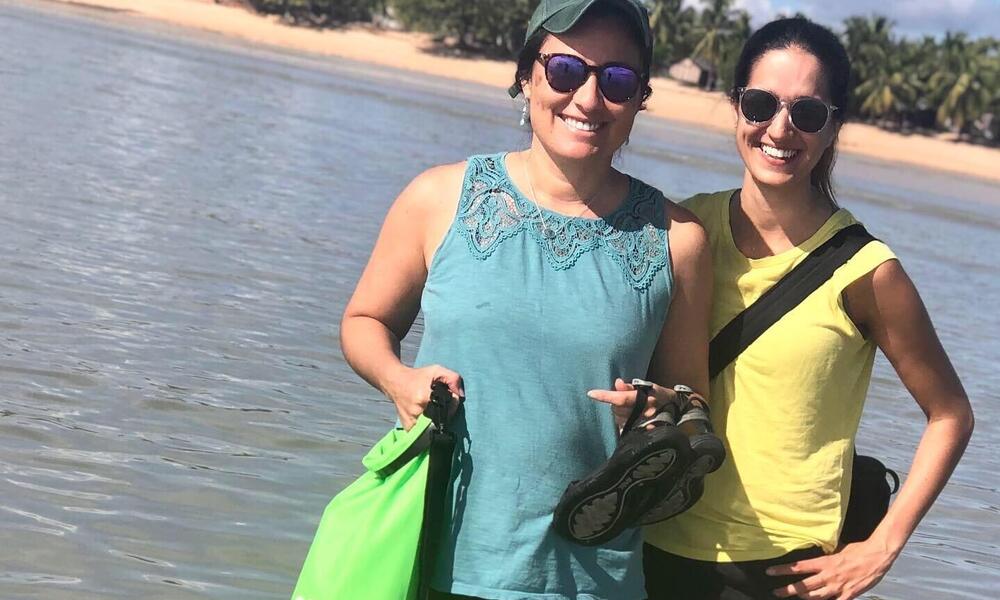 Scientists Shauna Mahajan and Gabby Ahmadia embrace a form of leadership that values cooperation over competition and challenge the barriers that women in science can face.
WWF Magazine: Summer 2021

Shooting laser beams at the Earth might sound like the stuff of science fiction, but in fact these focused light pulses are at the heart of a powerful conservation tool.

WWF Magazine: Fall 2020

Environmental destruction and the high-risk wildlife trade are intimately connected with the emergence of new zoonotic diseases like COVID-19, but conservation could help prevent future pandemics.

June 16, 2020

Practical sustainable conservation initiatives can decrease the likelihood of spillover events and keep people and nature healthy.



February 20, 2020

Human health and the health of our environment are inextricably linked. Our collective resilience, well-being, nutrition, and ability to avert disease is fully connected to the food we eat, the water we drink, the air we breathe, and the ways we interact with nature.

January 07, 2020

While most of what we learned about coral reefs in 2019 is grim, there's still hope. In this new decade, we can do quite a bit to protect coral reefs and the wildlife and people that depend on them.

WWF Magazine: Spring 2018

WWF offices in Bolivia, Brazil, and Colombia coordinated a tri-national effort to tag and study river dolphins, applying satellite GPS technology to the task for the first time.

WWF Magazine: Winter 2016

Dr. Shaw leads an interdisciplinary approach to science that draws on the best research from ecology, economics, and the political and social sciences to generate big, cuttingedge ideas for protecting the planet.

July 05, 2016

Just beyond the remote mountain village of Yangma in the high Himalayas of eastern Nepal, Nepali conservationists fitted a female snow leopard with a GPS collar. The collar will allow scientists to track this snow leopard's movements daily for the next year, which will help us learn more about these mysterious and endangered cats. This female becomes the third snow leopard collared near Yangma since 2013, the first two having both been males.

WWF Magazine: Summer 2016

Using scientific modeling to gauge the real state of wildlife populations

Every day, women take on tasks both small and large to help the planet. Here's a look at a few of their stories.

March 19, 2015

Following the Earth's warmest year since records began in 1880, Arctic sea ice has shrunk to its lowest maximum winter extent recorded. This record measurement is a sign of thin, slow-growing ice.

March 03, 2015

We are celebrating major milestones for both leopards and tigers in 2015. Efforts to protect and establish populations of these big cats are yielding results in Russia, China and India. Looking ahead, there is much more work to be done to protect these species.

WWF Magazine: Spring 2015

A partnership between researchers, scientists and WWF looks at biodiversity by the spoonful

WWF Magazine: Spring 2015

US and Russian biologists team up on polar bear research

December 29, 2014

A one-horned rhinoceros was successfully collared in Nepal late last month. The event was particularly significant because it occurred in a wildlife corridor that connects Nepal's Bardia National Park with India's Katerniaghat Wildlife Sanctuary.

October 27, 2014

Today, the Philippines' oceans are troubled. For over a century, coastal development, destructive fishing practices, coral mining, sedimentation, overfishing and chemical pollution have chipped away at the ocean's health. Add to that climate change consequences such as ocean warming, acidification and coral bleaching, and we have an undersea war against marine resources. Faced with this problem, many countries within the Coral Triangle have established Marine Protected Areas (MPAs), to conserve what's left.

October 16, 2014

A new WWF study has revealed populations of crab in the Russian Far East are at risk of collapse due to overharvest from illegal fishing.

October 14, 2014

WWF challenged a group of programmers, designers and conservationists to spend a Sunday developing a technology system to help the monarch butterfly at the annual SXSW ECO conference in Austin, Texas. The "hackathon" gave attendees just 24 hours to build an app to help monarchs.

WWF Magazine: Winter 2014

Quick work leads to discovery of Africa's longest land-mammal migration

WWF Magazine: Winter 2014

WWF's Nasser Olwero explains why people need to use maps more

September 30, 2014

The Living Planet Index (LPI)—essentially the S&P 500 Index for wildlife—documents the populations of more than 3,000 wild species. And for the first time, species number less than one-half what they were in 1970.

September 25, 2014

President Obama announced creation of the world's largest fully protected marine area on Sept. 25. Using his executive authority he has expanded the existing Pacific Remote Islands Marine National Monument to six times its current size, resulting in 490,000 square miles of protected marine environment.

To increase chances of conservation success, we must understand traits that make an individual species especially resilient or vulnerable to changes in climate. Different species will be affected in different ways; sometimes negatively, but not always.