Celebrating Women in Sustainability: Christine Black
A Q&A with Christine Black, Senior Director, Global Government and Stakeholder Relations, The Coca-Cola Company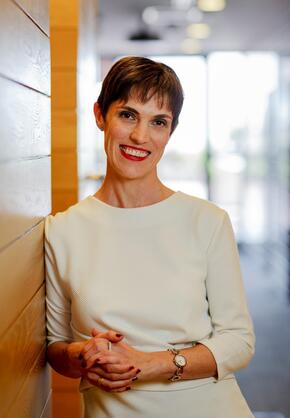 What does your role at The Coca-Cola Company entail and what goals are you working to achieve?
Working closely with key stakeholders in government, business and civil society – including, delightfully, the WWF! Aiming to help our company achieve its sustainability goals across water, climate, packaging, sugar reduction and community empowerment among other areas.
Why did you choose a career in sustainability?
Wanting to help make the world a better place.

What professional or educational experience led you to where you are now?
I spent most of my career working for government and I have also worked in the pharmaceutical industry. I commenced my career as a journalist.

What are some of the biggest challenges of your work?
I'd like to achieve outcomes faster.
What accomplishment or project are you most proud of?
Coca-Cola just announced yesterday that we have surpassed our goal to enable the economic empowerment of 5 million women by the end of 2020. We have reached more than 6 million women around the globe.
We're seeing a surge of women leaders across the sustainability sector. Why is this a positive development and what do you think it signals for the future?
Let's not stop there and aim for diversity across all types of fields!
How can we encourage more women to pursue a career in corporate sustainability?
Be the change you want to see in the world, to quote Mahatma Gandhi. And help others, always.
How do you think corporate sustainability will change over the next decade and beyond?
The environmental emergencies we face will only increase if we don't all act now. I am proud of the work that Coca-Cola and WWF do together. For example, Coca-Cola and WWF's work with Australian canefarmers is pretty special, helping to protect the great barrier reef.
…

About Christine
Christine specializes in strengthening stakeholder and government relations, through collaboration and empathy in developing bold and industry-leading initiatives. Prior to joining Coca-Cola, Christine worked at senior levels in media, government and the health sector in Australia for over 15 years. She commenced her career in television.
…


The views expressed in this blog do not necessarily reflect those of WWF.