Wildlife Conservation Stories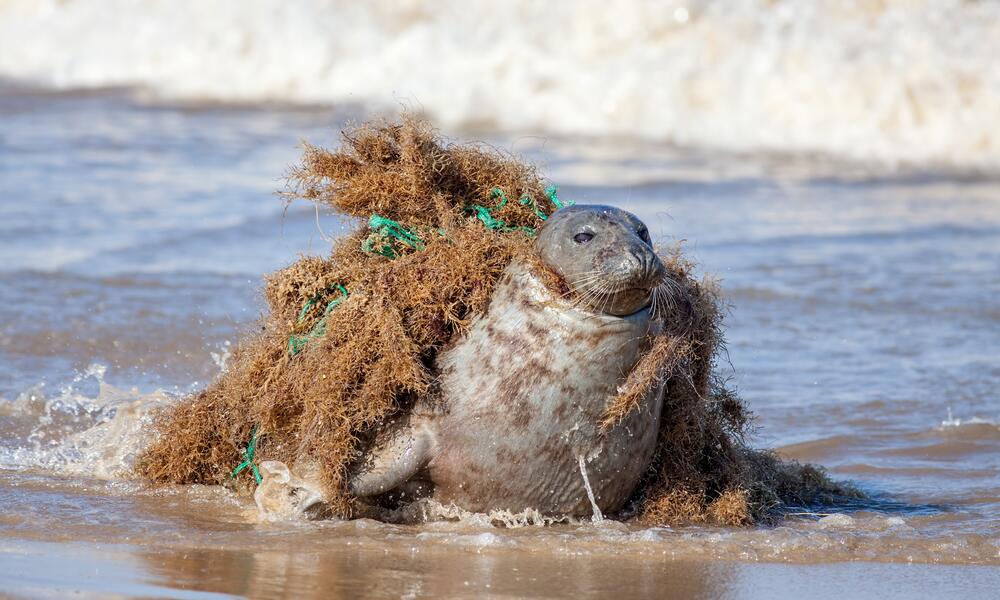 Ghost fishing gear includes any abandoned, lost, or otherwise discarded fishing gear. It is the deadliest form of marine plastic debris and often goes unseen. Learn more about how you can help stop this silent killer and protect the health of our ocean its inhabitants.
August 21, 2018

Rescued after sustaining serious injuries to his nose and face from would-be poachers, Saikhan the "miracle tiger" has been released back into the forests of the Russian Far East.

At the Frankfurt Zoological Society's Orangutan Rehabilitation Center, orangutans are rehabilitated and released back into the wild. Rescued orangutans learn how to feed and fend for themselves in the lowland rainforests of central Sumatra—skills they never had the chance to pick up from their mothers.

Elephants, found in both Africa and Asia, are vital to maintaining the rich biodiversity of the ecosystems that they share with other species. Here's a snapshot of what you should know about them.

July 31, 2018

In Thailand, women like Kwan remain a rarity. But neither this nor the voices alleging that women aren't suited for the ranger lifestyle – which comprises long working hours in spartan and sometimes dangerous conditions, away from loved ones – have prevented her from living her truth.

April 13, 2018

The Land of the Leopard National Park is the core area for the Amur leopard. New images documented 84 adult cats and 19 cubs inside the park. This is a significant increase since a 2000 census recorded just 30 cats, and a 2015 survey numbered only 70.

April 03, 2018

Thanks to satellite collars, 60 elephants will be monitored for better protection against poaching in one of the last great African wildernesses, Tanzania's Selous Game Reserve.

January 29, 2018

New 2017 rhino poaching numbers out of South Africa show a small decrease from the previous year, but the death toll remains perilously high.

January 25, 2018

Inganda and Inguka are the first twins born to habituated western gorillas in the Dzanga-Sangha Protected Areas complex in the Central African Republic. Their second birthday is a reminder of the important work of the Primate Habituation Program.

WWF Magazine: Spring 2018

In 2016, the US government imposed a "near-total ban" on imports, exports, and domestic trade of African elephant ivory. The findings led to recommendations that could help the US regulate the trade.

WWF Magazine: Spring 2018

More than 3,000 WWF supporters donated a total of $263,211 to fund 10 antipoaching teams targeting Myanmar's most vulnerable areas.

WWF Magazine: Spring 2018

Thanks to a groundbreaking agreement between a WWF-founded company and the residents of a rain forest village, Sumatran orangutan habitat is more secure than it was just a few years ago.

January 16, 2018

In less than a decade, Bhutan's Royal Manas National Park has achieved a big win for tiger conservation. From only 10 tigers in 2010, its population has now grown to 22. With a global population of as few as 3,890 wild tigers, every population increase matters. And it marks a significant step towards achieving the goal of doubling the world's wild tigers.

WWF's Black Rhino Range Expansion Project (BRREP) has been working with passion, commitment, and determination for a brighter future for the critically endangered black rhino for more than a decade. BRREP works to grow black rhino numbers by creating new populations and provides equipment and training to rangers to monitor, manage, and protect rhinos.

The Sumatran rhino is so rare and elusive that even the most senior of the rangers have never seen the animal in the wild. But just because you don't see something doesn't mean it's is not there.

As 2017 comes to a close, we're taking a moment to highlight some of our biggest conservation successes of the year. And we couldn't have done it without your support.

By the end of December, it will be illegal to sell or buy elephant ivory in China. But will the new and critical ban succeed in a country that's home to the largest legal ivory market in the world?

November 30, 2017

Pavel Fomenko is a man of the wilderness and tiger protector with WWF-Russia. Here is his story.

November 29, 2017

From the world's largest mangrove forests in the Sundarbans to temperate forests in the snowy mountains of Bhutan, protecting tigers and their natural homes helps provide benefits for thousands of other animals and millions of people.

November 11, 2017

Bhutan now has a great means for bringing that commitment to life—long-term funding to ensure its protected areas, which cover half of the country, are properly managed forever. It is the first initiative of its kind in Asia and one of only a few in the world.

November 02, 2017

A new great ape species—the Tapanuli orangutan—was officially announced by an international team of scientists today. With 800 or fewer individuals, the Tapanuli orangutan is the rarest of all great apes.

October 23, 2017

For perhaps the first time ever, a snow leopard was captured by a camera trap in a remote forest in the Indian state of Arunachal Pradesh. Arunachal Pradesh remains largely unexplored, making this photographic evidence of snow leopards especially significant.

October 12, 2017

In the Upper Gulf of California, scientists and fishermen work to protect the habitat of the world's smallest porpoise.

WWF Magazine: Winter 2017

Perhaps most rewarding part of Brandon Davis' career as an animal trainer and conservation ambassador has been educating people about animals and getting them excited about wildlife conservation.