Polar Bear Stories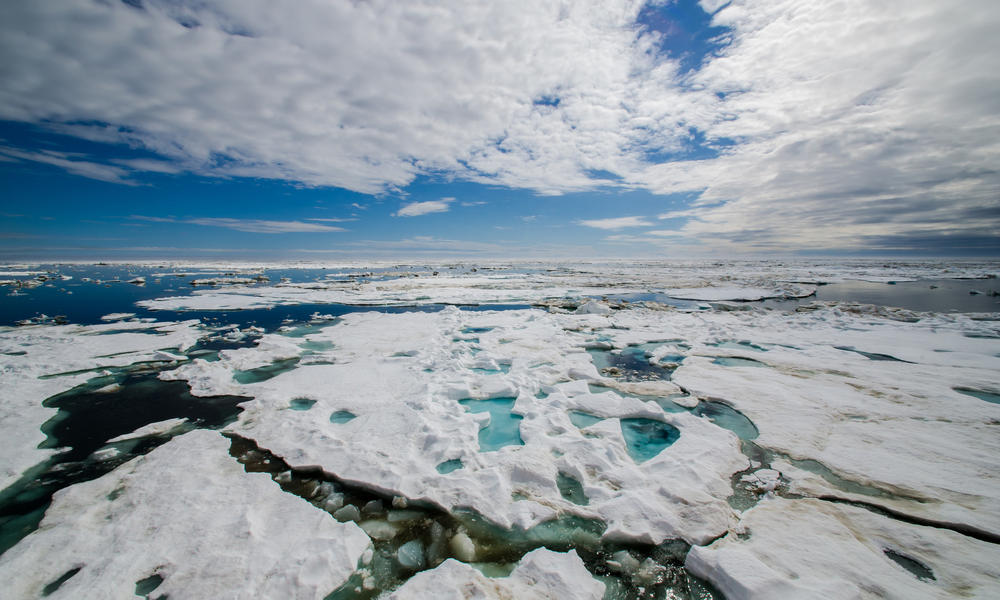 Every five years, the US determines where oil and gas companies can purchase leases for offshore drilling. The most recent plan excluded the Arctic, but the Trump administration wants to change that.
January 09, 2017

The Polar Bear Conservation Management Plan, which focuses on actions for the two U.S. subpopulations in Alaska, stresses the importance of climate change mitigation in curbing the loss of the polar bear's sea ice habitat.

December 20, 2016

Just one week after scientists warned of unprecedented change brought on by warming in the Arctic, President Obama announced permanent protection for 115 million acres of federal waters in the Beaufort and Chukchi Seas. Including previous presidential withdrawals, today's action protects nearly 125 million acres in the offshore Arctic from future oil and gas activity.

December 13, 2016

The Arctic is seeing unprecedented declines in sea ice and snow cover triggered by abnormally warm temperatures, according to a new report, the Arctic Report Card, released by the US government.

December 07, 2016

As the planet warms, we're seeing a startling loss of Arctic sea ice. This is a major concern when it comes to wildlife conservation—particularly for polar bears. Dr. Klenzendorf shares her experience observing polar bears in Churchill.

November 18, 2016

America's Arctic will be free of new offshore oil and gas drilling, at least for the next five years, and that's good news for people and wildlife. WWF and 225,000 of our activists opposed drilling in the Arctic's Beaufort and Chuckchi seas due to the tremendous risk to indigenous communities, wildlife, and their environment.

October 26, 2016

Who doesn't love the big, burly white bears of the north? Polar bears—at the top of the food chain and vital to the health of the Arctic marine environment—are important to the cultures and economies of Arctic peoples.

WWF Magazine: Winter 2016

When WWF polar bear expert Elisabeth Kruger was organizing a workshop to brainstorm new designs for polar bear tracking devices, she wanted to make sure the event generated the most interesting, unexpected, and—hopefully—groundbreaking designs possible.

September 16, 2016

The Arctic's summer sea ice appears to have hit its lowest extent of the year, putting pressure on the region's diverse wildlife. Ice covered only 1.6 million square miles on Sept. 10, and 2016 is now tied with 2007 for the second-lowest sea ice extent on record, according to the US National Snow and Ice Data Center.

June 29, 2016

From bison herds in the Northern Great Plains to polar bears in the far north of Alaska, wild creatures need our help to not only survive, but to thrive. WWF works with the government, businesses, universities, local communities, and other conservation organizations to ensure we can protect animal populations and their habitats. Take a look at a few of these amazing species found in the United States

June 23, 2016

WWF has teamed up with global design company IDEO to brainstorm an innovative solution to more effectively gather information about polar bears.

May 11, 2016

American and Russian scientists have now teamed up, with some help from WWF, to develop the region's first comprehensive and reliable population estimates of ringed and bearded seals and polar bears.

May 02, 2016

The animal kingdom is flush with moms that take the time to teach their babies how to find food and protect themselves against the elements.

March 29, 2016

After a record-breaking warm Arctic winter, sea ice hit a record low for the largest area it covers during the winter months. The ice covered only 5.60 million square miles on March 24— surpassing last year's record low of 5.61 million square miles.

The Arctic Ocean is about 5.4 million square miles—about 1.5 times as big as the US—but it is the world's smallest ocean. Learn more about the Arctic and what WWF is doing to help protect it.

March 15, 2016

We now have the opportunity to keep offshore drilling out of the Arctic Ocean. Every five years, the US government draws up a five-year planning outlining where oil companies can drill. The Arctic's Beaufort and Chukchi seas are on the line. We have a chance to persuade our government to remove these pristine places from their list.

WWF Magazine: Fall 2015

A new plan for resilience in a warming Arctic

July 02, 2015

The US government announced its draft plan to conserve polar bears, calling for timely and decisive reduction of greenhouse gas emission levels to curb climate change. Immediate action to reduce the long-term impact of climate change is essential.

May 04, 2015

We all know how great moms can be. The same is true in parts of the wild. Take a look at a few images of animals with their parents.

WWF Magazine: Spring 2015

US and Russian biologists team up on polar bear research

WWF Magazine: Spring 2015

A partnership between researchers, scientists and WWF looks at biodiversity by the spoonful

November 17, 2014

Forty percent. That's the stunning population loss for polar bears in the southern Beaufort Sea. The news comes from a new study linking the dramatic decline in this polar bear subpopulation in northeast Alaska and Canada to a loss of sea ice due to climate change.

October 21, 2014

WWF's Elisabeth Kruger focuses on mitigating conflict between polar bears and people, and ensuring species conservation is consistent in the three countries that are home to the Bering, Chukchi, and Beafort Sea polar bears: the US, Russia and Canada.