This week, WWF-Mesoamerica Reef Scientist and Climate Change Officer, Nadia Bood is joining us to answer your questions about mangroves, oceans and climate change.
Submit your questions to the form on this page.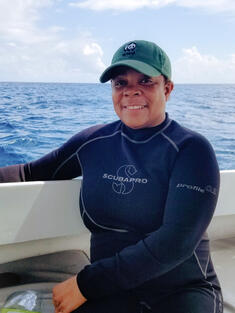 Nadia Bood is Belizean by birth and holds a master's degree in Marine Science from the University of South Alabama with specialization in Biological Oceanography and Coral Reef Ecology.
Nadia is currently working for the World Wildlife Fund Mesoamerica as a Marine Scientist and Climate Change Program Officer based in Belize. Her major functions include implementation and oversight of research programs geared at coral reef and mangrove conservation and restoration, marine spatial planning, ecosystem service analysis and valuation, vulnerability analysis and adaptation to climate change, and other related research issues to support WWF´s conservation efforts in Mesoamerica.
Nadia also provides technical assistance to colleagues, partners and collaborators as needed and she represents WWF Mesoamerica's Field Program Office in Belize.
Thank you for submitting your question!