Congo Basin Stories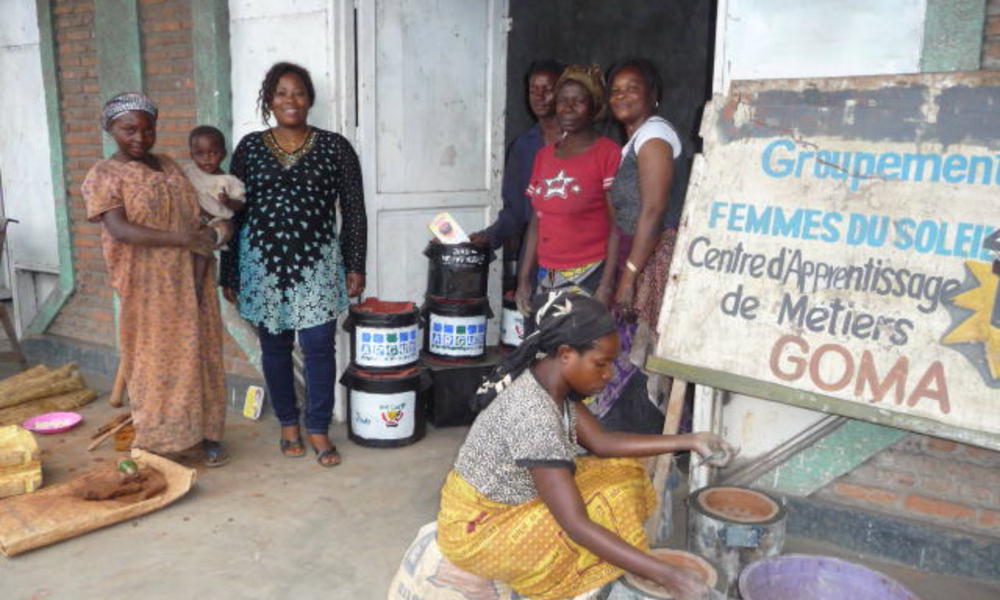 Associations, some formed mainly of women, in the Democratic Republic of Congo are building new, improved cookstoves by hand to help the environment—and themselves.
August 10, 2016

Local communities, Democratic Republic of Congo government representatives, WWF, and others met earlier this year to discuss plans for a forest conservation program in Maï-Ndombe.

June 13, 2016

Thirty years later, WWF's Kate Newman returns to find signs of elephants, bonobos and more in Salonga National Park

May 30, 2016

As the second largest tropical forest park in the world, Salonga is a global treasure. It is home for bonobos and one of the last remaining habitats for the forest elephant. Now, a newly signed agreement brings together the Congolese Institute for Nature Conservation (ICCN) and WWF to co-manage the protected area.

February 11, 2016

In a significant blow to the illegal ivory trade in the Democratic Republic of Congo (DRC), authorities dismantled a major ivory trafficking syndicate thanks to a law enforcement supported by WWF and partners.

February 08, 2016

Still too young to be named, the most recent additions to the gorilla population in the Dzanga-Sangha Protected Areas (DSPA) complex in the Central African Republic (CAR) are nevertheless making a name for themselves—as the first twins ever to be born to the area's habituated gorillas.

July 30, 2015

For over 20 years, Ghislain Somba Byombo has risked his life to protect wildlife in the Democratic Republic of Congo (DRC). His reason for doing so is simple: he wants to save the animals he loves so dearly and keep the natural beauty of his country intact.

April 27, 2015

The Amazon, central Africa, the Mekong. These are home to some of the world's most species-rich, culturally significant and stunningly beautiful forests. But large swaths of these forests, and many others around the world, may not be there in 15 years if we don't do more to save them.

March 31, 2015

Gorilla and chimpanzee populations in Central Africa continue to decline due to poaching, habitat loss and disease. National parks and reserves in six range countries protect only 21 percent of western lowland gorillas and central chimpanzees, according to a new report.

March 23, 2015

Water—and the sanitation it provides—is an essential ingredient for healthy human life. It is crucial to remember this as world leaders finalize the Sustainable Development Goals, a United Nations-led global framework that will guide development priorities for the next 15 years.

WWF Magazine: Winter 2014

WWF Magazine: Winter 2014

Which traits of mountain gorillas might allow them to tolerate or respond to rapidly changing climate conditions, and how can WWF help?

June 11, 2014

News that Soco will stop exploring for oil in Africa's oldest national park, Virunga, is a monumental win for conservation and for the people who depend on the park. Virunga is home to astounding biodiversity and rare wildlife, like critically endangered mountain gorillas.

February 14, 2014

A major victory in the campaign to stop oil exploration in Africa's Virunga National Park—home to more than half of the world's endangered mountain gorillas. Thanks to a complaint filed by WWF, the company exploring for oil will be examined for alleged violations of environmental protections and human rights related to its operations in Virunga.

February 03, 2014

One of the largest oil and gas development companies in the world, Total SA, has committed to keeping out of all natural World Heritage Sites around the globe, including Virunga National Park. But one company that is not respecting World Heritage status is Soco International PLC, which plans to continue to explore in Virunga - home to more than half of the world's mountain gorilla population.

October 24, 2013

Plans by London-based oil company Soco International PLC to explore for oil in Virunga National Park, Africa's oldest national park, have hit firm opposition from the UK government.

Gorillas, the largest living primates, make their homes in central Africa. Poaching, disease and habitat destruction remain threats for gorillas, and WWF is working to designate new protected areas where populations can thrive.

August 01, 2013

Virunga is home is Africa's oldest national park and the greatest variety of wildlife on the continent. But there's a real chance it could become its newest oil field. Some places are just too precious to be exploited in this way. Please help us and take action now.

April 09, 2013

WWF and our partners launched the "Improved Stoves" project to increase the number of households using energy-efficient charcoal stoves in the Democratic Republic of Congo.

November 13, 2012

A population increase for mountain gorillas is proof that the intense and innovative efforts of the conservation community are bringing positive change. A recent census by the Uganda Wildlife Authority identified 400 mountain gorillas in Bwindi National Park bringing the overall population estimate to 880, an increase from the 786 estimated in 2010.

October 11, 2012

A new designation by the Republic of Congo provides vital habitat to endangered species and preserves nature's value for surrounding communities.