Arctic Stories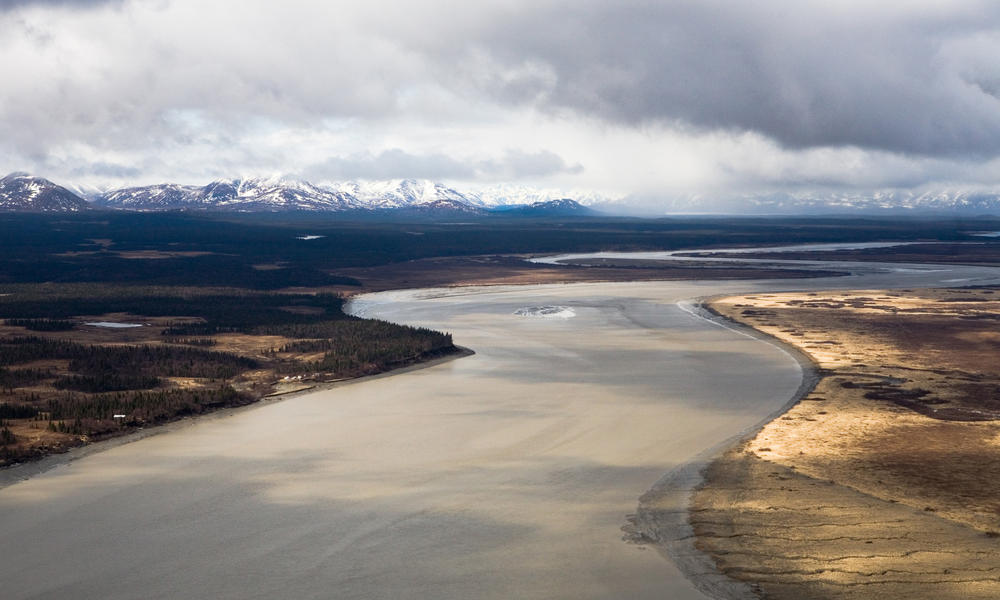 Bristol Bay, Alaska is one of the most productive marine ecosystems in the world and the source of the world's largest wild salmon fishery. Yet its future is in jeopardy from the proposal for Pebble Mine. Now the US Army Corps of Engineers is attempting to fast track the mine's permit application and we must take action now.
June 23, 2016

WWF has teamed up with global design company IDEO to brainstorm an innovative solution to more effectively gather information about polar bears.

May 11, 2016

American and Russian scientists have now teamed up, with some help from WWF, to develop the region's first comprehensive and reliable population estimates of ringed and bearded seals and polar bears.

March 29, 2016

After a record-breaking warm Arctic winter, sea ice hit a record low for the largest area it covers during the winter months. The ice covered only 5.60 million square miles on March 24— surpassing last year's record low of 5.61 million square miles.

The Arctic Ocean is about 5.4 million square miles—about 1.5 times as big as the US—but it is the world's smallest ocean. Learn more about the Arctic and what WWF is doing to help protect it.

February 25, 2016

Alaska's Lake Iliamna is home to a population of around 400 harbor seals, which feast on fish and bask on the rocky islands at the lake's northeastern end. They are under threat from Pebble Mine, the enormous open-pit gold and copper mine proposed for headwaters just 17 miles northwest of the seals' haul-out sites

WWF Magazine: Spring 2016

November 10, 2015

The pressures driving desires to develop the Arctic are not unfamiliar to us. We see them in these other magnificent places. Expedited transportation routes. New fossil fuel reserves. Robust new fisheries. But we need to ensure that the push to exploit these resources does not overrun efforts to conserve them. We need to keep in mind some guiding principles.

September 28, 2015

After years of searching for oil in the cold and turbulent waters of Alaska's Chukchi Sea, Royal Dutch Shell has abandoned its plans to drill for the "foreseeable future." This announcement is the conclusion of weeks of summer exploration, where results of drilling to a depth of 6,800 feet indicated oil and gas findings were "not sufficient to warrant further exploration."

September 10, 2015

For another year, Arctic sea ice will cover much less of the Arctic Ocean than it used to. And with less ice comes more killer whales—predators that feed on other whales, including some recovering species.

WWF Magazine: Fall 2015

A new plan for resilience in a warming Arctic

July 02, 2015

The US government announced its draft plan to conserve polar bears, calling for timely and decisive reduction of greenhouse gas emission levels to curb climate change. Immediate action to reduce the long-term impact of climate change is essential.

May 11, 2015

WWF today called on the U.S. government to prohibit offshore oil and gas drilling activities in the Chukchi and Beaufort seas off of Alaska, and not to issue any new permits until companies demonstrate that they can drill safely in the region.

March 19, 2015

Following the Earth's warmest year since records began in 1880, Arctic sea ice has shrunk to its lowest maximum winter extent recorded. This record measurement is a sign of thin, slow-growing ice.

January 21, 2015

In recognition of the leadership role the US must play in the Arctic, especially to address climate change impacts, President Obama has announced an Executive Order that will help the US government coordinate work in the management of the Arctic and its precious resources.

WWF Magazine: Spring 2015

US and Russian biologists team up on polar bear research

WWF Magazine: Spring 2015

A partnership between researchers, scientists and WWF looks at biodiversity by the spoonful

WWF Magazine: Spring 2015

December 16, 2014

Today President Obama announced the protection of Bristol Bay, Alaska, from offshore oil and gas drilling. Bristol Bay is home to the last pristine salmon ecosystem in North America and stands unmatched in its productivity. Nearly 50 percent of the world's wild sockeye salmon come from these waters.

November 17, 2014

Forty percent. That's the stunning population loss for polar bears in the southern Beaufort Sea. The news comes from a new study linking the dramatic decline in this polar bear subpopulation in northeast Alaska and Canada to a loss of sea ice due to climate change.

October 21, 2014

WWF's Elisabeth Kruger focuses on mitigating conflict between polar bears and people, and ensuring species conservation is consistent in the three countries that are home to the Bering, Chukchi, and Beafort Sea polar bears: the US, Russia and Canada.

September 18, 2014

As Arctic sea ice nears its minimum this year, walruses—mostly females and their young—have been forced ashore into crowded haul-outs in Russia and Alaska. The sea ice has again disappeared over shallow feeding areas in the Chukchi Sea.

July 25, 2014

New research mapping a range of oil spill scenarios in the Canadian Beaufort Sea finds that a spill would likely reach the U.S. shorelines of Alaska and could affect the local communities and wildlife living there.